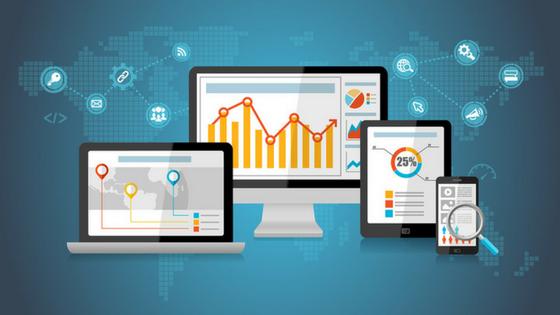 Search. Engine. Optimization.
These three words have a huge impact on any business. Since the majority of consumers first turn to the Internet to find businesses, people have started to ask you what Search Engine Optimization (SEO) you're doing for your business. You understand that SEO means getting ranking on Google, but you're not sure what it entails.
You are correct if you think that SEO is the process of being found online for what you do. However, to have a successfully optimized website, it's important to consider the two components that make up SEO: 1) on-page optimization and 2) off-page optimization.
On-Page Optimization
People are most familiar with this one. On-page optimization is the process of telling Google what your website is about. It begins with a keyword analysis for your business in your area. These key terms are what consumers in your area are searching for when they're looking for someone in your industry. Typically, these key terms focus on the top services a business offers.
Key Terms: Help Readers Find What They Need
The next step is incorporating those key terms into the content of your website. For example, if you're a contractor: the major key terms that you might focus on are: "contractor, Scottsdale AZ", "custom home builder, Scottsdale AZ," "remodeling contractor, Scottsdale AZ", "kitchen remodeling, Scottsdale AZ", "bathroom remodeler, Scottsdale AZ" and so on and so forth.
Metadata: Help Search Engines Categorize Your Site
Now incorporating these key terms is great, but we also have to make sure Google understands what your website is about. While Google does read through the primary content of the site (the sentences that are human readable), it also scans the backend of your website (the hidden metadata) to categorize your site. Updating this metadata is the best way to communicate with Google, who uses web crawlers to read this data and decide how to position your site in rankings. For instance, a page that talks about custom home builds might have a "hidden" title tag that says "custom home build". Google scans this information in addition to the rest of the information on that page and decides whether it's relevant to those searching for custom home builds. By linking these key terms throughout the content of your website and in the backend, we are beginning to tell Google what your website is about.
Off-Page Optimization
The second major component of SEO is off-page optimization, or the process of getting your business found online outside of your physical website. It starts with your online directories, or places your business is listed outside of your website. These directories are very similar to old school phonebooks, but they live online. If your online directories are abundant and consistent, it looks more credible to Google and other search engines. If they're inaccurate or inconsistent, it's more difficult for search engines to believe it's you.
Online Directories: List Your Business Across the Internet
Think of each accurate directory listing as a "point" you earn with Google. The more directories you have, the more "points" you score on your claim to legitimacy – as long as each one is identical to the next. Research has shown that businesses actually lose thousands of dollars a year because of a wrong phone number online. To make sure all your business information is accurate, it is important to submit all of your business information – your name, phone number, area you serve, company description, hours, and company services – to the top online directories. This is just step one.
The second step is going through and suppressing all of the inaccurate information that is on the web, so you don't lose business or get flagged by Google for having inconsistent information online.
Google My Business: The King of Online Directories
Another key aspect of off-page optimization is making sure your Google My Business Page is claimed and optimized. Google My Business is something Google set up that's linked to their Google Maps to get to know and trust businesses. Think of it as the rocket fuel in your SEO campaign, that immediately puts you on Google's Map – literally.
Google My Business is as important to consumers as it is to Google. It is a way for consumers to see where you are located, access your phone number, visit your website, view photos and see the services you provide. The best part of a Google My Business listing? When someone is searching for your business on Google, your "card" comes up on the main search page, providing customers with instant contact information. And, by linking your website to your listing, you've instantly tied your on-page and off-page SEO strategies together.
In short, when Search Engine Optimization is done right, search engines learn what your website is about, validate your business by seeing it listed consistently across the web and ultimately, mark your business as a trusted source of products and services for the customers you serve in your area.
---
About the Author:
Ali Bowker is an onboarding specialist at Townsquare Interactive. She specializes in helping small- to mid-size businesses create total web presences that convert into new business opportunities.