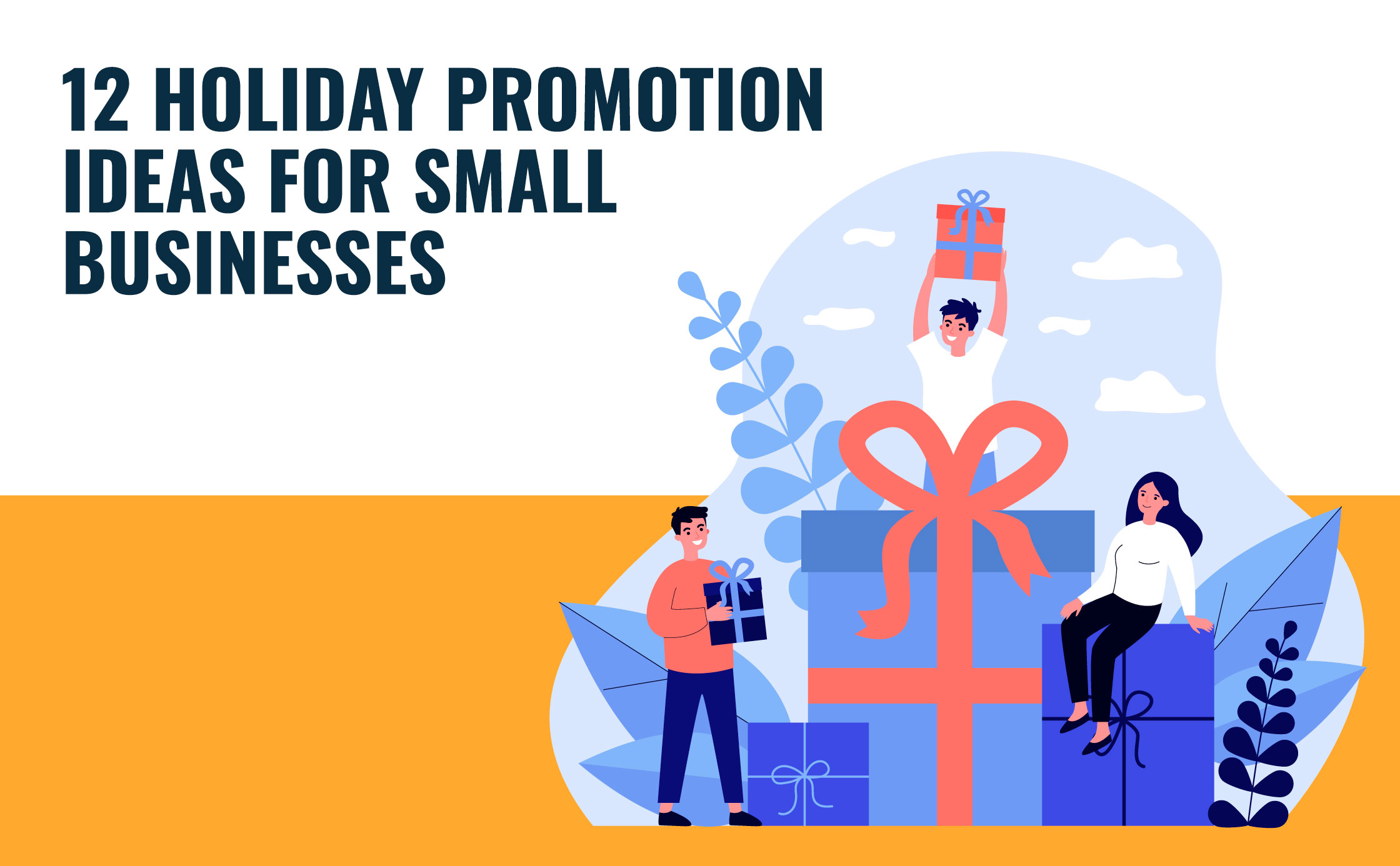 The holiday season is upon us, which means the gift-giving frenzy has commenced! Is your small business taking full advantage of all the holiday marketing opportunities available to help you win over bargain-hunting shoppers? How about the opportunities to build brand awareness and ensure potential customers remember your business long after the holiday season is over?
Hold on to your tinsel, because we've got 12 great holiday promotion ideas for small businesses to help your business thrive this season. Keep reading for some marketing inspiration!
1. Send Personalized Holiday Cards to Your Customers
Handwritten notes aren't that common anymore—especially in today's world of digital communication. That's what makes handwritten notes such great holiday marketing ideas.
Take some time to write a note or send a postcard to your customers, wishing them well and happy holidays. It's a great way to help your business stand out from the rest by giving it a personal feel and making your customers feel that much more appreciated. You can also send them a holiday greeting card through email by generating a QR Code, so they can scan the code and see your personalized greeting.
2. Send a Cheerful Email Reminder
If handwritten notes aren't in your budget, sending an email full is a perfect alternative for your holiday digital marketing. Email your mailing list to wish your customers happy holidays and to promote your products or services. While isn't always the best option for communicating with people, it's a quick and easy solution for reaching a wider audience. And the people who open your email will likely appreciate the kind gesture.
Want some bonus points? Include a special holiday offer or discount!
3. Host a Social Media Giveaway
Social media is a powerful marketing tool even outside of the holiday season, so make sure you're utilizing it beyond holiday digital marketing. Instagram, Twitter, and Facebook are great places to advertise giveaways that existing and potential customers can participate in.
The prize of the giveaway should be a product or service your business offers, and the rules should be simple: people should follow your account, share your post, and invite their friends in order to join the giveaway. That way, you get tons of exposure to new customers.
4. Start a Social Media Competition
In addition to hosting holiday giveaways, social media is the perfect place to organize competitions for your customers. You can get creative with this holiday digital marketing, but make sure they require contestants to use your products or services to enter.
In the end, these holiday marketing ideas help you earn a bunch of social media exposure and build goodwill within your community.
5. Get Your Website and Social Media Into the Holiday Spirit
As part of your Christmas marketing this season, embrace some seasonal colors and designs that will appeal to your audience and add them to your website and social media accounts. Overall, this is an incredibly simple way to show both existing and potential customers that you're on top of your holiday digital marketing and engaged with your audience.
6. If You Have a Brick-and-Mortar Location, Decorate Your Store
Not everyone does their holiday shopping online, so if you have a physical location, decorate it to help your customers get into the holiday spirit! You have lots of options for this type of Christmas marketing:
Add garland and tinsel to window displays
Put up some string lights
Add LED candles to your windows
Add fake snow to your displays
Play holiday music over your sound system
Have another idea for decorating your store? Don't be afraid to get creative!
7. Give Out Free Gifts With Purchases
It's the season for giving, so why not give your customers a free gift when they make a purchase over a certain amount? It doesn't have to be anything big—maybe a calendar, mug, or keychain with your logo on it. These holiday promotion ideas are a proven way to build goodwill with your customers and keep your business at the top of their minds year-round.
8. Provide Free Shipping
Online shopping is the most popular method of buying holiday gifts. One way you can help your holiday promotion ideas stand out from the rest is to provide free shipping to your customers. If you can't do it for every order, consider giving free shipping only to customers who pass a certain price point. It's a great incentive for getting your customers to add more to their online shopping cart and make the purchase.
9. Showcase Some Last-Minute Holiday Specials and Discounts
Not everyone is on top of their holiday gift shopping. Some of us are guilty of waiting until the last minute to make a purchase, and the online shops and brick-and-mortar stores with last-minute holiday specials are the holy grail.
To appeal to these customers, promote a last-minute deal for some of your most popular items as part of your holiday marketing. News of the sale is likely to inspire those procrastinators to make a purchase! To make sure people know about your sale, advertise it in emails and on social media.
10. Start Your Holiday Promotions Early
On the other end of the spectrum, we have our over-achievers—the people who are on top of their holiday shopping and get it done early so they're not left scrambling at the last minute. However, they still like to find a good deal, so make sure you have a couple of specials or Christmas promotion ideas starting early on in the holiday season to entice these people to shop with you.
When it comes to holiday promotion ideas for small businesses, the main thing you need to remember is not to reveal all of your cards at once. Save some really good deals for closer to the holidays so your Christmas marketing doesn't get stale and your customers don't lose interest.
11. Provide Gift-Wrapping Options
Want to make the gift-giving process super simple for your customers? Providing gift wrapping options at checkout is one of the best Christmas promotion ideas out there. They can be free or come with a small fee that goes to charity. Convenience is the name of the game, and this is a great way to win over customers who are pressed for time or don't want to wrap gifts.
12. Support a Worthy Cause
Shoppers tend to support businesses that share their values, and especially during the holiday season, businesses can embrace opportunities to donate to charitable causes. Partnering with a local foundation or charity, or a national organization, is a great way to give your holiday marketing a boost while supporting a great cause!
Happy Holidays From Townsquare Interactive!
As a digital marketing company, we're committed to helping small businesses thrive all year long—not just during the holidays. If you want to learn more about how we can help you grow your business with a professionally designed website, search engine optimization, social media management, paid advertising, business tools and more, fill out the form below. We look forward to speaking with you!
Happy holidays!