by Doug Sewell

The 3 Most Important Google Algorithm Ranking Factors
Did you know Google isn't hiding its top ranking factors anymore? While there are hundreds of factors that go into what makes a website rank well, in simplest terms, the top three factors Google looks in ranking your website are:
Content
Links Pointing to Your Site
RankBrain
On March 23rd, 2016 a Google Hangouts session was held with various experts in the SEO industry. Andrey Lipattsev, Search Quality Senior Strategist at Google, was asked about the top two ranking factors. Without hesitating, Andrey stated:
"I can tell you what they are. It's content and links pointing to your site." Andrey then implied there is no hierarchy in which content and links rank websites. These two factors combined with what Google previously stated was the third most important factor, RankBrain, we now know more concretely what helps to make your website rank within search results. But keep in mind, though these are the top 3, we have no idea their weight, as there are 100's of factors Google uses in their algorithm. Let's explore these top three!
1. Content
As a business, you want a website with unique content that represents your brand. You need it, and as a business you deserve it. A growing trend among agencies is to create websites with the same content as thousands of other websites. This takes away from any originality your business has online. Being your digital storefront, you always want your website's content to be unique to your business.
In 2013, Matt Cutts at Google stated that duplicate content does not hurt SEO as long as it isn't spammy. Many took to mean that it's OK to have the same site content as everyone else, and used it to justify poorly written websites to high paying clients. While a website with duplicate content may not be penalized, that can also be interpreted to mean Google has no reason to make the website stand out either. If two bakeries have websites in the same city while one has the same duplicate content as thousands of other bakeries and the other has unique content, Google is going to show the bakery with unique content. In fact, Google's Webmaster Guidelines were updated in January, 2016 to include a section on how "scraped content" is poor for website quality.
This is why Townsquare has a team of talented copywriters. Your business deserves better than mediocrity, and Townsquare works to make sure your website has unique content for your business to help your brand shine. It's better for your users and Google's algorithm will take notice!
2. Links Pointing to Your Site
A big way Google determines "trust" of your website is by the links that are pointing to your website. This trust is known in the SEO world as "Authority". Links are a great way to show Google you're a reputable source for information. For example, if you're a camping store in Utica, NY, then having local organizations linking to your website such as local camping enthusiast groups shows that the community values you. Google views these links as a way to determine trust, AKA, that you're a good result to show the user in search results.
Townsquare already has over 60+ directory listings we put your business in. They link to your website and include businesses like Google, Bing, Yelp, Yahoo! These directories are also critical for making sure your information is consistent on the Internet. With that being said, the most useful links from an authoritative standpoint will be from local/national websites that are relevant to your industry. Ask your Digital Marketing Specialist for tips on getting great links in an ethical manner. That's what your dedicated digital marketing specialist is here for!
3. Google RankBrain
Google is turning search over to its artificial intelligence system. Unlike other algorithm factors, which are created and managed by people, RankBrain is a learning system that teaches itself! Greg Corrado, Senior Research Scientist at Google, stated RankBrain is the third most important ranking factor during an interview with Bloomberg Business in 2015. However, Andrey Lipattsev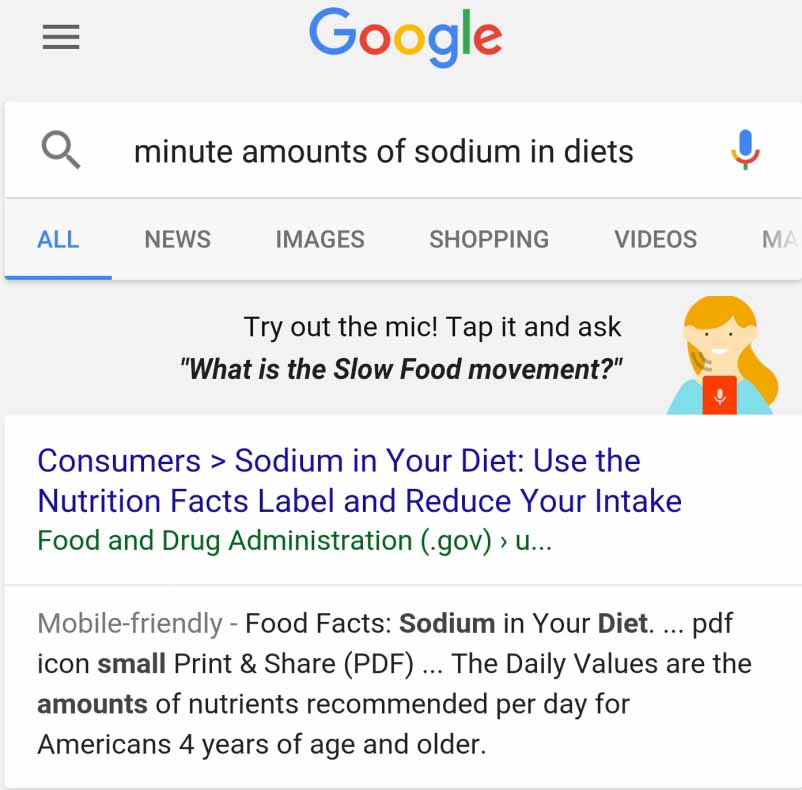 stated in the Google hangout session that RankBrain, being the third most important ranking factor "… is a hotly contested issue. I think it's a funny one." While it seems RankBrain being the third most important ranking factor is up for debate, even at Google, it's obviously one of the most important ranking factors. RankBrain is Google's machine-learning artificial intelligence system used to understand the user.
Here is an example utilizing the search "minute amounts of sodium in diets" taken from a mobile device.
Notice result from the Food and Drug Administration that shows the words "small" and "amounts" in bold. Google understands through the context in which "minute" is used that the searcher asked Google about the term "small amount" as opposed to asking about the time meaning of the word "minute." RankBrain continues to evolve on its own by utilizing data of previous searches to become smarter about what the user is looking for based on context.
This means you should make sure the meaning of your website and its pages are clear! Another problem with websites featuring duplicate content is that the wording is commonly generic and can be applied to any business.
Now That We Know, What Does It Mean?
Be honest and put the effort in. There are hundreds of factors that go into Google's algorithm, but as long as you are honest, try to create a great experience for your potential customers, and follow Google's guidelines, you will do great! Websites that are honest with what they are about and have quality pages showing the user how the website's service is useful, shows Google what you are about. Google will get it. By obtaining links from authoritative sources in an honest manner, Google will trust you as well.
Townsquare  Interactive works to help your business shine through your unique brand. You deserve a web presence that represents you! We'll also guide you on how to get those quality links. Start building the perfect online presence with Townsquare Interactive today!
More Traffic. More Leads. More Customers.
We help you find your ideal customers, drive traffic to your website and keep business running smoothly. Fill out the form below to start a conversation with one of our digital marketing pros.