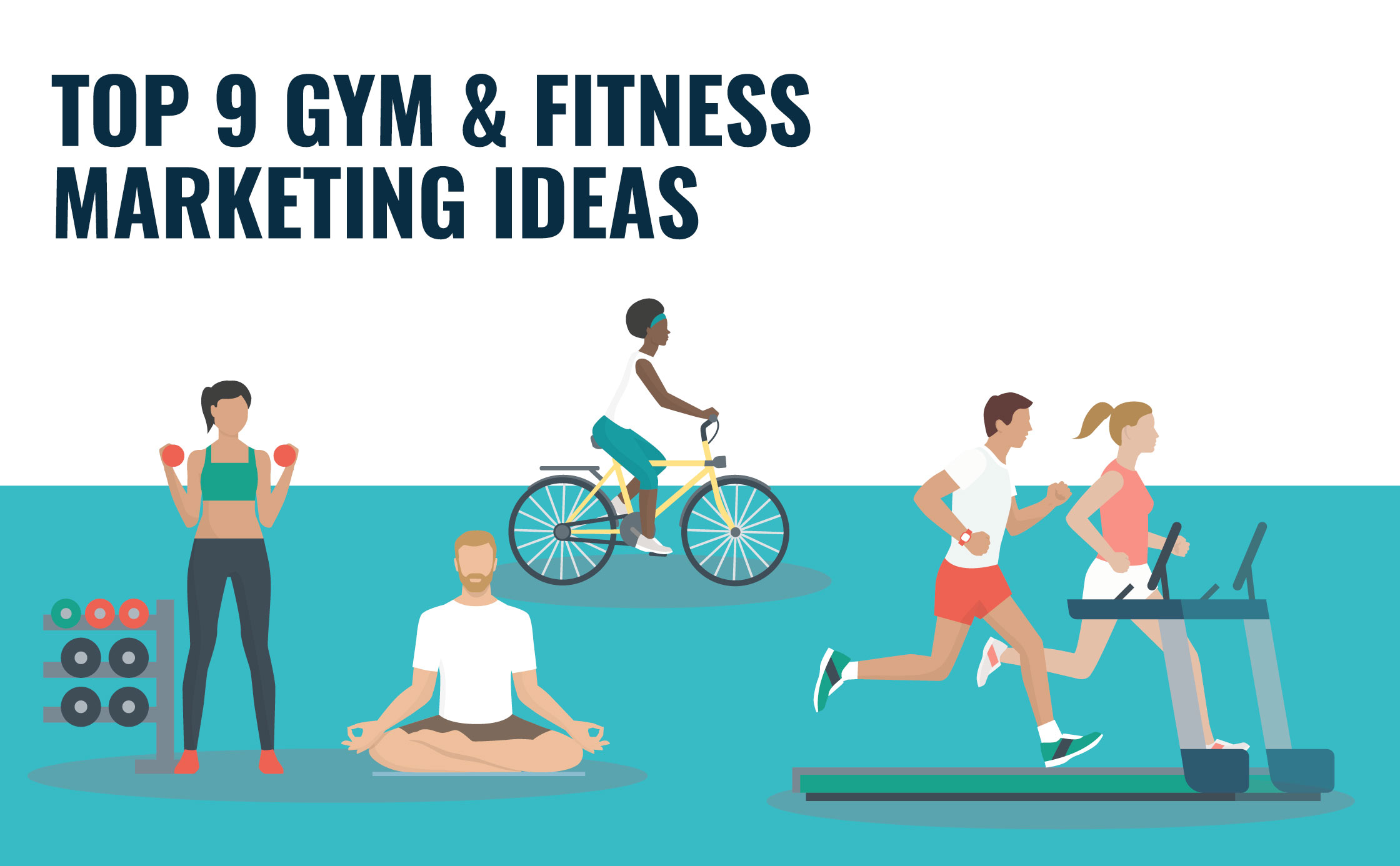 Statista puts the market size of gym centers in the US at $96+ billion. You should be getting your slice of that pie if you own a fitness business. But while you may have the best gym and fitness center in your area, what's the use if no one knows about it? The success of your business is firmly hinged on the efficacy of your marketing approach.
And while trying to juggle the almost impossible tasks of promoting and managing your gym, it might come off as a herculean task to find the right marketing solution to give your business the much-desired boost.
However, having your own gym leaves you with little or no time to research and build out an effective marketing strategy. Don't worry, not a problem! That's where Townsquare Interactive comes in!
In this guide, we'll walk you through 9 of the very best gym marketing strategies right now to help you get the word out about your brand and attract more customers to your gym. Excited much?
These curated digital marketing strategies include using videos, commercials, and offline promotions. And if you already have some ideas you'd like to put into action as well, we'd like to hear about it too, and see how best to help you evaluate and implement them.
Ready? Let's dive in.
Idea #1 – Go Big on Social Media
Engaging on social media is one of the most well-known gym marketing ideas. This is due to the fact that the most active social media user base is the most influential age group of gym users (18-34 years old). That means that as a gym business, you want to be in their sights.
It could seem appealing to sign up for accounts on every social network, but that's not the best call. For maximum effectiveness in your social media activities, start with the three largest platforms: Facebook, Instagram, and Twitter.
Additionally, as time goes on, you can promote your gym on other social media platforms like YouTube, Snapchat, or Pinterest.
Creating your buyer personas to identify the kinds of content material they would want to interact with would be the next step. You can do this by taking a poll of your present clients or researching potential customers outside your company. This will help you to produce material that is both valuable and important to your audience.
When developing content, your main goal should be to inform, engage, or elicit a response. And the use of video is excellent. With videos, you may produce any form of fitness advice, simple workouts, and diet plans.
All you need to do is record your workout sessions in the appropriate aspect ratio for your social media post, upload your media, add text, and, boom! Don't forget to finish with a CTA as well as this would be the last contact you leave with your prospective customer.
Our cross-multi functionality service allows us to demonstrate that these strategies can work well across different fields.
When planning your content, you should take into account the different stages of the marketing funnel because not everyone is at the same stage. A cold audience at the first stage would want to see a mini-tour of your gym.
Next, you would want to include a video to address common complaints about what prospects are going through in the consideration stage and offer a free one-to-one consultation for those people who have reached the decision stage.
Idea #2 – Have a Responsive, User-Friendly Website
A user-friendly website is no longer optional if you want to stay competitive in the fitness marketing industry. The good news is that developing a user-friendly website design for your gym is now simpler than ever. No hassle!
Anyone can accept payments online and manage clients, even if you aren't incredibly tech-savvy. Yes! We mean it!
Townsquare Interactive provides free and paid customer relationship management (CRM) software options for all of our clients. If you're worried about needing coding knowledge, don't be! Our business tools do not require a computer science degree.
Also, to help your gym marketing, Townsquare Interactive offers modern and user-friendly website design services to help you establish a mobile-responsive, visually stunning, and interactive website without becoming a computer guru.
For instance, have a look at Warriors Gym's website which has an excellent user interface. It includes all essential details, including pictures of the gym facility, member benefits, social media feeds, as well as eye-catching images. This would get anyone to buy in!
Your gym website should include all of the crucial components Google suggests, including your company's complete address and contact information, an About section, and your services, in order to assist you in drawing in new members effectively.
Idea #3 – Take Advantage of Paid Ads as a Part of Your Fitness Marketing Plan
According to Formstack, PPC is a leading conversion generator, ranking among the top 3. Paid ads help you make cash, expand your audience, and produce a larger ROI than organic efforts. It's a great idea to run customer targeted ads on channels like Facebook, Instagram, YouTube, or Google to introduce new products or build brand recognition.
You must be sure to have a clear objective established prior to beginning a campaign. The aim for the majority of gym owners is to convert their visitors into new members, so decide whether you want to run a search, static, or video ad campaign.
A clever ad strategy is to cut together the trainers encouraging the clients with a voiceover that assures the prospect that many of your members have achieved their goals and that anyone can, too.
You can also promote special offers, provide online lessons, free one-on-one, fitness consultations, free trials, and more.
To help make it bang, you may showcase your clients' body-transformation journeys and how your gym assisted them in reaching their fitness objectives.
Idea #4 – Create Challenges for Members
A great marketing strategy for gyms is creating challenges and advertising them on your website and social media pages if you're looking to rapidly expand your community, keep your members motivated, and bring you additional signups. You can include a number of challenges in your gym marketing strategy. Some of them are:
Weight loss challenge
Healthy eating challenge
Non-stop, 24-hour gym challenge
Summer slimdown challenge
Most calories burned challenge
Weightlifting challenge
Running challenge
A solid rule of thumb is to only create challenges where you can observe the campaign's results in a short period of time. This will allow you to demonstrate results and discuss their performance in future difficulties.
Idea #5 – Maximize Local SEO for Your Gyms
Local SEO is an effective form of advertising because it's organic and has a better ROI than many other options. Not only can your business rank for local searches, but you will also be able to find clients more efficiently.
They will look for phrases such as "gyms near me," "fitness clubs near me," or "gyms in [city name]." Searchers looking for "close by" or "near me" businesses have increased by over 900% in the past 24 months.
Townsquare Interactive provides local gym SEO marketing to help your website rank highly in search results. This means studying the specific keywords in your area, understanding SEO for gyms, making sure they are well optimized, and then starting to implement strategies that keep you relevant.
Your gym website design needs to be optimized to rank locally; it would help to:
Use local keywords in your content material and make sure your website and citations consistently display your NAP (name, address, and phone number)
Make numerous local citations
Create a Google My Business page
Idea #6 – Collaborate with Local Social Media Influencers to Expand Your Fitness Marketing
Influencers are valued and trusted as much as celebrities because of their ability to inspire people to take action. They can reach a vast audience who would trust your gym after the influencer promoted it.
Influencers are one of the best marketing ideas for gyms, so collaborating with an influencer is worth considering. Even if GoldsGym recently did it, you can get creative and invite well-known figures like Logan Paul, but this is frequently not doable for a number of reasons (unless you have a large budget). You can look through your customer base for local influencers with a large following. Talk to them and use their network to attract new clients.
Asking local influencers to use your gym and offer a video review of their experience is one approach to collaborating with them. Once you've gathered these reviews, you can assemble them into a testimonial video to promote on your social media pages and website.
Idea #7 – Introduce a Beneficial Referral Program
There is no doubt that marketing through referrals is one of the most effective gym advertising strategies. For example, according to a Nielsen survey, potential clients are 4 times more likely to join your gym membership if it is promoted by friends or family.
If you aim to provide the most pleasing customer experience possible, consumers may tell their like-minded friends and coworkers about your gym.
A referral program can be one of your gym's best ideas. The leading fitness marketing plan is to provide a terrific service that your members will naturally want to talk about. An excellent referral program motivates your best clients to help spread the news about your gym or fitness company.
Make sure to reward referrals. The rewards granted to the referrer should be consistent with the rewards given to the person being referred who might purchase the membership.
Assume the person who was referred to receives a free training session with a personal trainer; this incentive does not have to be identical to the one received by the referrer. They should, however, receive something comparable. Some examples of possible incentives include:
Free Gym swag
Free Workouts
Gym retail items
Subscription Discounts
Idea #8 – Utilize Targeted Email Marketing to the Fullest
Email marketing lets you promote your offerings while also sharing fascinating content with potential customers. Your goal should be to build a robust brand through excellent fitness and health-related content.
Consider numerous fitness marketing tactics to test as you generate email marketing leads. Then, create promotions, gifts, and other offers to convert your quality gym leads into hopefully satisfied, long-term clients.
The following are some effective email lead generation strategies for gym owners:
Launch a promotion in which new leads receive a free 30-day trial when they sign up.
Continually consider how to expand your prospect-specific email list. Your email marketing strategy will be meaningless if you don't have email marketing leads.
Collect emails from students who sign up for your free group classes
Launch a social media competition with a 6-month unlimited subscription as the winner.
Using Facebook or Google Ads, promote your lead capture page to local prospects.
Idea #9 – Feature and Promote Customer Testimonials
Reviews are an essential part of a gym's reputation and standing. A gym with great positive reviews on sites like Google will see its search engine rankings improve.
A positive recommendation can also be a valuable sales tool for your gym. A few prospective clients want to get in better condition but are hesitant to join. That is why excellent testimonials from your clients may speak louder than any sales pitch.
You can share a video testimonial on social media once you have one. You can also submit testimonials on your website or on YouTube for the entire world to see.
Here's how to encourage your customers to submit reviews and testimonials:
Provide a prize, discount, or gift to everyone who posts a Yelp or Google review.
Provide unique bonuses to anybody who writes a review to encourage reviews and testimonials.
After a great group workout session, ask your clients to provide a video testimonial.
Ask your members on a regular basis whether they would be willing to provide a testimonial in exchange for a prize.
Although it may be difficult for gym and fitness studios to stand out in crowded marketplaces, assessing consumer needs and an adaptive user experience can ensure that your marketing strategy is effective in 2022.
Always keep in mind that the goal of gym and fitness marketing is to provide your current clients with a wonderful experience so they will continue to subscribe and possibly even spread the word. Customer retention is even more important if your marketing budget isn't the largest in the world.
The ideas covered in this guide will help you to increase gym memberships and provide more value to your clientele by offering a better gym membership experience.
To discover more about how Townsquare Interactive can benefit your gym with website design, SEO, email marketing and more, fill out the form below!