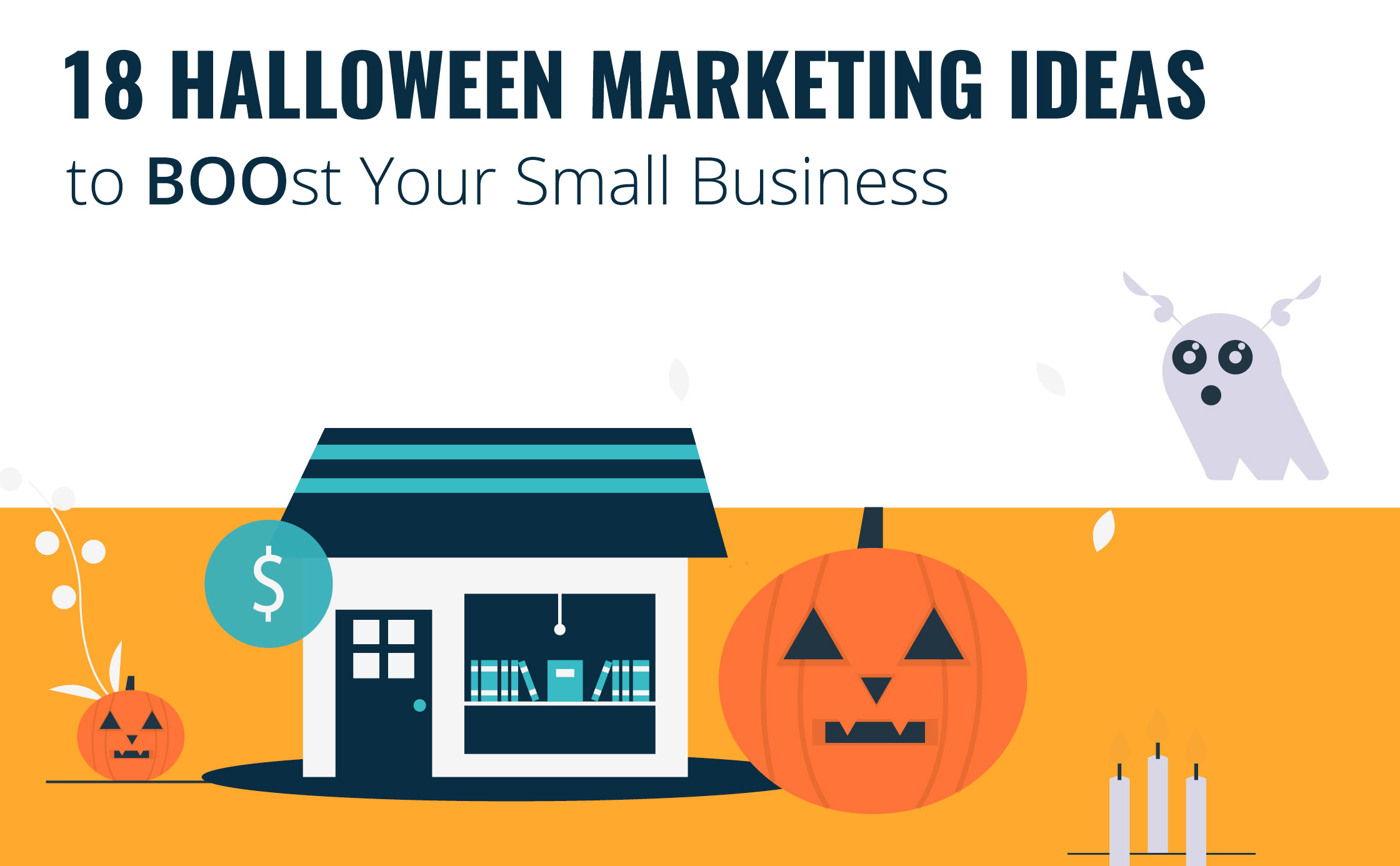 It's that spooky time of the year again! Halloween is the perfect chance to have a little fun with your business and get your customers in on it. But if you're running low on small business marketing ideas or just need some inspiration, you're in luck!
Keep reading for some spook-tacular Halloween marketing ideas you can easily make your own, or fill out the form below to learn more about how we can help you make the most of your marketing budget!
1. Throw Up Some Themed Decorations
If your business has a brick-and-mortar location, an easy way to get into the Halloween spirit is to decorate your storefront and displays with Halloween-themed décor. We're thinking fake spider webs, pumpkins and jack-o-lanterns, scarecrows and other creepy items.
This is a great way to give your business some personality and show customers you can have fun! If you have employees, let them decorate their spaces—and think about hosting a cubicle decorating contest in your office. The owner of the best-decorated cubicle could win a spooky prize!
2. Host a Costume Party
Another great way to get people through your doors is to throw a costume party. Send out invites, then provide snacks, drinks and a festive soundtrack. To make sure you have plenty of attendees, get the word out on social media, put up flyers, email invitations and even send out postcards.
Advertising your Halloween party is good for your business, but you might also want to consider offering a special discount or product to people who attend.
3. Make Halloween-Themed Products
If you're a creator, consider making some limited-edition products or menu items that get your customers into the Halloween spirit. This is especially effective if you're in the food and beverage industry, as Halloween- and fall-themed food and drink items are easy to come by. We're thinking pumpkin spice and apple pie!
4. Offer Spook-tacular Deals and Promotions
Attaching deals and discounts to holidays is a great way to connect with your customers and encourage them to take action in a way that feels special. In any case, a Halloween-themed promotion won't scare them away.
If you want to be a bit more exclusive about your discounts, offer them only to people who purchase a Halloween-themed product or menu item, or to those who dress up for the holiday.
5. Dress Up in a Halloween Costume
Invite your staff to dress up at work—and tell your customers to do the same! It's a great way to get into the Halloween spirit and have a little fun. It's also perfect content for your Facebook and Instagram social feeds, so make sure to snap some pictures of the festivities!
6. Leave the Light On for Trick-or-Treaters
There's no better way to increase foot traffic on Halloween than handing out free candy to trick-or-treaters. Include coupons or other branded handouts with the goodies to make sure the parents return even after the holiday has passed.
You might also consider leaving out a bowl of candy in the days leading up to Halloween. A sweet treat will give your customers a positive view of your business, which can go a long way for your small business's reputation and word-of-mouth referrals.
7. Host a Halloween Contest or Giveaway
Host a spooky or fall-themed contest or giveaway in your store or on social media. Everyone loves a chance to win something, especially around the holidays. It could be a gift card for your store's goods or services, or something else your customers would find valuable.
Everyone loves freebies. Something as simple as a Halloween treat bag with one of your business cards can be enough of an incentive to bring customers into your store.
8. Spookify Your Online Presence
From your Facebook and Instagram profiles to your website and newsletters, add some Halloween flair to your images, themes and décor. You don't have to go all-out, but consider making some simple updates you can reverse later, such as new header images or creepy fonts (just make sure they're still readable).
Most platforms already offer temporary stickers and frames you can add to your profiles. Using them is a wonderfully simple way to show your business and active and engaged.
9. Create a Halloween Hashtag
Before you get started, do some research and see if there are any hashtags out there you could be using to show you're in the Halloween spirit. Using those hashtags is a great way to attract and engage followers and non-followers alike.
You could even create a unique Halloween hashtag for your business! Make a pun on your business name, or poll your employees for a creative hashtag. It's a great way to show your fun side and improve engagement!
10. Start a Halloween-Themed Mailing Campaign
Whether you're using email or direct mail, send out Halloween-themed coupons and use other engagement tactics. If you're truly embracing Halloween, consider sending out bags of candy, or just goody bags containing branded items. It's a great way to spread some goodwill and keep your business at the top of your customers' minds.
If you're hosting a giveaway or costume party, these mailing campaigns are a great way to advertise for them!
11. Hand Out Branded Trick-or-Treat Bags
For not much money, you can have some bags with a creepified version of your business's logo on them. Fill the bags with treats and branded items, then hand them out or leave them at your front desk for customers to take with them when they leave.
If you're an eco-friendly small business, consider offering reusable bags. This is a great way to ensure your customers get multiple uses out of the bag, which is basically free advertising for your business! It's a win-win!
Finally, consider taking goody bags to other small businesses in the area. It's the perfect opportunity to get to know your neighbors and build some goodwill with them.
12. Advertise at Local Halloween Attractions
Seasonal businesses are usually in full swing by the time October comes around. See if there's a way for your business to get involved, whether by putting up a stand or sponsoring some of the festivities. Check out these local attractions to get started:
Haunted houses
Corn mazes
Pumpkin patches
Pop-up costume stores
Apple orchards
While you're there, you could hand out coupons and other goodies that could entice customers to visit your store or contact you about the services you provide.
13. Embrace Halloween Emojis
This goes hand-in-hand with giving your social media a Halloween theme, but consider throwing some emojis into the mix! With more and more options being added all the time, you have your pick of spooky bats, jack-o-lanterns, ghosts, black cats and more. Get creative, and throw some into your headlines if you want to show your business's fun side!
14. Host a Pumpkin-Carving Contest
Who doesn't love a good pumpkin-carving contest? This sort of thing is perfect for people of every age—from young kids to artistic adults who want to have some creative fun.
You could even offer a grand prize to the person who carves the best branded pumpkin for your business and set it outside your store for the world to see.
15. Set the Mood With Spooky Soundtracks
If some of our previous Halloween marketing ideas have seemed like a little too much work, here's a super simple one: put on some spooky Halloween music or soundtracks. If you have speakers you set up around your store, find a good playlist on Spotify or YouTube and let it run.
Paired with some creative Halloween décor, a scary soundtrack can really set the mood!
16. Write a Halloween-Themed Newsletter
Newsletters don't always have to be serious business – in fact, Halloween is the perfect excuse to have a little fun with your customers. Tell a scary story, creepy pun or a cheesy joke, or share some images of creative jack-o-lanterns and spot-on costumes. You can also share any current sales, offers, discounts, or promotions you might have for Halloween. This is a good way to entice customers to visit your store without blatantly advertising to them.
Even if you don't have time to go all out on a Halloween newsletter, simply sending a "Happy Halloween!" email can spread some positivity among your customers.
17. Donate to a Good Cause
If your business isn't really into the whole "spooky Halloween" thing, consider donating to a good cause or something your customers support, such as breast cancer research (October is Breast Cancer Awareness month). It's a good way to gain visibility and show your business is invested in the community through philanthropy.
18. Create a Calendar of Local Events
Finally, consider offering a handy resource to your customers in the form of a calendar of local events. Make a list of local Halloween parties, theater productions, trick-or-treat get-togethers, costume parties, and other fall-themed activities and events your customers could participate in. For some extra marketing zip, pair the calendar with a fridge magnet and your logo!
Happy Halloween From Townsquare Interactive!
Halloween and fall are some of our favorite times of the year. It's the perfect opportunity to get creative with your marketing and have some fun with your employees and customers. But you don't have to wait for these seasonal opportunities to start making the most of your marketing and advertising budget.
We're a digital marketing company dedicated to helping small businesses grow and succeed—however you define it! Click the button below to fill out the form and learn more about us and how we can help you meet your business goals with personalized digital marketing campaigns.