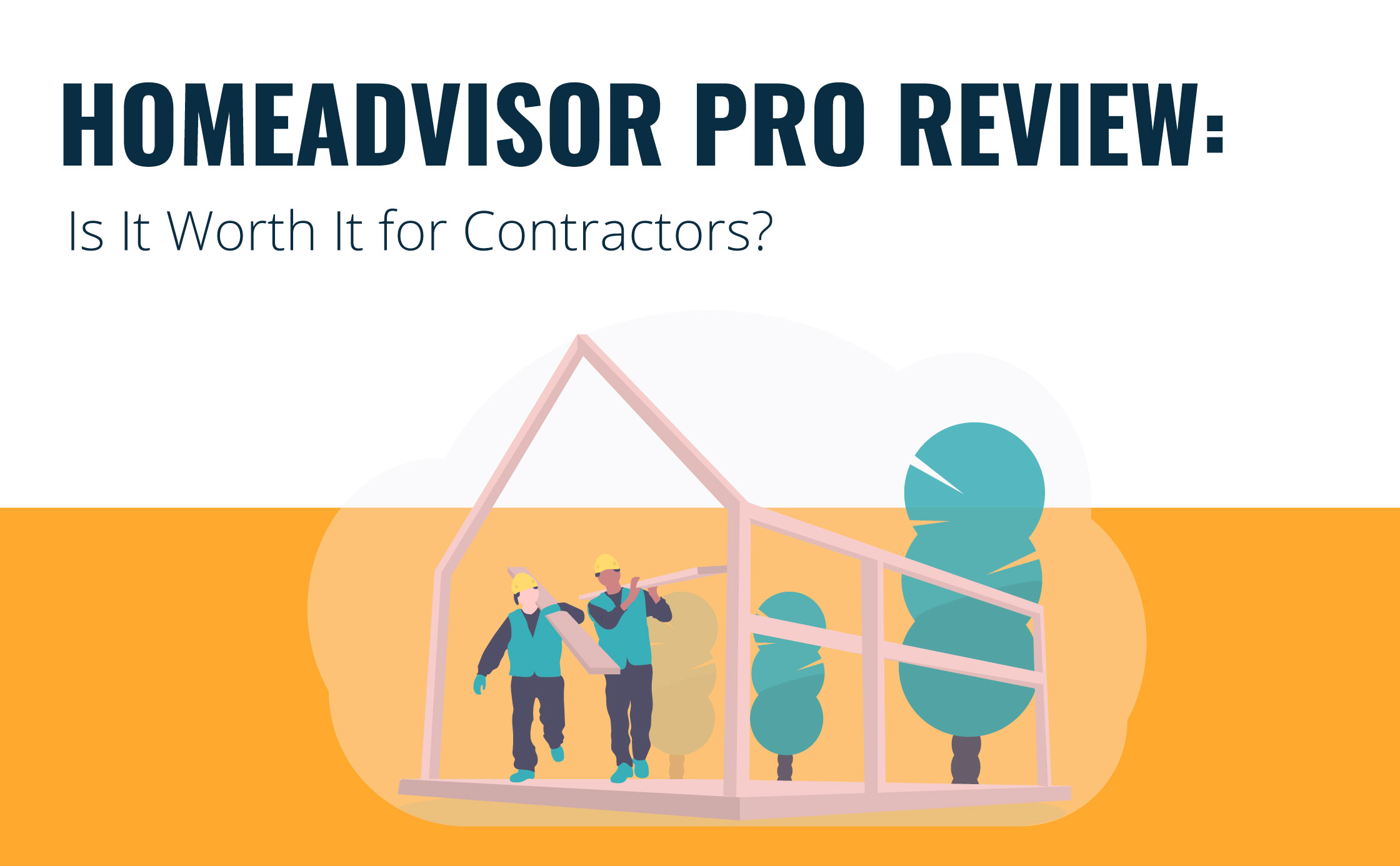 Lead generation is the name of the game for small businesses. We've already discussed the pros and cons of working with lead gen services, companies like HomeAdvisor and Home Advisor competitors (including Angi, Porch Pro, Thryv and Houzz Pro), but, for this article, we're narrowing our focus down to just HomeAdvisor and Home Advisor Pro.
You might already be asking yourself, "Is HomeAdvisor worth it?" or "Is Home Advisor legit?" The answer isn't black and white, but we'll put it this way: You really don't need HomeAdvisor to generate leads for your business, and you might end up saving money if you stay away from them and companies like Home Advisor altogether.
To help you make an informed decision about whether HomeAdvisor is worth it for contractors, we'll take a look at some red flags and Home Advisor Pro reviews from contractors.
1. HomeAdvisor reviews point to shady sales and marketing practices.
When you sign up for Home Advisor, beware: You're giving them the right to use your business's name, logo images for their own marketing strategy. They're known for creating profiles for your business on multiple online directories, and then directing the links on your business's profile back to their website. That means a potential customer who was interested in your business specifically is now part of HomeAdvisor's marketing funnel, so they can sell that lead back to you.
Sketchy, right? Home Advisor reviews by contractors also mention they have a habit of putting their phone number in place of yours, so any customer who intends to call you is calling HomeAdvisor's forwarding number—and you have to pay for that lead. Not cool, Home Advisor.
2. HomeAdvisor costs add up fast.
Paying for leads isn't always cost effective to start with, but when you add other fees to the mix, it adds up fast. You might also be paying a subscription fee just to have your business listed, and more to use your own phone number instead of Home Advisor's. There's also the big enrollment fee to get started, plus all the other services they'll try to sell you, like web design and hosting. Oh, and you could also pay another fee just to use HomeAdvisor's seal on your website.
3. Good luck getting Home Advisor Pro to refund you for bad leads.
Unfortunately, bad leads tend to outnumber the good. If you sign up with HomeAdvisor, be prepared for tire kickers and window shoppers who have no intention of hiring you. Some leads won't ever answer the phone, and others will want services you don't even offer. You might be able to finagle a refund in some cases, but HomeAdvisor's terms of service state there are no guarantees about the quality of the leads you receive. They're not obligated to return any of your prepaid lead fees.
4. Home Advisor creates more competition for your business.
Remember how we said HomeAdvisor uses links and phone numbers on your business's online directory profiles to link back to their own site and steal customers from you? When those customers enter Home Advisor's lead funnel, they sell that lead (who might have been interested solely in your business to start with) to you and your competitors. Now you're paying for a lead that could have been exclusively yours and you have to beat your competitors to the punch.
5. HomeAdvisor has rebranded multiple times to distance itself from lawsuits.
More than 1300 contractors have joined a class-action lawsuit accusing Home Advisor of fraud. Here's a look at how they've evolved over the years:
1998: ServiceMagic was founded.
2012: ServiceMagic changed its name to HomeAdvisor.
2017: HomeAdvisor and Angie's List merged to form Angi Homeservices Inc.
2021: HomeAdvisor Pro rebranded to Angi Leads.
Many of the contractors in the lawsuit had been with Home Advisor for years. Now, they claim that HomeAdvisor's business model is defective, deceptive and fraudulent, funneling bad leads to contractors who paid in advance and exceeding those contractors' set budgets.
6. HomeAdvisor reviews from contractors say it all.
Want to see what actual customers have to say about working with Home Advisor? Check out these HomeAdvisor reviews by contractors:
Better Business Bureau Reviews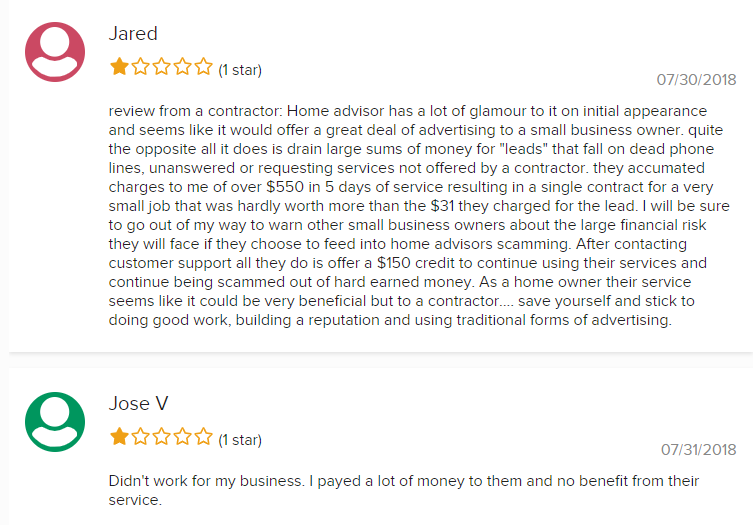 Read more reviews about HomeAdvisor on BBB.com here.
Reseller Ratings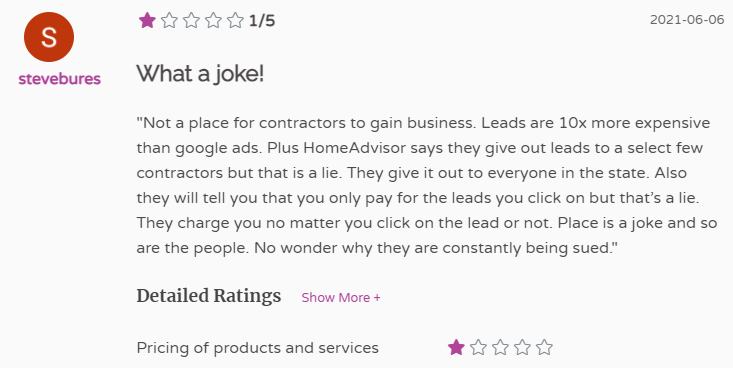 Read more reviews about HomeAdvisor on Reseller Ratings here.
Site Jabber

Read more reviews about HomeAdvisor on Site Jabber here.
PissedConsumer.com
Read more reviews about HomeAdvisor on PissedConsumer.com here.
Generate Your Own Exclusive Leads Without HomeAdvisor
So, is Home Advisor worth it for contractors? Not really.
Signing up with HomeAdvisor might not be a great business decision, but you don't need them (or companies like Home Advisor) to start generating your own exclusive leads! We've already created huge lists of lead generation ideas for roofers, towing companies and landscapers, but these are the basics you need to remember:
Start with a professionally designed website.
Invest in an SEO (search engine optimization) strategy to get your business on the first page of Google search results.
Ensure all of your directory listings have the most up-to-date info on your business so customers can contact your directly.
Respond to your online reviews promptly and professionally, especially on Google.
Choose a marketing partner who always has your back.
Townsquare Interactive is a local digital marketing agency committed to helping small business owners get found online, attract customers and grow their businesses. You'll work with a dedicated digital marketing specialist who builds your marketing strategy and coordinates with our teams of content writers, web designers, SEO specialists and other subject-matter experts.
Want to learn more about how we can help you generate your own exclusive leads without HomeAdvisor? Fill out the form below and we'll contact you soon!