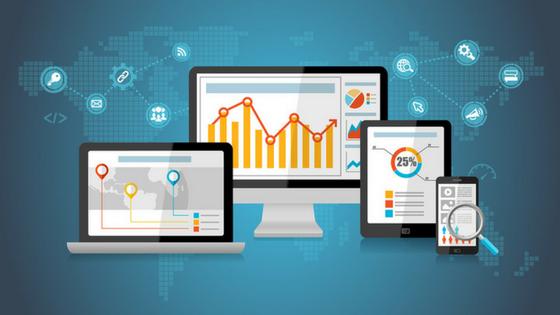 Search Engine Optimization
These three words have big implications for all small businesses – yours included. So, what do they mean? The first thing to understand is that your potential customers are searching the internet for your products and services when they need them. Good SEO will ensure you show up at or near the top of search results when your potential customers make those searches.
What goes into optimizing your website for search engines? There are two components: on-page optimization and off-page optimization.
On-Page Optimization
This aspect of SEO is likely to be the most familiar to you. Basically, on-page SEO is the process of telling Google what your website is about.
It all starts with a keyword analysis for your specific industry and location. These keywords are the search terms your potential customers use when they're looking for someone in your industry. Typically, these search terms and keywords are related to your top services.
Keywords: Help Readers Find What They Need
After the keyword analysis, those keywords are incorporated into the content on your website.
For example, if you're a contractor in Scottsdale, Arizona, the major keywords that you might focus on are:
contractor, Scottsdale AZ
custom home builder, Scottsdale AZ
remodeling contractor, Scottsdale AZ
kitchen remodeling, Scottsdale AZ
bathroom remodeler, Scottsdale AZ
Get the idea?
Metadata: Help Search Engines Categorize Your Site
Now, using those keywords in your content is great, but there's still more we can do to make sure Google understands what your website is about. While Google does read the primary content on your site (the same content your potential customers are reading), it also scans the backend of your website (the hidden metadata).
For instance, a page about custom home builds might have a hidden title tag that says "custom home build." Keeping that metadata current is extremely important. Google scans this information, along with everything else on your site, to decide if it's relevant to those searching for custom home builds.
Off-Page Optimization
Off-page optimization is the second major component of SEO, and it encompasses everything that isn't your website.
It starts with online directories. These directories are similar to old-school phonebooks, but they live on the internet. If your directory listings are numerous and consistent, your business looks more credible to Google and other search engines. If they're inaccurate or inconsistent, search engines are likely to penalize you.
Online Directories: List Your Business Across the Internet
Think of each accurate directory listing as point you earn with Google. The more listings you have, the more points you score – as long as they're all consistent. Businesses lose thousands of dollars every year because of wrong phone numbers, so it's important to make sure every bit of information is correct. That includes your business name, phone number, area of service, company description, hours and services.
That's just step one. Step two involves suppressing all of the inaccurate information already on the internet so you don't lose business or get flagged by Google for having inconsistent information online.
Google My Business: The King of Online Directories
The final key aspect of off-page optimization is Google My Business. Make sure your page is claimed and optimized. Your Google My Business listing is what gets you on Google Maps, and it's as important to consumers as it is to Google.
Your GMB page allows your potential customers to see where you are located, access your phone number, visit your website, view photos and see the services you provide.
The best part of having a GMB listing? When someone searches for your business on Google, your card comes up on the main search page, providing those potential customers with your contact information. And, if you link out to your website, you've instantly tied your on-page and off-page SEO strategies together.
In short, when SEO is done right, you pop up at or near the top of search results for your business's keywords. It all depends on how well you incorporate those keywords into the content on your site and how robust your off-page optimization strategy is. Ultimately, Google should mark your business as a trusted source of products and services for your customers in your location.
Click the button below to talk to one of our digital marketing experts and learn how we can help you master the SEO game.
More Traffic. More Leads. More Customers.
We help you find your ideal customers, drive traffic to your website and keep business running smoothly. Fill out the form below to start a conversation with one of our digital marketing pros.