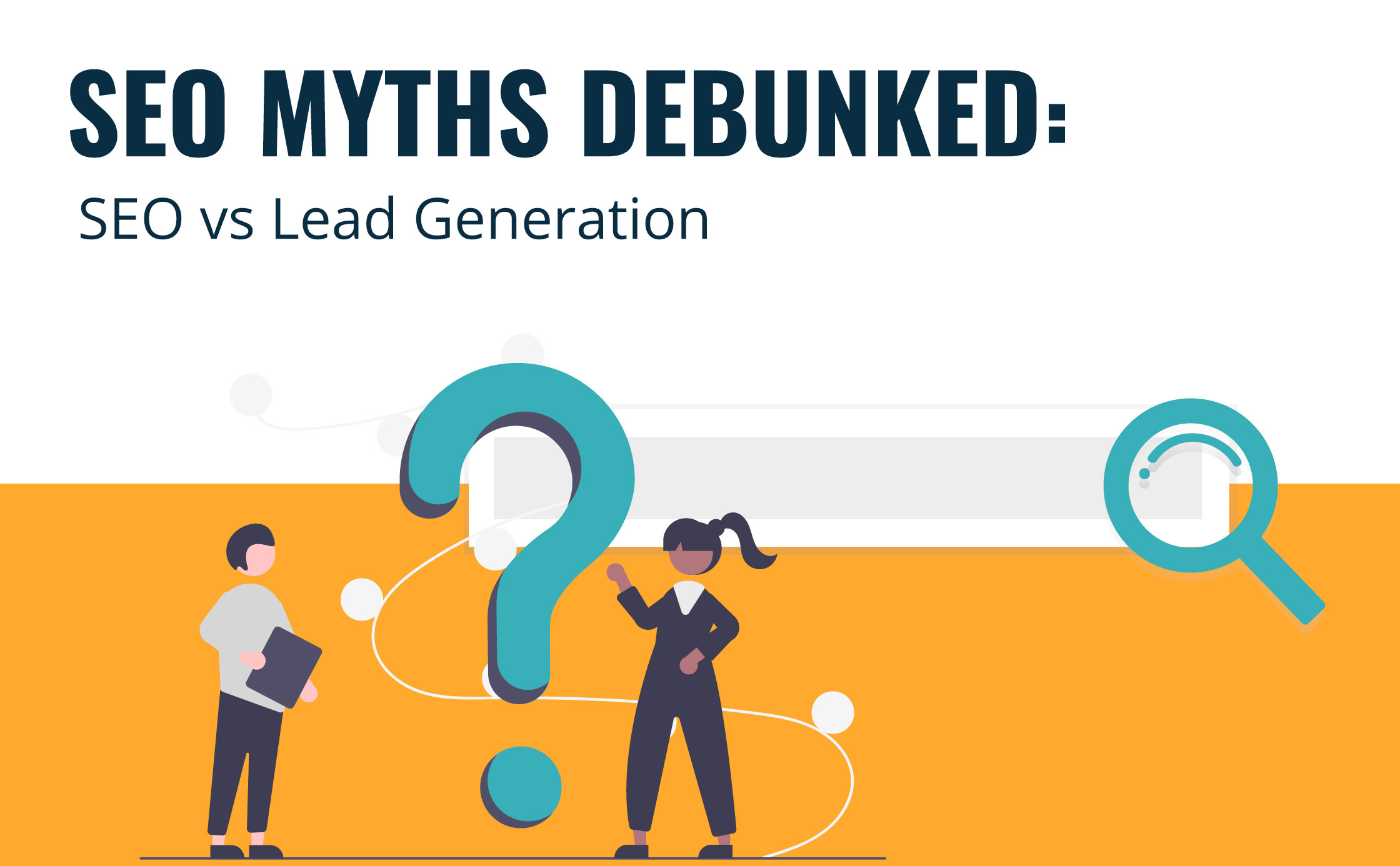 In this series, we will be debunking popular SEO myths to help you make informed marketing decisions.
SEO vs. Lead Generation
Search engine optimization (SEO) services improve the quality and quantity of website traffic directly from search engines.
Lead generation services sell leads to businesses based on consumer and business information that has been provided by both parties.
You'll quickly notice that lead generation services promise fast results, while SEO services admit their process is slower but more beneficial to the longevity of a business's marketing campaign.
Let's take a moment to break down the pros and cons of these services and how they can both be used to progress your campaign and grow your business.
One Mission
Attracting potential customers is the primary goal of every business's marketing campaign. And how do you grow your business? You increase your visibility.
SEO and lead generation services both promise to put your business in front of individuals who need your services. After all, how can we expect to grow our business if no one knows it exists?
It is important to note that neither SEO nor lead generation services attempt to convince consumers that they need your services when they are not already looking for them. While SEO and lead generators have the same mission in mind, their approaches are completely different.
What Are Lead Generators?
Leads, also known as potential customers or prospects, are collected through popular third-party services like HomeAdvisor and Angie's List. These lead generation services promise to connect your business with real people who are using their company to find specific services.
Unfortunately, these services tend to focus on quantity over quality. This means that you could end up paying for leads that do not convert into paying jobs.
Click here to read more about the pros and cons of using lead generation companies.
How Do SEO Services "Generate Leads?"
Actually, it is impossible to definitively say that SEO will generate "x" number of leads.
Somewhat similar to lead generation services, SEO practices rely on real people who are already looking for the services your business provides. Where are consumers looking for your services? Google and other popular search engines like Bing and Yahoo.
By staying up-to-date on best practices, SEO experts can organize your site information in a way that is accessible and comprehensive for both users and search engines. This technique works to get your business on page 1 of Google when consumers are searching for your services.
Click here to learn more about Google's goal and how they organize search results.
Lead generation services have to rely on individuals choosing to use their company's services, while a professionally crafted SEO campaign puts your business directly in front of potential customers at the moment they are searching for your services. This means the number of potential customers finding your business is not limited to one third-party site, but open to anyone who uses a search engine.
In fact, 93% of online experiences start on a search engine!
Short-Term vs. Long-Term Results
Lead generation involves paid efforts to acquire customers right away based on money spent. This means that, at best, the most jobs you can get will be however many leads you buy. If you are struggling to attract new customers during the slow season, a lead generation service might be just what you need to get more business in the short term.
SEO tools aim to influence search engines based on consumer behavior to drive traffic to a business's website. Search engines aim to recommend high-quality businesses to consumers in the hopes that they will continue to trust their services and continue using their platform. This means that results might not be immediate, as it takes time to establish a mutually beneficial relationship between your business and search engines.
The benefit of running an ongoing SEO campaign is that it is constantly building on itself. SEO builds its foundation on customer engagement, relevance and authority. By continuing to maintain those relationships, your business maintains relevancy and continues to build authority. This means that your SEO is always working for you.
In Conclusion…
As previously mentioned, buying leads does not guarantee jobs. Some of these "leads" might still be researching their options, while others are simply not a good fit for your services.
Rather than paying for individual leads that might not pan out, SEO services can catch users that are still in their research phase and naturally guide them to your services. Since this is also the long-term approach, the beginning of your SEO campaign might feel slow as you first begin establishing authority in your area and establishing your relationship with search engines and searchers.
Get in touch with a digital marketing professional today to start building a strategy that works best for you!

About the Author | Mary Kathryn Ware
Mary Kathryn Ware is a Senior SEO Analyst at Townsquare Interactive. She graduated with honors from Appalachian State University in 2017 with a degree in English. She started at Townsquare Interactive in 2018 as a Quality Assurance Specialist and has been working with the SEO team since 2020. In her free time, MK likes to paint, read mystery novels, write screenplays and work on local film sets.