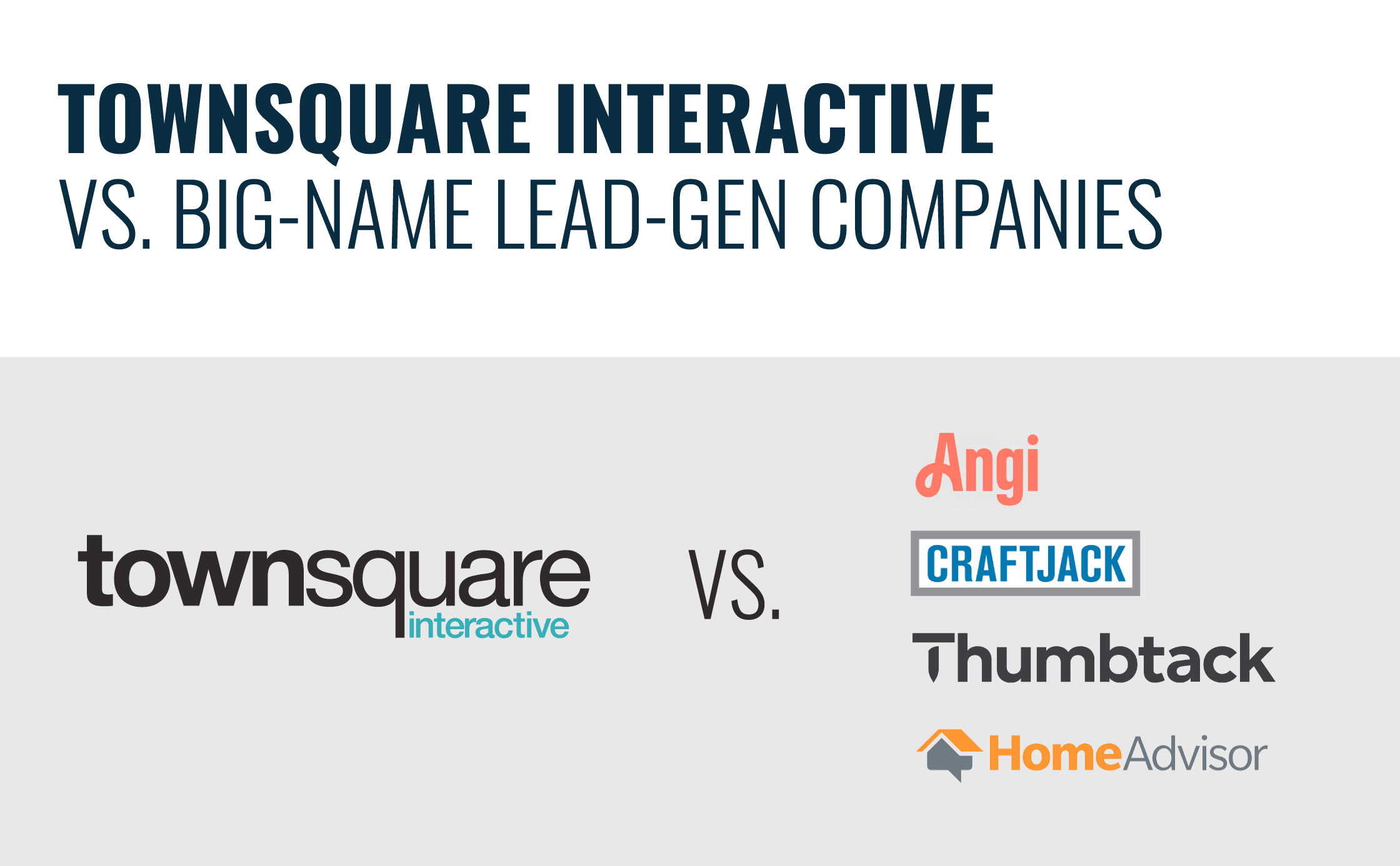 Curious about how Townsquare Interactive stacks up against big-name lead-generation companies? As major players in the digital space for small businesses, they have some similarities—but even more differences. One builds a solid online presence designed to funnel exclusive leads to their clients, while the others offer a paid membership that gives pros access to non-exclusive leads they can bid on.
Keep reading to learn if Townsquare Interactive or a lead-gen company would work better for your business.
How We're Different Than Lead-Generation Companies
We help you generate your own prospects instead of chasing expensive and bad leads from other lead generation companies, so you can cut out the middle man and earn more money.
Price of Leads
The pricing at lead-gen companies fluctuates every week depending on the market, the size of the job and how many pros are available. But at Townsquare Interactive, your cost is the same month after month—unless you add additional digital marketing tools to your package!
So, if you're budget-conscious and want to know exactly what you're paying every month, no matter how many leads you get, go with Townsquare Interactive.
Quality of Leads
Lead-gen companies require you to pay for every lead they send you, though there's no guarantee it will turn into a job. Price shoppers, tire kickers and even your competitors can request work on a lead-gen company's website, which means you're paying for bad leads. But with Townsquare Interactive, you're targeting homeowners local to your area. When they contact you through your website, they turn into a quality, exclusive lead.
If you're comfortable taking a chance on leads that might not turn into customers, even after you pay for them, using a big-name lead-gen company could be a viable option. But if you'd rather receive exclusive leads from people in your location who are ready to pay for your services now, go with Townsquare Interactive.
Competition
Lead-generation companies are designed to work for the consumer and pit businesses and contractors against each other, often coming down to who will do the job for the least amount of money. But when you use Townsquare Interactive, you don't have to share your leads. Leads that are submitted through your website are delivered directly to your inbox—and no one else's. It's exclusive to you.
If you can operate at a low profit margin and outbid your competitors fast, a lead-gen company might work for you. But if you'd be more comfortable receiving exclusive leads through your website, Townsquare Interactive is the best option.
Customer Service
You're likely to speak to someone new every time you contact a big-name lead-gen company. But Townsquare Interactive takes a more personal approach to customer service. Each client works with one dedicated digital marketing specialist who is familiar with their business and handles all the details of their marketing campaign for them.
So, if you'd rather have a single point of contact you can reach by phone or email whenever you need them, Townsquare Interactive can provide that personal touch.
Value
When you pay for an account with a big-name lead-gen company, you get a profile on their website and access to their leads at an extra cost. But with Townsquare Interactive, you get a comprehensive digital marketing campaign. You can personalize your business's package to include a variety of digital marketing tools that create lasting online authority for your business and move you closer to the top of page one of Google organically, where you're most likely to get clicks and traffic to your site.
All in all, a digital marketing campaign with Townsquare Interactive provides more value than a membership that lets you access non-exclusive leads at an additional cost. If you want more bang for your buck, the winner should be clear.
Final Verdict
Every business needs leads to survive. While the right choice will vary from business to business, you're more likely to get the results you want with a comprehensive digital marketing campaign than you are with a costly and inconsistent lead generation service.
If you want to grow your business, give it a solid foundation. A professionally designed website and search engine optimization are digital marketing must-haves for consistent and lasting success. Going this route instead of paying for leads is simply the best way to grow your business organically.
Want to give it a shot? Fill out the form to learn more!