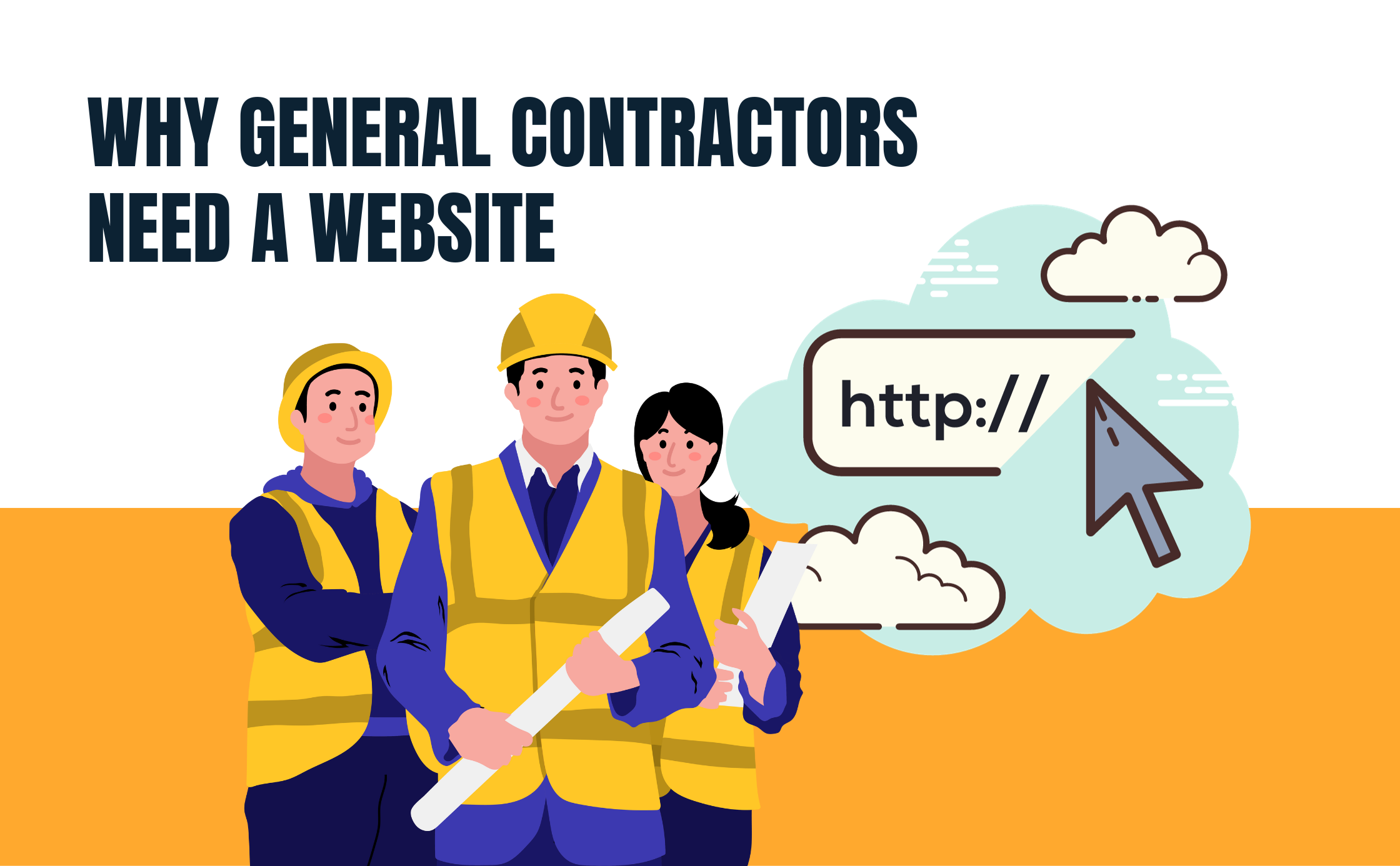 The construction industry is competitive. To ensure your company has a steady flow of leads, you must maintain a strong reputation in your community and improve your lead generation initiatives. That's why a general contractor website is so important.
Websites help your business establish an online presence and will help you expand your offering past the local market you exist in. A high-quality website will also complement your Google Business Profile and help you educate your prospective audience in real time.
If you don't have a contractor website, we're here to help. Let's discuss why general contractors and construction companies need websites to stay competitive in your community and the important elements you'll want to prioritize.
Why You Need a General Contractor Website
Over 73% of small businesses have a website. If you fall into the 27% that doesn't have a website, you risk losing business to your competitors. General contractor websites are key to building a thriving business. Without one, you'll never grow or scale your business as quickly or efficiently in this digital age.
Here's how you can use a website to your advantage:
Provide Free Online Estimates
Free estimates are a lead gen tactic that general contractors and construction companies can use to build their sales pipeline. When website visitors submit their contact information for a free estimate, your team has a new opportunity to nurture a lead into a paying customer. Without a website, you wouldn't have this constant flow of leads.
Showcase Your Current Work
When customers search for a general contractor in their area, they want to know they're picking the best company for their project. With case studies, customer reviews, before and after images, or pictures of your services, you can improve your credibility and build trust with your prospects.
Updates, Announcements, and Promos
Are you closed for the holidays? Are you no longer accepting new jobs because you're team is backed up for Q3? Maybe, you have a special promotion running for kitchen renovations. No matter the case, your website is the perfect place to showcase announcements, updates, and promotions.
Automate Your Appointment Scheduling
With the help of AI and automation tools, you can prompt customers to schedule appointments for site walk-throughs, consultations, and other types of meetings directly on your website. No more playing phone tag with customers or trying to keep track of appointment scheduling the old-fashioned way.
Establish an FAQ Page to Improve The User Experience
Are your phone lines constantly being bogged down with the same frequently asked questions? With a website, you can integrate an FAQ section directly onto your website. This way, you can answer your customer's questions about kitchen remodeling, pricing, or design services in one centralized location. This will also take some of the stress off of your admin team.
Everything The Best Websites For Contractors Need
Once you decide to build a contractor website, there are a few steps you'll need to take to ensure your web design meets your customer's needs and helps you establish credibility.
Here's what you need to do:
Establish a Social Media Presence
Setting up a social media account on Facebook, LinkedIn, and Instagram will help you expand your reach to new markets. Social media marketing is a low-cost marketing initiative that yields high results. It can help you increase web traffic back to your website and help you maximize your reach. Even if you only post once a week, you never know who might be looking! It could be your next big deal.
Prioritze Local SEO
SEO stands for search engine optimization. It's the process of optimizing your content with keywords to help your website rank higher on the search engine results page (SERPS). Without an SEO strategy, you may struggle to get your website to rank with your competitors. But traditional SEO initiatives are only one piece of the puzzle.
With a local SEO strategy, you can aim to grow your presence in a specific geographic location. This will ensure your website's landing pages and content get noticed by your desired target audience. This will ensure when customers search "General Contractors in Los Angeles." Your business is on the SERPs.
Optimize Your Google Business Profile
You'll also want to take some time to optimize your Google Business Profile to ensure it's showing up in local search queries and it answers your customer's questions. You'll want to include high-quality images, videos, and customer reviews. This is a great way to increase web traffic back to your website and improve the customer experience.
Develop a High-Quality UX Design
UX refers to the customer experience. If your website is hard to navigate or doesn't answer your customer's questions and concerns, it can impact the customer experience and your website bounce rate. When building out your different landing pages, you'll want to ensure you include:
High-quality images
Clear CTAS
Fast load speed
Clear and logical navigation
Simple forms for lead gen
It takes time to build an intuitive website design that meets the needs of your customers and search engines. If you aren't sure where to start, consider connecting with a marketing agency to help fine-tune your approach.
Add a Contact Us Page
A Contact Us page is a must-have. If you don't have a contact page, it can disrupt the user experience and lead your customers to shop with your competitors instead. With a well-thought-out contact page, you can increase credibility and accessibility, ensuring that your customers have a way to contact your company about questions, concerns, or pending projects.
Enhance Your Contractor Web Design With Townsquare Interactive
If you don't have a contractor website, you're falling behind. Businesses must establish an online presence to maintain their competitive edge and continue to scale their business in the coming years.
At Townsquare Interactive, our team is dedicated to helping general contractors build high-quality website designs that complement their business goals and improve lead gen initiatives.