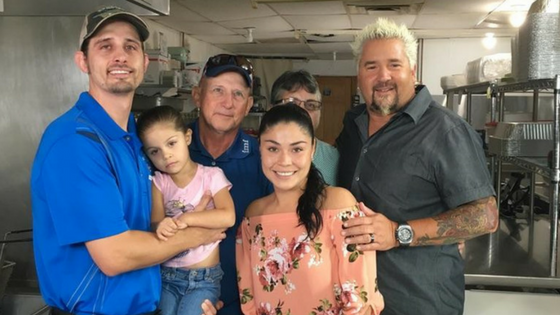 We spoke to one of our clients about being featured on the popular Food Network TV show
Your dreams don't always manifest in the way you expect. Just ask Henry Meyer. When he bought an investment property in Lansing, Michigan, he intended to rent it out to small businesses looking to set up shop in the area. But there was a problem—no one wanted to rent the building, and it was getting too expensive to keep without pulling in any income. Out of necessity, Henry decided to use the space to open a fish market. He'd never owned a restaurant before, but he frequented local diners that are now his competitors, and his mom had a fantastic recipe for chicken tenders, so he put his knowledge and resources to good use.
Eastside Fish Fry & Grill was a hit! But it wasn't long before the fledgling eatery suffered another setback—the federal government revoked their EBT license for serving too much hot food. And when the license disappeared, so did 40% of his customer base. But if Henry's learned anything over the years, it's how to bounce back after getting knocked down.
Hitting the turning point with Townsquare Interactive
Henry heard about Townsquare Interactive while working on his local radio ad campaign in Lansing. He'd always had a website with a guy he knew from high school, but it wasn't attracting the customers he needed to stay afloat. Since coming on board with Townsquare Interactive for website design and SEO five months ago, Henry has been ramping up his business. Today, he's cooking outside while the restaurant undergoes a remodel and new fryers and cooking systems are installed.
Diners, Drive-Ins and Dives comes to Lansing, Michigan
Henry's dedication has earned him a lot of recognition within the Lansing community—and now he's being recognized on a national level, too. Eastside Fish Fry & Grill recently hosted Guy Fieri and appeared on the Food Network show Diners, Drive-Ins and Dives. Want to watch? You can catch Eastside Fish Fry & Grill on episode 7 of season 27, "From Pied to Fried," on the Food Network. While being featured on the show speaks to the delicious food and local flavor at Eastside Fish Fry & Grill, Henry is quick to credit his loyal customers for the appearance. If not for the emails and letters they sent to Food Network singing his praises, the show might not have happened.
Humbled by the experience, Henry is grateful for the opportunity and happy his family, staff and customers could be a part of it. So, next time you're passing through Lansing, stop by Eastside Fish Fry & Grill and try their signature fresh fish and fried chicken. Your taste buds will thank you!
Let's Grow Your Business
Do you need help with your business's digital marketing plan? Fill out the form below to speak to a digital marketing expert and learn how we can assemble a personalized package that fits your business's needs and budget!