By: Jacob Robinson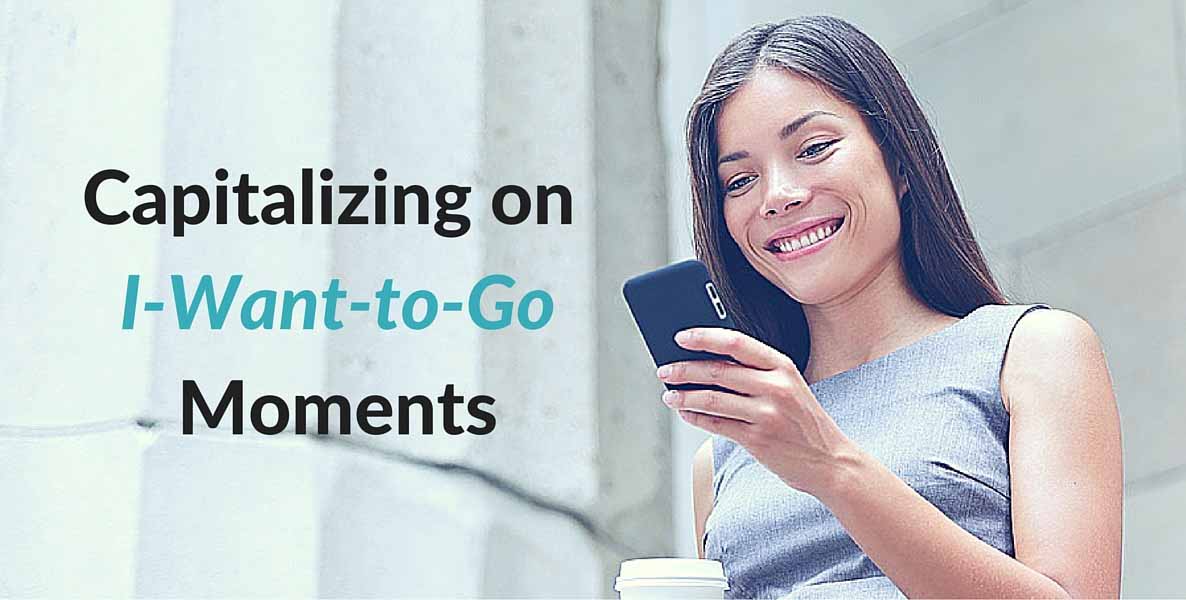 Do you remember life before your smartphone? How did you gather information? For many, getting answers took a long time and involved a phone book, a phone call, or booting up your desktop. Finding answers took some leg work and planning.
Today, answers are available to us within seconds of asking a question. We simply pull out our smartphone, enter a query, and browse the results. The immediacy in which we find answers is incredible! Google calls these occurrences, "Micro-Moments".  This new path to find answers has immense implications for both large and small businesses. Altering and optimizing the way you touch your clients within these Micro-Moments is imperative. 
What are I-Want-to-Go Moments?
Micro-Moments moments can be as short as 30 seconds and can occur at any point of the day. They occur while consumers are on-the-go and as their needs change. They can occur while driving their car, waiting in line, or eating lunch. Consumers have immediate questions and top brands and businesses are providing the right answers. Let's focus specifically on I-Want-to-Go Micro-Moments.
I-Want-to-Go moments are just what they sound like – a consumer has a need to go somewhere, they're not sure where to go, so they search for an answer.
The Immediacy of I-Want-to-Go Moments
The timing of a consumer's behavior is changing because they can now gather information more quickly. There's less planning involved in decision making. According to Google: "50% of consumers who conduct a local search on their smartphone visit a store within a day, and 18% of those searches lead to a purchase within a day." For millennials that statistic jumps to 60%.
In I-Want-to-Go moments this holds true. Consumers are confident in their ability to make a decision on where to go, within minutes of having a need.
"Near Me" Search Queries
Searches involving "near me" are frequently I-Want-to-Go moments. According to Google, "search interest in "near me" has increased 34X since 2011 and nearly doubled since last year."
Think about any "near me" I-Want-to-Go moments you've had in the last week. Some of these may have included "restaurants near me" "coffee shop near me", "boutiques near me", "lawyers near me", "antiques near me", or "contractors near me". You had a need and were looking for immediate information.
"Near Me" searches are higher during the weekends and on holidays (55% spike during Christmas & New Years). This makes sense. During these times, consumers are traveling or breaking away from their normal, day to day routine.
In I-Want-to-Go Moments, You Must Deliver on Needs
Now that we understand I-Want-to-Go moments, let's look at how you can position your business to capitalize on these searches. Think about your online digital touch points and how they relate to actual search queries. What do consumers see and experience when the have an I-Want-to-Go moment? Consider your social media, business listings, and website.
Does your business show up in local search?
Are you providing basic business information about your business (phone number, directions etc.) when they find you?
Does the information in your touch-points answer a consumer's question?
Are your touch-points "strong" enough to convert visitors to customers?
Assess your digital strategies, with the above points in mind and make adjustments so you are meeting consumers where they're at! Consumer behavior is changing. We expect immediate results to help us solve problems. Businesses, large and small, that provide quality information will be best positioned to capitalize on I-Want-to-Go moments.
More Traffic. More Leads. More Customers.
We help you find your ideal customers, drive traffic to your website and keep business running smoothly. Fill out the form below to start a conversation with one of our digital marketing pros.