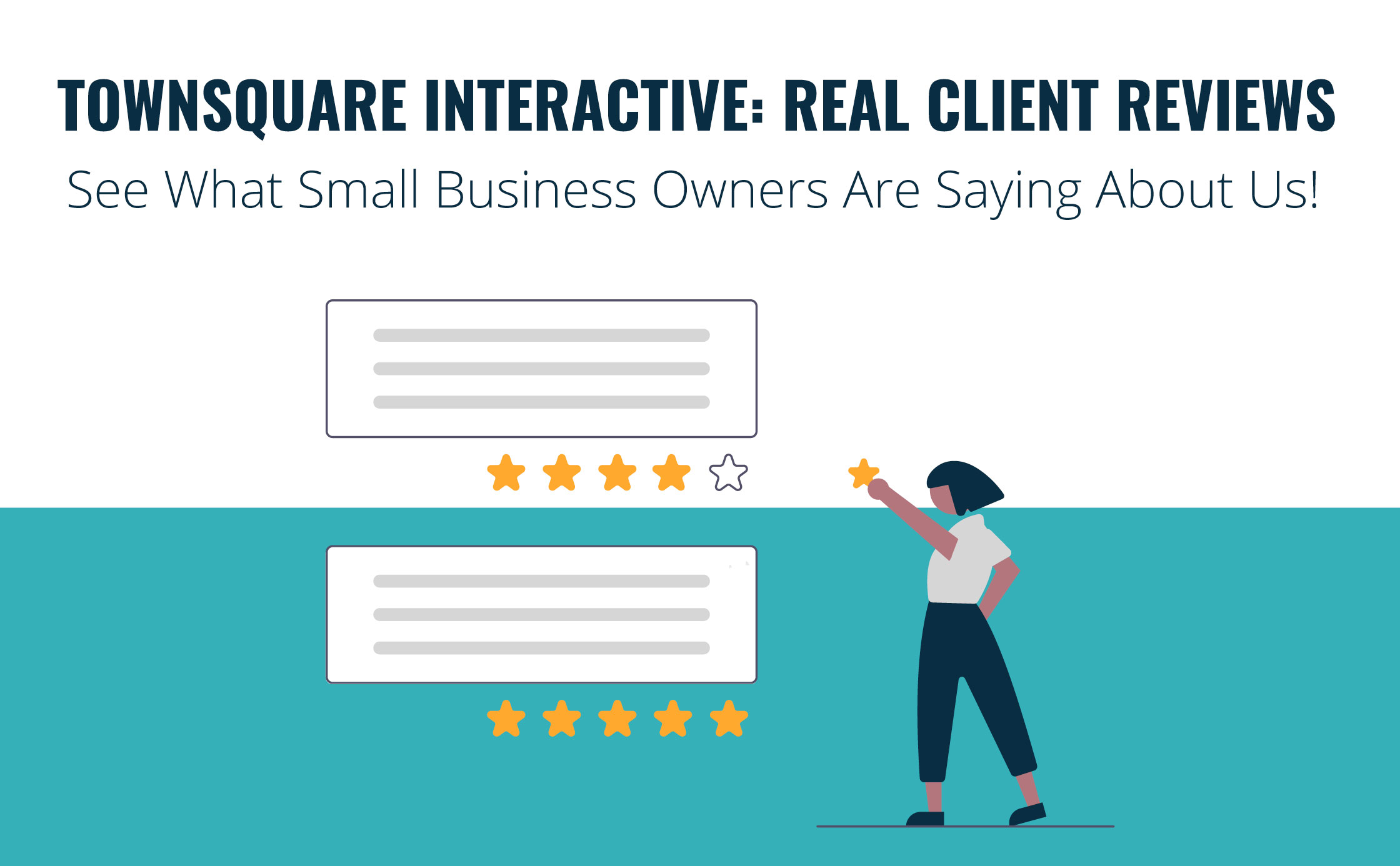 Townsquare Interactive is a digital marketing company dedicated to helping small business owners get found online, attract customers and grow their businesses with a variety of digital products, including web design, SEO and social media.
Wondering if Townsquare Interactive is right for you?
Check out these 5-star reviews from real customers!


These guys and gals are the best around. We get many walk-ins and we are always on the first page of Google, Bing, Yahoo and many, many others. Their team assists with our needs for our site immediately and creates beautiful ones. That is just the tip of the iceberg. This companies' professionalism is beyond many others, from beginning to completing their projects. I cannot explain how appreciative, and thankful we are for Townsquare's all around awesome team! Thank you!
– Craig Rice

I saw the ad after declining another provider and thought "here goes nothing"! I have been AMAZED so far with all that has been set up! A great site, to the point with a personal feel, tailored to my expectations. It's definitely worth the investment because they partner with "GOOGLE", along with several others. That kind of networking will speak for itself, providing you hold up your end of the deal in taking care of the people, the rest will take care of itself! Thank you as always and have a "Fresh" day!!
– Larry Wilson

They really make it happen. I think they might be
experts
. Well worth the money.
– Ronald Forest

My experience so far with this company has been terrific…. They
designed a beautiful website
for my wife's store with very little direction. The design team from North Carolina has fulfilled every request and hit the nail on the head with the final product. The store's online presence has improved dramatically and we're looking forward to a long-term relationship with them. We're planning to sign up for more of their services in the near future.
– Thomas Charette

I feel like
we have a whole team that sits around and just thinks of ways to better our business
. Our rep is constantly coming up with new ideas for our site so we can stay competitive. Our online presence has
drastically improved
since we've signed up. We used to pay for several outside lead sources. But since we've been with Townsquare we are busy enough just on internet calls, we've been able to turn those off. So in addition to being amazing at customer service, making you feel like you are their only customer, they are also SAVING me money.
– Koty Harpman

Signed on with Townsquare a few months ago and it has been a great experience, from the sale rep Ashley to the onboarding specialist Tony and our account manager Olivia everyone has been professional and attentive to us and our business needs. We
started getting calls only a few weeks after the site went up and have landed some great jobs
from the site and being on google! They certainly under-promised and over-delivered!
Love working with Townsquare and would highly recommend them!
MACC Construction Team!
– Mathew & Paul

Since I've been working with them nothing but good things! My web manager Jennifer Koenig is awesome my agent Andrew amazing highly recommend Townsquare for your business!
I see years of great partnership to come!!!
– Edward Burroughs

The website they made for is actually what I was looking for, from the work ethics to the communication. It's been an
easy process
unlike some other companies I tried to work with. I'm excited about this partnership.
Thanks for your insight and expertise.
Great job!
– David Macklin

We kept seeing the Townsquare name around but we were hesitant to try something new because we've used quite a few junk companies that ripped us off. Fortunately,
we took the chance and it's paid off
. They are the first people/company that actually took the time to explain how it works!
– Jessica Leighty

Every aspect of customer service relations has gone
above and beyond and I would give 10 starts if I could
. Jordan Pierce is a not only attentive to what I need but he stays on top of everything and always responds to my emails and calls. His level of service and professionalism is most appreciated by our company…
– Yvette Winkel

Great service and communication
of all the new changes, always for the better.
Thank you Townsquare Interactive, you're the best!!!!
– Kenneth Cousins

Victor Still did a wonderful job helping me assess my business to find how best to optimize my current system for organic traffic of patients. He also provided constructive feedback on my current website and marketing system. I realize now the value of having someone like Townsquare in my corner and I'm
thankful to have someone I feel that I can trust
. Thanks, Victor!
– Matthew Budavich

My business has picked up 3X since Townsquare
has designed my website and assisted me with being the 1st business to show in a search engine Very Professional and highly recommended.
– Greg White


This company is GREAT. I signed up for "who knows" how many advertising agencies to help me with my online advertising and website, listings, social media, etc, and I got a lot of nothing. Townsquare gave me a call and asked if I knew I had multiple websites up and conflicting information – which I didn't – and for a ridiculously reasonable price are getting me all fixed up. AND in a short amount of time. Don't waste your dollars elsewhere, these people are the absolute best at what they do and they make you feel like you're in a warm and snuggly, marketing cocoon of awesomeness. Shout out to Victor and Fatiah! I can't thank you enough!
– Bree Rothman


I recently received a sales call from this company. I listened to what they had to say and decided it was time to switch the hosting of our website and get deeper into digital marketing. Best move ever!! This team was amazing, and understood our needs and went to work immediately. It was a very easy transaction. I worked with three very professional people, Roman, Payton, and Dean. Our google account has taken off and so has the new design of our website. So happy with this company. Thanks again to all of you for your amazing professionalism.
– Kathy Licciardi


We have been with Townsquare for several years and I highly recommend their services. Gordon is probably the most patient person I know and he has helped our company go from not being known online to first page ranking on Google! Gordon's advice and recommendations have been clear and easy to follow and as a result our online presence keeps growing. Having help with online SEO is vital for any company that's looking to fill their schedule and I can't think of a better company than Townsquare.
– Florida Property Detectives


Townsquare contacted me a couple years ago about their service. I took a chance and signed on. They created a website for me in days that was way better than my old one and within about a week my business picked up. Now I have been with them for years and I have nothing but wonderful things to say about my experience with the account managers that I have had, the way they treat me, how quickly they make any changes I want to my website, and most importantly. . . how my website is almost always at the top of page one in all related searches for the services I provide. I now have so much work coming in that I have to turn away about half of it because I just simply cannot get to it all. If you need a website for your company, I highly recommend Townsquare Interactive!!
– Atlanta Fireplace Specialists


Tried almost a dozen SEO companies before finding Townsquare. They are the best! Very responsive and fairly priced. Look no further!
– Fred Muffet


I have been so satisfied with this service since they contacted me. My sales rep was excellent and very patient, because I didn't think I could afford this service. My contact person now is Lauren and she contacts me on a regular basis with suggestions on how to improve what was already an excellent product. I would highly recommend this to you and your business. My service has been impeccable!
– Yvonne K.


It's not easy being a business owner, but let me tell you my experience. I run a largely referral business but decided to google painters near me after creating a site with GoDaddy after 6 months and using their ranking "optimization" service. I wasn't on any page for almost any iteration of searches. I contacted GoDaddy and got a shrug. So, I contacted a painter I know in Colorado who has a lot of sales and he referred me here. Thank God for that. I am now on the first page of google for most of my searches and moving up steadily. The people at town square have been incredible to work with. In name: Kassie Easter. Kassie, THANK YOU! In spite of the fact that I have not been accountable to you or done pretty much anything you asked me to, you have been patient, positive and responsive. I'm SO grateful! This is just my experience and opinion, but stop considering and pull the trigger and grow your business. When the phone starts ringing you will be glad you did.
– Matt Davis


Meredith convinced us to switch our business website and marketing over to Townsquare a few years ago. She was helpful, truthful, and would always be there for us if we had any questions or concerns. They helped us grow put business by 250% in 3 years. I highly, highly, highly recommend you give them a chance. Also ask for Meredith.
– Ct Walsh

Townsquare Interactive has been extremely helpful to our business. We are a small, local, business and
TSI has increased our call volume by almost 50%.
They are
extremely affordable
for a company like ourselves. Their staff is knowledgeable and response time quick. By far the best ROI, compared to other advertising companies. I look forward to seeing what they do for our company in the future, as they haven't let us down yet.
-Anastacia Yodice
Join over 24,000 businesses owners who choose us month after month to help them grow their business!