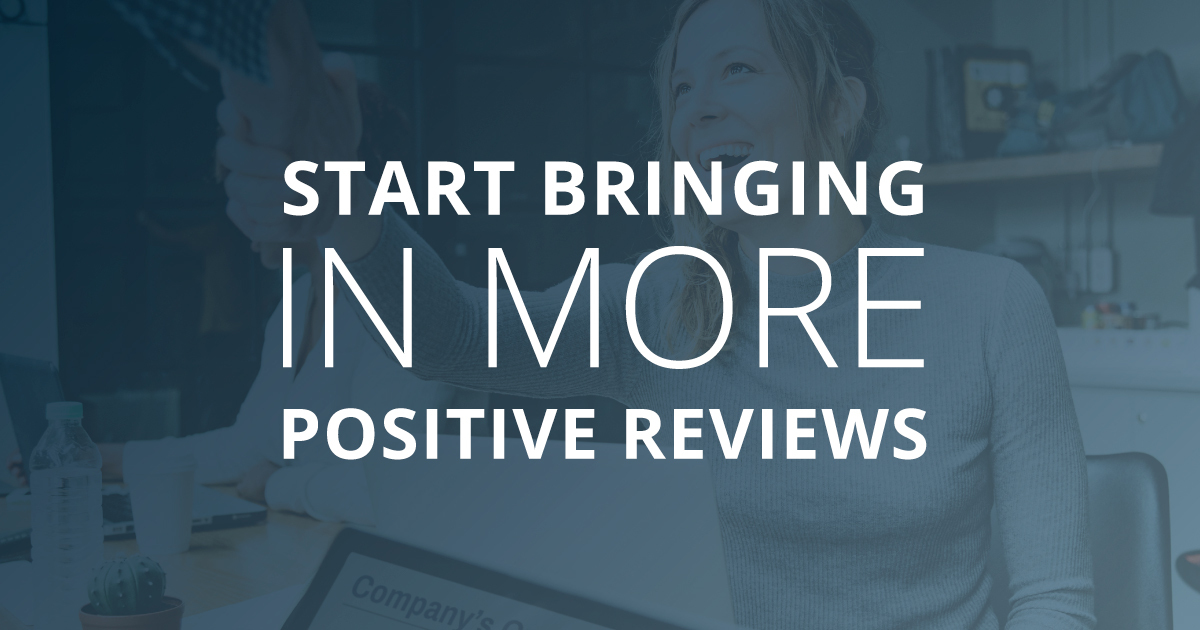 Online reviews are a powerful marketing tool for your business. Think about it: how often do you hop online to see what other people are saying about a product or service you're interested in purchasing? All the time, right? Your potential customers are doing the same thing, so make sure you're winning the review game.
Want some proof that responding to and asking for reviews are smart moves? More than 90% of consumers read online reviews before visiting a business, and 88% say they trust those online reviews as much as personal recommendations. Finally, 72% of those consumers will pull the trigger only after reading a positive review. Those numbers are pretty compelling.
Reviews offer a lot of value for no cost, as well. You don't have to pay a fee to leave or respond to a review, so that translates into free advertising for your business. If you're bringing in positive reviews, those endorsements will influence your potential customers, inspiring confidence in your business before you even meet them! Customer feedback management through reviews can also provide insights into how your business is perceived and where you can make improvements that will allow you to better serve your customers and improve your business strategy.
Where to Look for Reviews
Now, first things first—where should you look for reviews of your business, and where should you send customers who want to leave reviews? These are the most popular review platforms:
Google My Business
Facebook Business Page
Bing Places for Business
Yelp
TripAdvisor
Yellowpages
Better Business Bureau
Manta
Foursquare
The golden two are Google My Business and your Facebook business page, so if your time is limited, make sure you're at least checking these two platforms regularly for new reviews. These will also be the best places to direct customers who are willing or asking to leave you a review.
A major benefit of collecting frequent and positive reviews is improved local SEO. Google's ranking algorithm rewards businesses with strong reviews, and that means it'll be easier for people looking for your products or services to find you online.
How to Get More Reviews
The answer to getting more reviews is simple: ask! We know that asking for things can be hard, and there's definitely a right and wrong way to do it. So, here are a few ideas for asking your happy customers for reviews: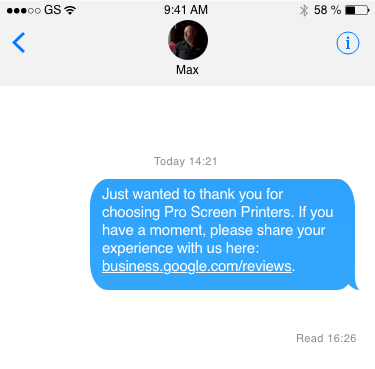 Shoot Them a Text
If it's a text it doesn't need to be long. Something like:
Just wanted to thank you for choosing [business name]. If you have a moment, please share your experience with us here: [review URL].
Mail a Handwritten Note
Handwritten notes are a great way to show your customers that you value them. After all, you're taking time out of your day to write a personalized thank-you by hand. Wish them well, thank them for choosing your business and ask for their honest review.
Ask in PersonYou must be able to read your audience for this one! If you've just had a productive conversation with a customer and they're praising your business or thanking you profusely, mention how much you'd love for them to share their experience in an online review! Lead in with something like this:
I'm so pleased to hear how happy you are with our service! Hey, if you want to put that in an online review, that would help us out a ton.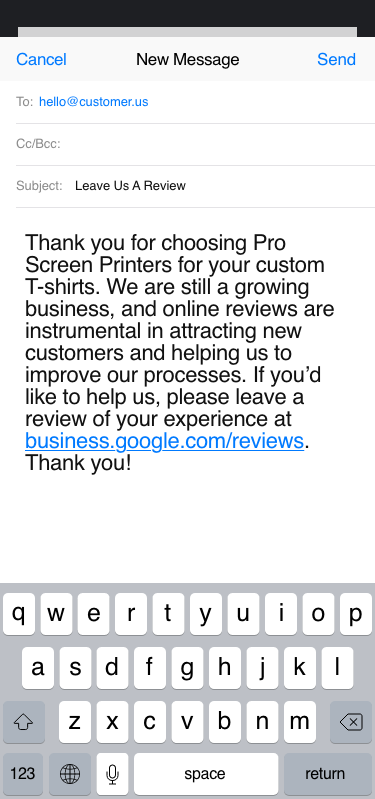 Send an Email
You can send these individually or in batches—just make sure they're addressed accordingly. Let your customer know how much their feedback means to you and how you will use it. Then, make it easy for them to submit a review! Provide them with a direct link to your preferred review channel, like your Google Business Listing. Here is an example:
Thank you for choosing [business name] for [product or service you provide]. We are still a growing business, and online reviews are instrumental in attracting new customers and helping us to improve our processes. If you'd like to help us, please leave a review of your experience at [review URL]. Thank you!
Post on Your Social Media
If your business has a strong following on social media, make a post every once in a while asking your happy customers to leave an honest review of their experience with you. If you're on a platform like Facebook, your followers will be able to leave reviews right there, which is super convenient!
Include Review Links in Your Email Signature and on Your Website
Make it easy for your customers to find your favorite review platforms. Make sure you're including links in your email signature and on your website.
Whichever method you choose, make sure to thank them for choosing your business, ask them to take a moment to share their experience and direct them to your Google My Business page or Facebook business page.
Emphasizing how easy it is will encourage them to leave a review. Remind them that they can simply leave a star rating or just write one or two sentences. You don't need a novel if your customers don't feel like writing one!
Try These Templates
Need some help writing the perfect note? Use these ideas to get started:
Example #1
Reviews from valuable customers like you help others feel confident about choosing [business name], too. Could you take 60 seconds to go to [review URL] and share your experience? We will be forever grateful. Thank you for helping us out!
Example #2
Here at [business name], we always want to ensure that we provide top-notch service! Please take a moment to leave us a review on the service you received at [review URL].
Example #3
Thank you for choosing [business name] for [product/service]. Would you mind sparing a minute or two to go to [review URL] and leaving us a review? We greatly appreciate your business and are always a call away to ensure that [what your business does]!
Reviews Rule Your Business's Online Reputation
If you want to stay on top of your business's online reputation, we can help. When you add reputation monitoring to your personalized digital marketing package, we'll send you email alerts every time a new review of your business is posted. That gives you the chance to respond to swiftly and appropriately to the new review and stay in control of your business's reputation.
Fill out the form below to speak to a digital marketing specialist and learn more about how we can help you get found online, attract customers and grow your business.