How do you respond to reviews for your small business? If you don't respond to them at all, you might be in trouble. The worst thing you can do is ignore customer feedback—whether it's positive or negative. If you are responding to reviews, how's your tone? Do you always sound professional and understanding?
Check out the video above for our quick how-to guide for responding to reviews. Want more insight? Here are the big things other business owners say you should keep in mind when responding to reviews:
Respond
No matter what, respond to that review in a timely manner.
Scott Javahari, co-owner of the two-year-old business Preferred Fence Solutions in Oklahoma City, OK, says: "Every review gets a response. If they take the time to write a review, we want to make sure that they feel acknowledged."
Take a look at the positive review and Preferred Fence Solutions' response below for an example of how to respond to reviews:
Watch Your Tone
Be professional. You're representing your business in a public forum, so remember that potential customers are likely to read your responses. To that end, don't say anything that's going to reflect poorly on your business. You don't want anyone to read a response you wrote in a fit of anger and think you'd be unpleasant to work with.
See how the owners at Preferred Fence Solutions tactfully combatted this one-star review below: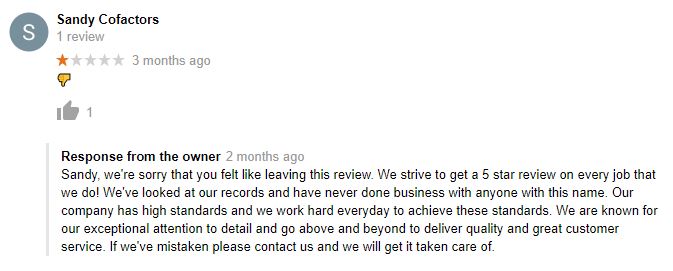 Keep It Simple
No need to go into a ton of detail. If the review is positive, thank your customer for taking the time to share their experience. If it's negative, apologize and offer an alternative method of communication to rectify the situation.
Odean Lee at Ideal Air HVAC has been in business since August 2016 and in the industry for over a decade. He had the following to say about managing bad reviews: "We're not perfect. In those situations, I apologize about not meeting their expectations. We thank them for giving us this opportunity to work with them and hope for a future opportunity."
Go Offline
After a negative review comes in, reach out to the disgruntled customer via phone, email or private message. The goal is to take correspondence off the public forum so it doesn't become a source of drama for potential customers browsing your reviews.
Ask for Reviews
Keeping these things in mind when responding to reviews will get you far! But what if you NEED more reviews in the first place? The answer is simple: ask for them! Shoot your happy customers a text or email or—even better—a handwritten note thanking them for choosing you and asking them to share their experience on Google, your Facebook page or another review platform.
---
Get Help With Reviews
Want to stay on top of reviews for your small business? When you add reputation monitoring to your personalized digital marketing package, we'll send you an email alert every time a new review comes in for your business so you can respond quickly. We'll also coach you through your responses if you need help! Fill out the form below to learn more from a digital marketing expert.