By: Jacob Robinson

Decisions are a part of everyday life. But, have you ever thought about what influences your decisions? Any decision you have ever made, and will ever make, is determined by your perception of the situation at hand. The perception itself, is influenced by your experiences.
As business owners this is important to understand. Consumer buying behavior is influenced by perception of your goods and services.
This is inherently a subjective task, as people's perceptions about good and bad differ. Some consumers perceive "bargain basement" pricing as a negative (maybe they've bought something because it was cheap and it didn't work), while others perceive a higher price as a positive, correlating the higher price to higher quality.
Ultimately our goal is to understand our brand, know how we want it to be perceived, and then accurately mold consumers perceptions of our brand in a way that encourages buying behavior.
Take a second and think about the following brands; McDonalds, Nike, Apple, Coca-Cola, and Ikea. What are your perceptions of these brands (maybe: refreshing, delicious, smart, cutting edge, modern, or sleek)? What experiences have influenced your perceptions?
Perceptions and Your Website
Every month, hundreds or thousands of people arrive to your digital storefront (your website). They form a first impression about your business in 0.2 seconds. It takes 2.6 seconds for your visitor to hone in on the area of the website that most influences their first impression.  In only a few seconds, your website visitor decides if they want to do business with you.
In those seconds your website visitor wants to answer questions like:
Does this company do what I need?
Does this company provide quality service?
Is this company reputable, ethical, and fair?
Is it easy to work with these guys?
They make their decision based on what your website tells them about the qualities of your business. If they perceive those qualities as good, they are more likely to do business with you. In order to earn their business you must make a good first impression and reinforce that first impression by answering their questions – doing all of this in a way that molds a positive perception of your company.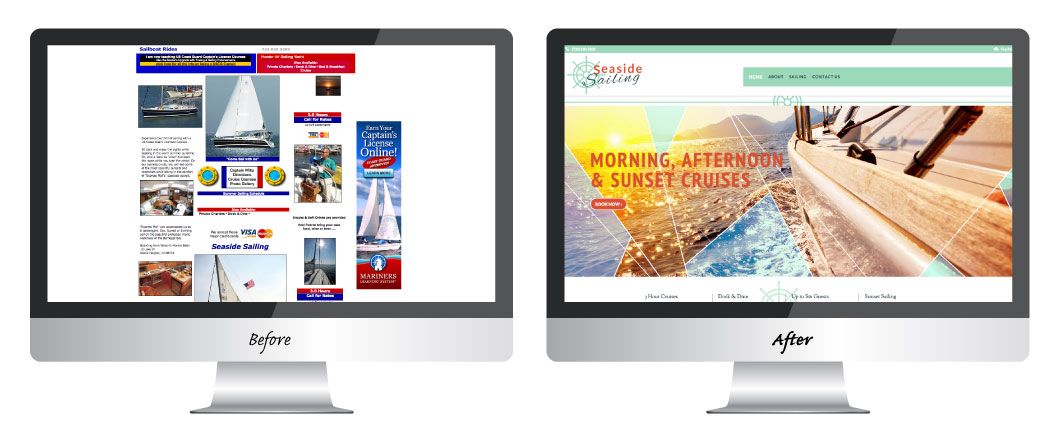 Have a look at this 'before and after' of a partner's website. 'Before', their website screamed stress and seasickness. This is do to choppy lines, and bold colors. The 'After' has clean lines, beautiful imagery, and engaging colors. I perceive the 'After' website as relaxing, warm, safe, and comfortable. Although this is the same company, which one are you more likely to call for a cruise? 
Let's explore what your website design says about your business. The below list is not exhaustive, as businesses want to be perceived differently, depending on industry and their brand image, but, in general, the following perceptions are formed about your brand immediately, upon visiting your website.
What Your Website Says Immediately About Your Business
Quality
Consumers want quality products and services. The way your website is designed says a lot about how you perceive value and quality.
When a consumer believes a website is designed professionally, with quality, they perceive your business as providing the same high quality service. On the other hand. If you have a website that could use a little love, consumers think the exact opposite about the quality of your service.
Can I give an example? I recently had laser eye surgery. I visited two different doctors. When I stepped into the first doctor's office, I flashed back to the 1990's. Everything from the furniture to the equipment felt old, yellow; like it belonged in a library. I felt uncomfortable. How could this doctor possibly be up-to-date on the latest eye surgery trends?
I told myself there's no way I'm letting this guy touch my eyes. Even though I'm sure he is qualified, I perceived him as not being able to provide a high quality procedure because I correlated his office with the quality of his work.
On the other hand, the second office I visited was modern, up to date, and clean. I knew from the moment I walked in, I was going to use this doctor. It felt right! The equipment looked high-tech. I felt surrounded by innovation. They handed me an iPad and headphones to watch a video on the surgery I was undertaking.
Taking this metaphor online, is your website from the 1990s or is it modern, cutting-edge, and up to date?
Trust
Trust is an important aspect of any business relationship. If you don't trust the person or company you're doing business with, you're not going to do business with them very long.
A website that accurately reflects who you are as a company and promotes transparency builds trust.
It shows legitimacy. The more transparent you are with your customers, the more apt they are to trust you. If they can trust you, they are one step closer to giving you their business.
There are many ways to gain trust on your website. Try displaying testimonials from satisfied customers on your home page, including logos and links to companies like the Better Business Bureau, and putting a face to your business by showcasing your team.
Experience
A high-quality website design can showcase your product and services in a way that says "these people know what they're doing". This aspect is very much intertwined with "trust" and "quality". We want to make sure we are working with someone who is going to deliver the product or service we expect. We are more likely to trust someone to provide high quality services if they're experienced.
Do display experience, make sure your "About Us" page shows how long you've been in business and display your finest work throughout your website.
Modern
People want to do business with businesses that are providing the best product and service. Many times, "the best" means you're providing your service with the most up to date technology, process, and service. Think about my laser eye surgery example. This is the reason I chose one business over the other.
There are a few things that will make your brand more modern. You must have a mobile optimized site and your imagery must be modern and cutting edge.
One more story? I once worked in a law firm in NYC. One of our goals was to create a brand that reflected how the law firm wanted to be perceived within the target community. Part of the project was making sure people knew this law firm was cutting edge from the moment they stepped into the office. One of the sticking points was Mac or PC?
The managing partner wanted every computer in the office to be a Mac. In her eyes Macs were cutting edge. To her, they were the embodiment of all things smart, efficient, and good in the world (I'm not sure I agree…). She wanted people to perceive her law firm in the same way, so we filled that office with Macs!
Perceptions Influence Buying Decisions
The importance of consumer perceptions of all the above are aspects of your business are important to understand. You can easily figure out how you want your customers to perceive your business. To do this you must:
#1 Understand your brand image.
#2 Know what sets your brand apart.
Around these two ideas, you can build a website that will allow you to mold the perceptions of your website visitors. When we do this we directly influence consumer buying decisions.
More Traffic. More Leads. More Customers.
We help you find your ideal customers, drive traffic to your website and keep business running smoothly. Fill out the form below to start a conversation with one of our digital marketing pros.