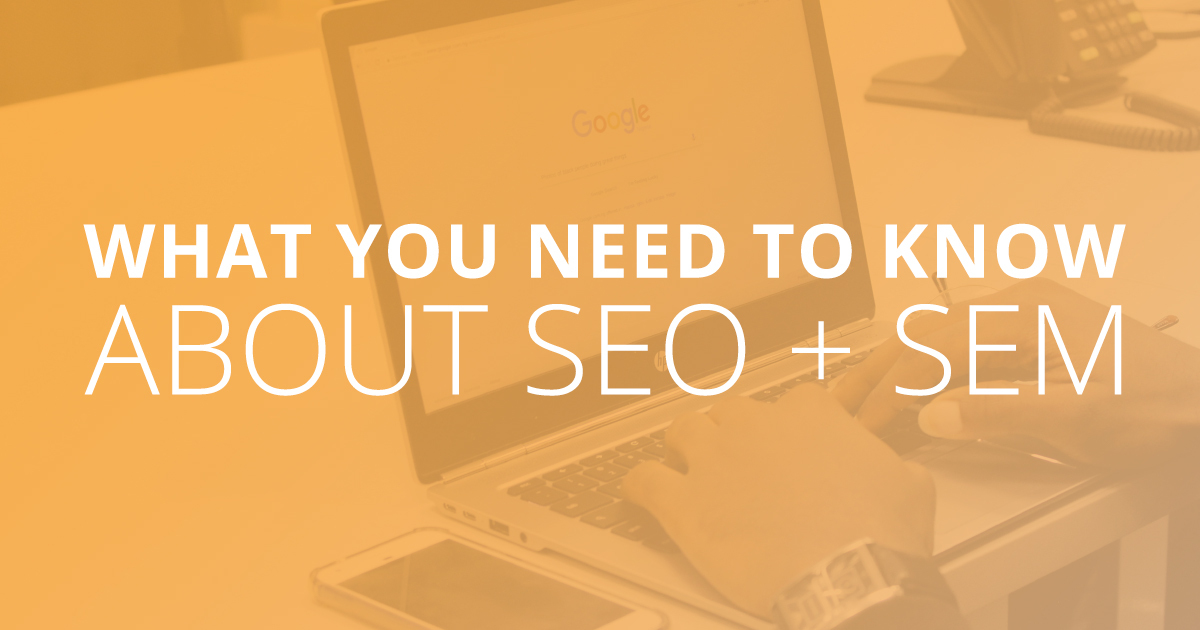 Do you know the difference between search engine optimization (SEO) and search engine marketing (SEM)? Unfortunately, the terms are often used interchangeably, even though they're different strategies. That can make it hard to determine which of the two is a better fit for your business. Should you invest in one or the other, or maybe both?
In this blog post, we'll go over SEO and SEM and help you decide which is right for your business!
Search Engine Optimization (SEO)
Search engine optimization, or SEO, is defined as the process of getting traffic to your site organically—or based on merit and credibility, as opposed to paying for a spot at the top. In this context, that means adding certain keywords to your site and completing other manual tasks to build up your credibility with search engines and improve your rankings. There are a couple of ways to do this:
On-Page SEO
Include keywords in title tags, meta descriptions, heading tags, alt tags and more.
Never seen these words before? Don't worry—these are the labels search engines like Google look for and analyze to determine who to send to your site and where to rank it in search results. They include how you title each page, describe it, organize it and more.
Title tags: These tags specify the title of a web page and are what show up on search engine results pages (SERPs).
Meta descriptions: These descriptions provide a brief summary of a web page and appear under title tags on SERPs.
Heading tags: These tags help to structure the content on your web page and often appear as headlines.
Alt tags: These tags are applied to photos and describe the image as a text alternative for search engines.
These tags will contain keywords relevant to your industry and location and act as road signs to help search engines determine who to send to your website. Here's what that looks like in practice:

Incorporate hyperlinks to other internal pages on your site.
This means adding links to your other pages within the content on your site. For example, link to your About and Contact pages in the content on your service pages. Doing this helps search engines and visitors tie different concepts and topics together via semantic search. Here's what that might look like on your website:

Format simple and clear page URLs.
If your page is title Air Conditioning Repairs, your URL should read something like this: mywebsite.com/air-conditioning-repairs and NOT mywebsite.com/page3. Using keywords in your URLs is another way you can boost your SEO efforts and get found online. Search engines and visitors will know what the page is about just by looking at the URL. For example: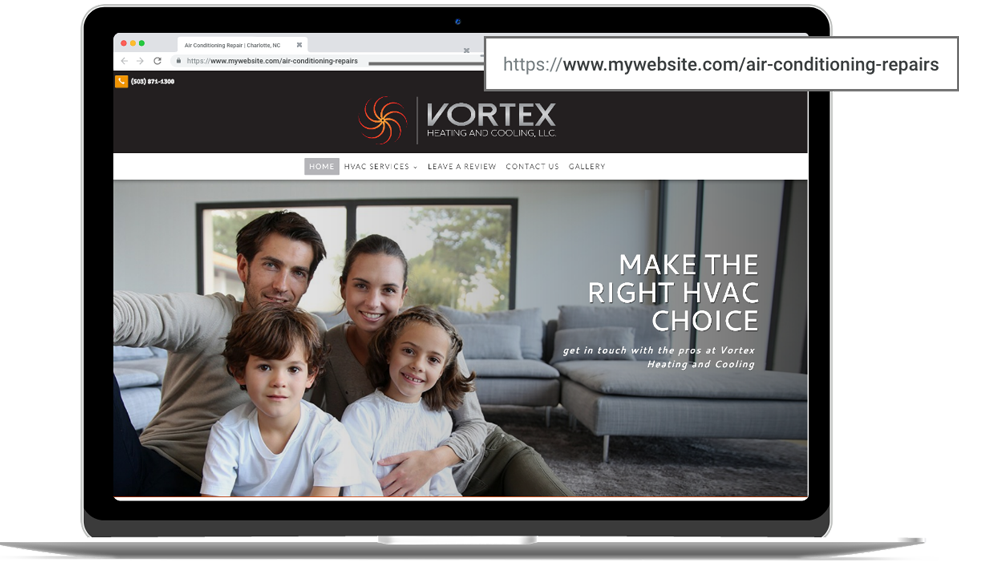 Write quality site content that incorporates keywords you want to rank for.
This means that in addition to using keywords, your content should be grammatically correct and relevant to the subject matter of the page you're writing it for. Doing this will ensure your visitors have a good experience on your site and improve your credibility with Google and other search engines.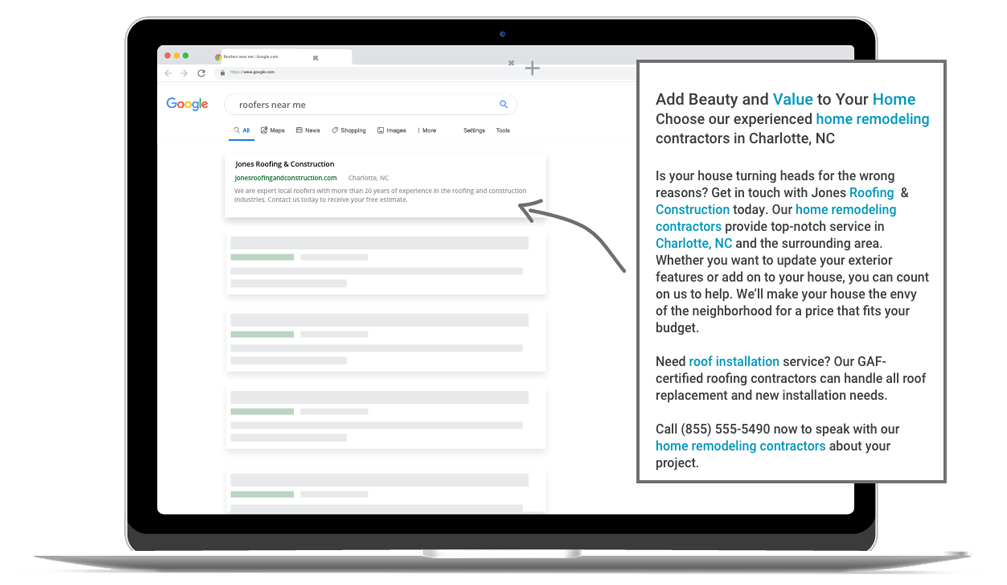 Off-Page SEO
Create a backlink library from other authoritative sites.
This means linking out to other well-known sites in your industry, as well as creating your own quality content that will convince these sites to link back to you! Doing this can help drive new potential customers to your website that you might not have attracted otherwise.
Maintain a verified Google My Business listing.
Check out our easy-to-follow guide if you're not sure how to get started! Doing this will improve your credibility in the eyes of both Google and your potential customers when they search for you on the web! Here's what our Google My Business listing looks like: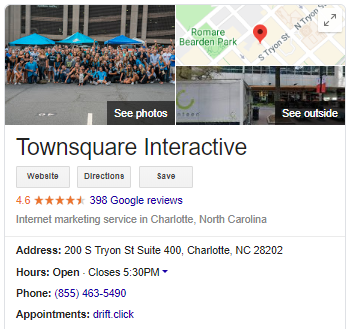 Optimize your directory listings.
This means making sure the information in your business listings is correct and consistent across the web so your potential customers can find and contact you. Want to see how your listings currently measure up? Fill out the form to see your score.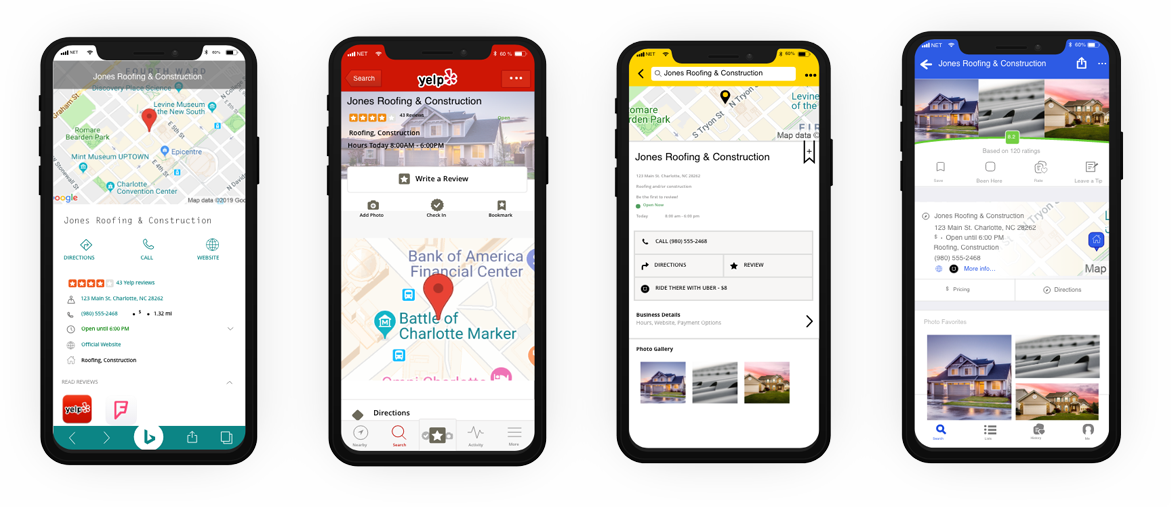 Maintain active social media profiles.
To do this, post relevant content on your Facebook page at least twice per week. This will keep your followers engaged and help to attract new potential customers. Posting regularly is also a great way to show Google that you're credible and deserve a higher spot in search results rankings.
Do all of these things correctly, and Google will take note. Over time, that will translate into improved rankings on search engine results pages. That means your customers will be more likely to see the link to your website and click through.
Search Engine Marketing (SEM)
Search engine marketing, or SEM, is defined as the process of targeting potential customers with paid ads and keywords that match their search queries. Not all paid ads look the same, but they can usually be identified by the green "Ad" symbol next to their name.
This is sometimes referred to as pay-per-click marketing, or PPC, which is a good descriptor. Essentially, every time a customer clicks one of these ads and visits your site, you pay a fee. Depending on how steep your competition is, the cost of those clicks can add up fast.
However, SEM/PPC is very effective at driving traffic to your site—because paid ad sections are usually at the top of search results pages, your website will be one of the first links searchers see, making it more likely you'll get a click. In this way, the revenue you make from the jobs these clicks bring in can easily pay for the cost of the clicks themselves. If you're looking for fast results, SEM might be the best option for you.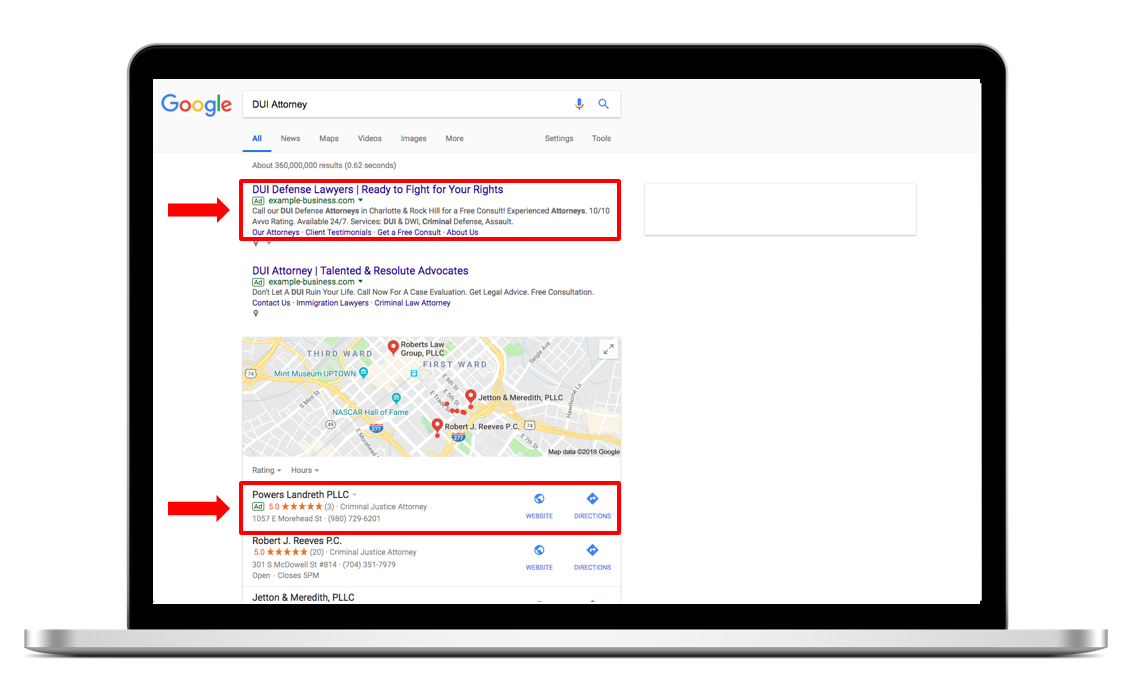 When to Use SEM
Your Business Is New
If your business is new and doesn't have a strong web presence yet, SEM is a good option for you. While you're building your credibility organically with SEO, SEM can help you get found by potential customers and drive more traffic to your website.
You're Running a Sale or Promotion
SEM is also a good option if you're running a sale or promotion that you want more eyes on. Because you'll probably only use SEM during the promotion's time window, this can be a cost-effective method of driving more traffic to your website. While you'll still have to pay for every click, the sale or promotion you're running is likely to entice more people to contact you.
You're Facing Steep Competition
If you're in a high-population area and competing with similar businesses for the top spots in search engine results, SEM can give you the upper hand. When you can't get to the first page organically, paying for a spot at the top of search results can make up the difference. Just select the keywords you want to show up for and let Google do the rest.
Let's Summarize the Main Points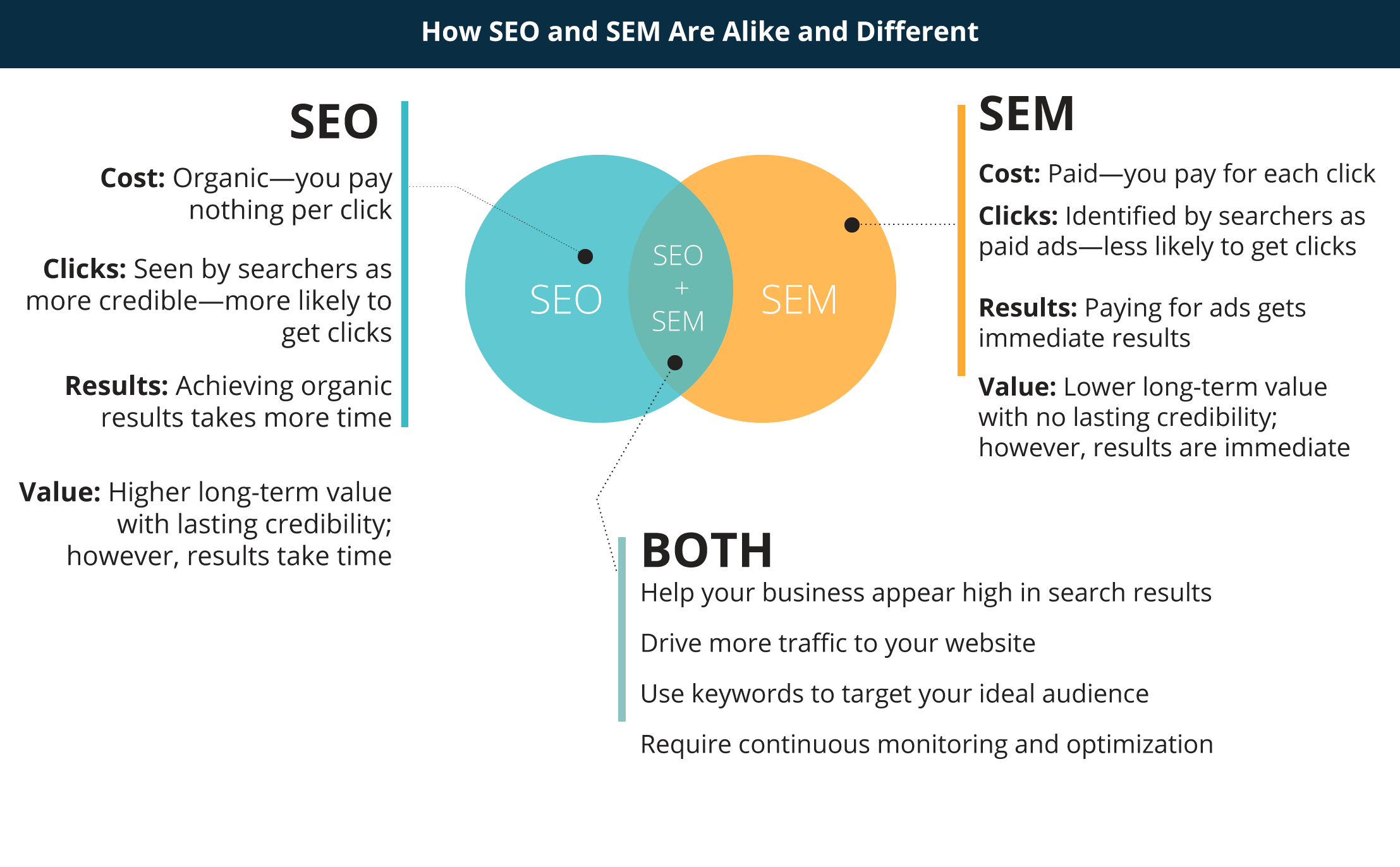 So, Is SEO or SEM Better for Your Business?
Now that we've laid out the similarities and differences between SEO and SEM, the winner might seem clear—but both of these processes can be incredibly valuable to your business! Here's what you need to consider.
If you want a long-term, highly cost-effective marketing solution, SEO is likely the better option for you. Because it gets results organically—by building up your credibility with search engines over time—your rankings aren't likely to disappear or fall drastically overnight.
However, SEM is a fantastic option for new businesses that want instant visibility and don't have time to wait for SEO to do its thing. A major benefit of using SEM is that you can still work on SEO in the background, so you're both getting instant results and building your credibility for staying power. SEM can also help you get more visitors to your website if you have stiff local competition and your organic SEO efforts have stalled.
All in all, you should start by identifying your goals. Do you have time to build your credibility organically with SEO, or do you need visitors to your website urgently? Are you starting from scratch, or do you already have an established web presence search engines recognize? Is your SEO on point, but you want to boost your traffic? SEO and SEM offer a variety of benefits and, together, they can be a marketing powerhouse.
So, which of these processes sounds more beneficial for your business? SEO, SEM or both?
Add SEO or SEM – or Both! – to Your Marketing Strategy
Want to learn more about how adding SEO and/or SEM to your business's marketing strategy can help you get found online by more potential customers? Fill out the form below, and a member of our team will get in touch!