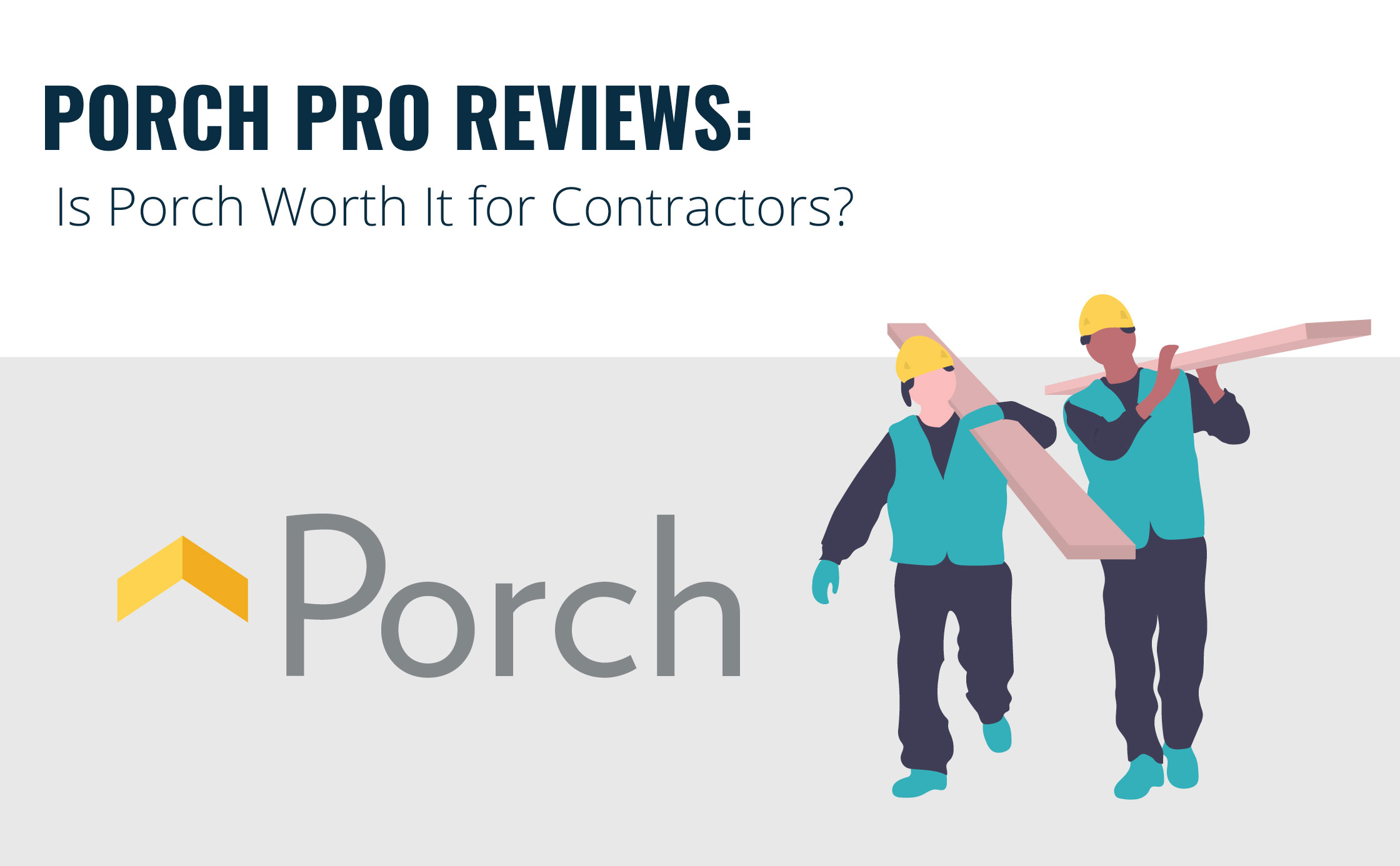 Lead generation is on every small business owner's mind. It is (correctly) perceived as the end-all-be-all if you want your business to succeed and grow, no matter if you're a contractor or a boutique owner. We've already discussed the pros and cons of working with lead gen services, companies like Porch and Porch Pro competitors (including HomeAdvisor and Angi), but, for this article, we're narrowing our focus down to just Porch and Porch Pro.
You might already be asking yourself, "Is Porch worth it?" or "Does Porch lead generation deliver?" The answer isn't a simple yes or no, but it definitely depends on your business goals. We'll put it this way: Porch Pro and companies like Porch aren't necessary to generate leads for your business, but it can be helpful to get noticed if your business is new and not well known in your community.
To help you make an informed decision about whether Porch is worth it for contractors, we'll take a look at some red flags and Porch Pro reviews from contractors.
What Is Porch Pro?
According to Porch Pro reviews, Porch is similar to other pay-per-lead companies, such as Angi and Home Advisor. One of Porch's main draws is its partnership with Lowe's—while this is good news for homeowners and consumers, it isn't great news for Porch pros, as Lowe's will try to sell the homeowner on using their in-home services.
Porch works by connecting contractors and homeowners. It has homeowners enter a timeline and budget for the project they need a pro for. Upon submission, multiple pros in the area are alerted, which means contractors are now in a race to get the lead first.
As with all pay-per-lead services, it's important to track its performance after you sign up. What's the cost? Are you getting a return? Are you using other marketing services that will improve your brand's online authority organically? After all, pay-per-lead services like Porch Pro and companies like Porch do nothing for brand longevity, even if they do provide a short-term solution to your lead problem.
Keep these items in mind if you sign up for Porch Pro. It is always recommended to have your own website presence and SEO campaign to build your brand's authority online, whether you invest in a lead generation campaign or not.
Porch Pro Reviews and Porch Leads Reviews From Contractors
If you want to see what actual contractors are saying in their Porch Pro reviews and Porch leads reviews, keep reading.
Porch Pro Reviews on Better Business Bureau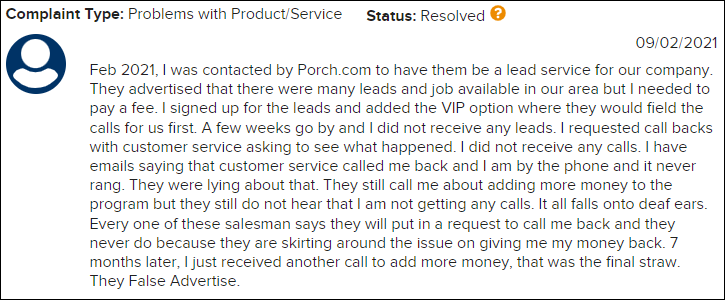 Read more Porch Pro reviews and Porch leads reviews on the Better Business Bureau website here.
Porch Pro Reviews on SiteJabber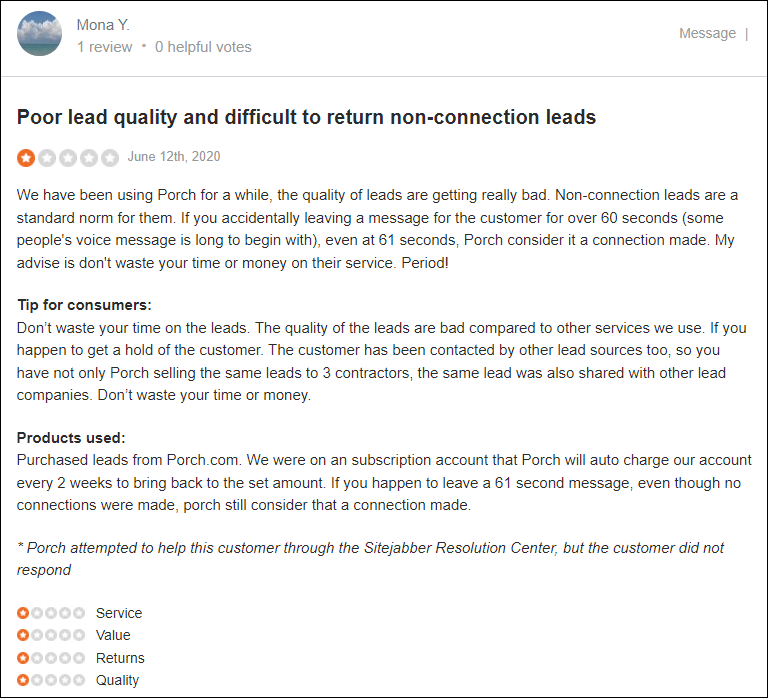 Read more Porch Pro reviews and Porch leads reviews on the SiteJabber website here.
Porch Pro Reviews on Trust Pilot

Read more Porch Pro reviews and Porch leads reviews on the Trust Pilot website here.
Generate Your Own Exclusive Leads Without Porch Pro
So, is Porch worth it for contractors? Our verdict is: It depends how long your business has been around both in your local community and online. Porch lead generation is portrayed as inconsistent in many Porch Pro reviews, so instead of or along with Porch lead generation, you should focus your budget on an organic online presence.
Signing up with Porch or Porch Pro might not be the right business decision for you, but the good news is that you don't necessarily need them to start generating your own exclusive leads! We've already created huge lists of lead generation ideas for roofers, towing companies, landscapers, plumbers and HVAC specialists, but these are the basics you need to remember:
Start with a professionally designed website.
Invest in an SEO (search engine optimization) strategy to get your business on the first page of Google search results.
Ensure all of your directory listings have the most up-to-date info on your business so customers can contact your directly.
Respond to your online reviews promptly and professionally, especially on Google.
Choose a marketing partner who always has your back.
Townsquare Interactive is a local digital marketing agency committed to helping small business owners get found online, attract customers and grow their businesses. You'll work with a dedicated digital marketing specialist who builds your marketing strategy and coordinates with our teams of content writers, web designers, SEO specialists and other subject-matter experts.
Want to learn more about how we can help you generate your own exclusive leads without Porch? Fill out the form below and we'll contact you soon!