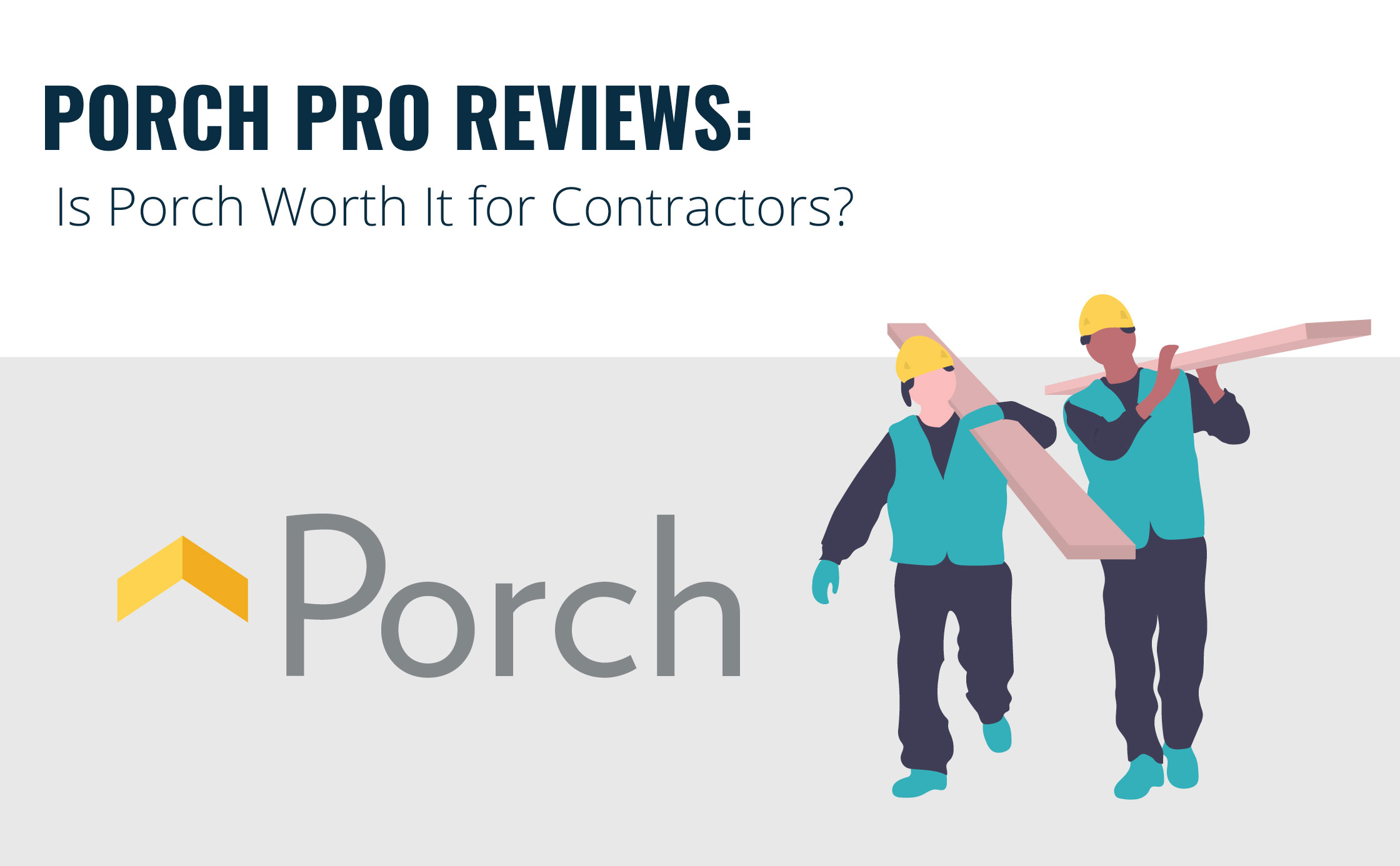 Updated on September 1, 2023
Lead generation is on every small business owner's mind. It is (correctly) perceived as the end-all-be-all if you want your business to succeed and grow, no matter if you're a contractor or a boutique owner. Porch Pro is a popular platform in the home services industry where contractors can generate leads.
You might already be asking yourself, "Is Porch worth it?" or "Does Porch lead generation deliver?" The answer isn't a simple yes or no, but it definitely depends on your business goals. To help you make an informed decision about whether Porch is worth it for contractors, we'll take a look at some pros and cons of using Porch Pro to generate leads.
What Is Porch Pro?
According to Porch Pro reviews, Porch is similar to other pay-per-lead companies, such as Angi and Home Advisor. One of Porch's main draws is its partnership with Lowe's—while this is good news for homeowners and consumers, it isn't great news for Porch pros, as Lowe's will try to sell the homeowner on using their in-home services.
Porch works by connecting contractors and homeowners. It has homeowners enter a timeline and budget for the project they need a pro for. Upon submission, multiple pros in the area are alerted, which means contractors are now in a race to get the lead first.
As with all pay-per-lead services, it's important to track its performance after you sign up. What's the cost? Are you getting a return? Are you using other marketing services that will improve your brand's online authority organically? After all, pay-per-lead services like Porch Pro and companies like Porch do nothing for brand longevity, even if they do provide a short-term solution to your lead problem.
Keep these items in mind if you sign up for Porch Pro. It is always recommended to have your own website presence and SEO campaign to build your brand's authority online, whether you invest in a lead generation campaign or not.
Porch Pro Pros & Cons for Contractors
Pros of Porch Pro:
Broad Range of Services: Porch Pro covers a wide array of home services, allowing various types of contractors, from painters to electricians, to find relevant leads.
Tailored Leads: Contractors can receive leads that are specifically tailored to their skills and areas of expertise, potentially increasing the likelihood of securing a job.
Transparent Pricing: Porch Pro has transparent pricing for leads, allowing contractors to budget and make informed decisions about which leads to pursue.
Project Cost Estimations: The platform offers a feature where homeowners can get estimated costs for their projects. This ensures that leads are more informed about potential costs, setting realistic expectations.
Profile & Portfolio Features: Contractors can showcase their previous work, certifications, and customer reviews, helping to build trust with potential clients.
Cons of Porch Pro:
Cost of Leads: While some contractors find good ROI on Porch Pro, others might find the cost of leads to be high, especially when considering the overall conversion rate.
Competition: As with most online platforms, there's a level of competition. Several contractors might receive the same lead, and there's no guarantee of securing the job.
No Guaranteed ROI: Like other lead generation services, there's no guarantee of return on investment. You pay for the lead, not for the confirmed job.
Mixed Reviews: Some contractors have cited concerns with the quality of leads, while others have had positive experiences. The platform might work better for some specialties over others.
Dependency: Over-reliance on a single platform for leads can be risky. If there are shifts in Porch Pro's algorithms, pricing, or policies, it can significantly impact a contractor's lead generation.
Generate Your Own Exclusive Leads
Ultimately, whether Porch Pro is a good fit will depend on the specific contractor, their field of expertise, and their business model. It's always a good idea to diversify lead generation sources and not rely solely on one platform.
Signing up with Porch or Porch Pro might not be the right business decision for you, but the good news is that you don't necessarily need them to start generating your own exclusive leads! We've already created huge lists of lead generation ideas for roofers, towing companies, landscapers, plumbers and HVAC specialists, but these are the basics you need to remember:
Start with a professionally designed website.
Invest in an SEO (search engine optimization) strategy to get your business on the first page of Google search results.
Ensure all of your directory listings have the most up-to-date info on your business so customers can contact your directly.
Respond to your online reviews promptly and professionally, especially on Google.
Choose a marketing partner who always has your back.
Townsquare Interactive is a local digital marketing agency committed to helping small business owners get found online, attract customers and grow their businesses. You'll work with a dedicated digital marketing specialist who builds your marketing strategy and coordinates with our teams of content writers, web designers, SEO specialists and other subject-matter experts.
Want to learn more about how we can help you generate your own exclusive leads without Porch? Fill out the form below and we'll contact you soon!