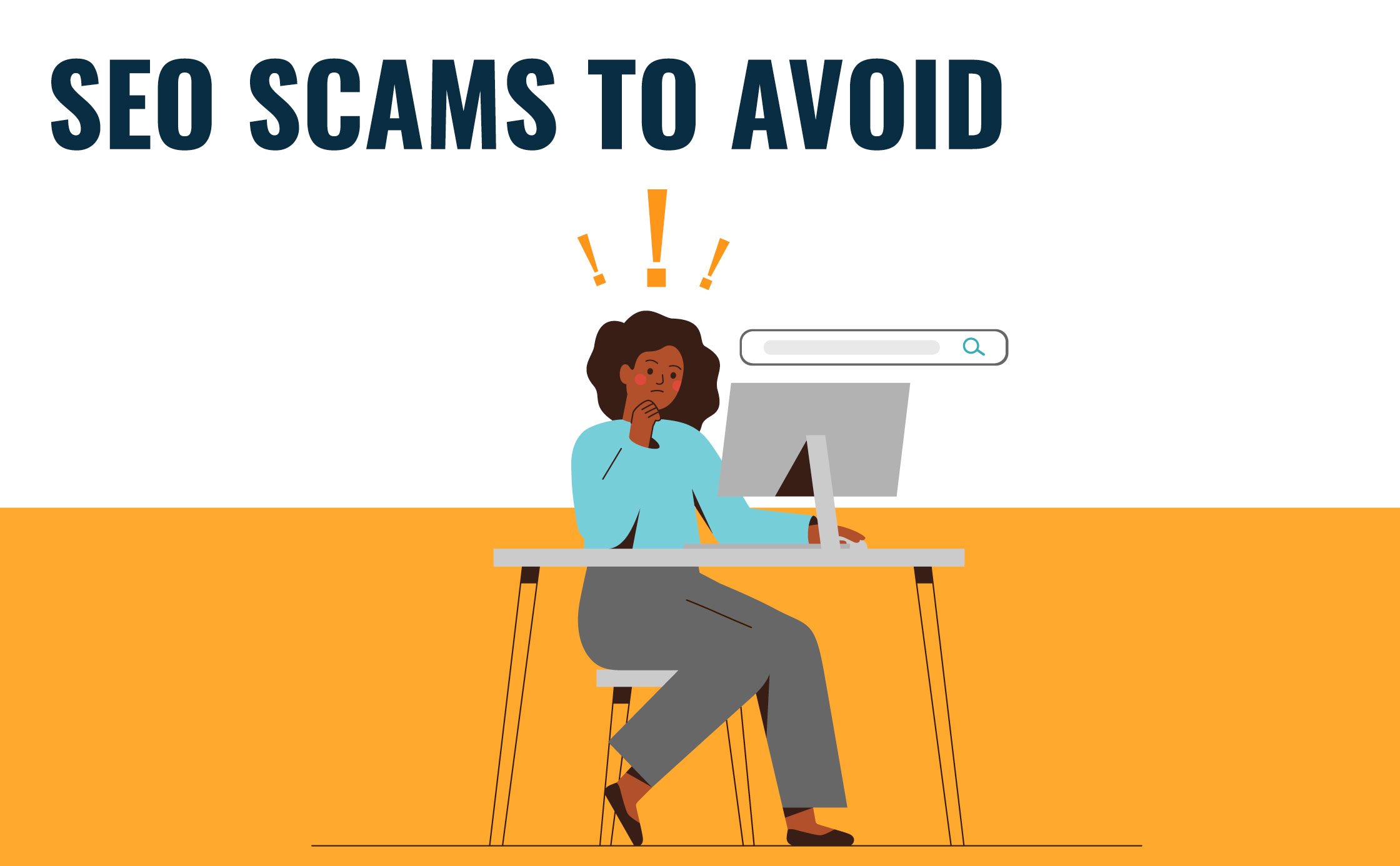 Every business looks for a competitive edge. When it comes to digital marketing strategies, success or failure hinges on the strength of your online visibility. Most businesses with an online presence are actively engaged in, or are at least familiar with, search engine optimization. The edge is when your website is found before competing sites for the searches your ideal clients are doing. And while there are as many SEO tactics as there are SEO agencies, some of them may not deliver the value they promise.
In fact, some of them can actively harm your online visibility! We'll be looking at a few SEO tactics known to be scams so you can avoid them. As with many supposed "quick fixes," the old adage applies: If it sounds too good to be true, it probably is.
1. Buying Backlinks
Search engines like Google tie the World Wide Web together for us by "crawling" through all the various URLs and hyperlinks. They scan them and then create a searchable index of what they found.
One way Google determines the authority of a website is by examining how many other websites link to it. Known as a backlink, each one functions as a vote in favor of a website's value. It's not controversial to say that part of a healthy online presence is acquiring these backlinks for your website, especially from trustworthy sites that are relevant or connected to your business or industry in some way. And, where there's a demand, there's surely someone willing to sell a solution.
There are companies that will sell business owners tens to thousands of links to their website with the claim that creating those links will lead to SEO success. If you have a lot of links, your website must be a quality site, right? However, as is made clear on Google's Search Central blog:
"[S]ome SEOs and website owners engage in the practice of buying and selling links that pass PageRank, disregarding the quality of the links, the sources, and the long-term impact it will have on their sites. Buying or selling links that pass PageRank is in violation of Google's Webmaster Guidelines and can negatively impact a site's ranking in search results."
Reputable SEO companies tend to follow the letter and spirit of Google's various guidelines, and trying to manipulate rankings by buying batches of links is a high-risk strategy that should be avoided. In July of 2021, Google rolled out updates to their ranking algorithms that were aimed at curbing the impact of paid links and other link schemes. Lest you think this is something that Google is only just now turning its attention to, you can reach further back into SEO history – Google released an update as early as October of 2005, known to online marketers as the "Jagger update," to combat paid links.
So, with Google actively working to fight this sort of strategy, you have to ask yourself: Why would I pay money for something that won't work as advertised at best, and could get my site penalized at worst?
Real link building is a time-consuming process, and earning quality links to your site is best done by creating a high-quality site that others will want to link to.
2. Google Maps Citations
One of the most common ways that businesses and consumers interact on Google is through the Google My Business listing. Whether you're looking for driving or walking directions, a phone number, or want to check reviews, this listing provides a high-level overview of local businesses.
For business owners, it's a way to inform your community that you exist. Even businesses without a personal website will very often have a Google My Business listing, and having one is all but necessary to appear in the Google Maps pack that frequently accompanies local searches.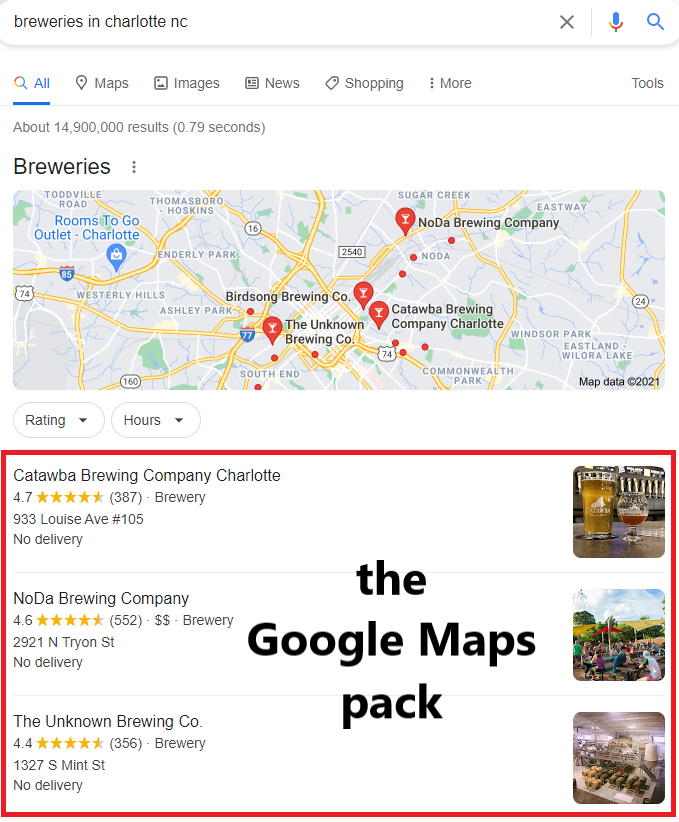 Because there are only three results shown in the Maps pack, it's a competitive and highly sought-after piece of search engine real estate. Appearing here can mean that your business is at least considered before others, and it can drive significant traffic to a website. More traffic means more chances to earn new business, so it's easy to see the appeal of making sure you're included.
Reputable SEO companies know that it takes time and effort to get their clients visibility here, while less-than-reputable companies or freelancers offer a supposed short-cut to Maps domination. For instance, if you search for SEO services on gig sites such as Fiverr, you're bound to eventually come across an image that looks like this: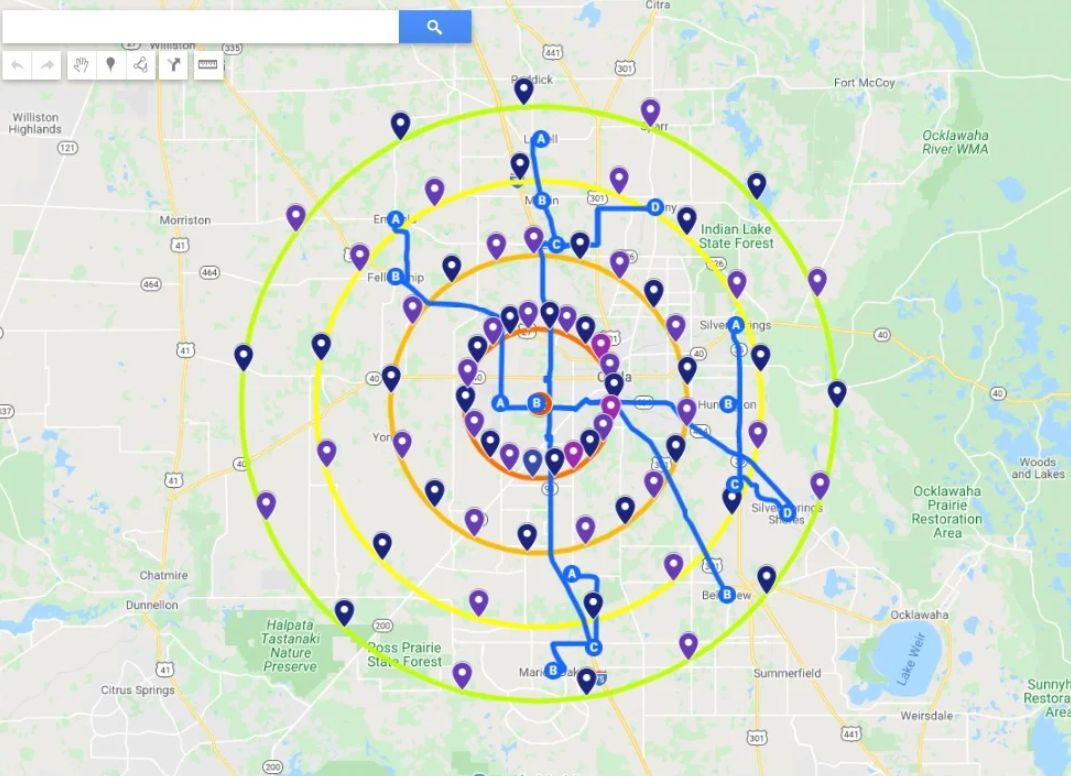 Or, you may even see something a bit more – elaborate? psychedelic? – like this: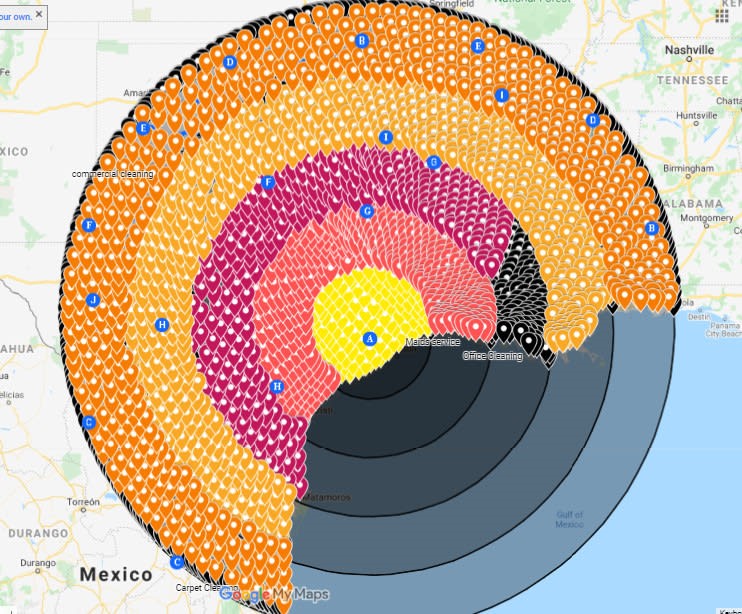 The claim is that you can get 10, 25, 1,000, 25,000, or even more citations created for your business on Google Maps and that these citations will boost your presence for local searches in a large radius around your actual location.
But, here's the scam: these citations are created in Google My Maps, a service that lets you create custom point maps. This is great if you're planning a trip somewhere, or if you want to share and edit a map with friends, or if you are just super into creating maps. While this tool is related to Google Maps, it is not the same tool that powers things like the Google Maps app or the Maps pack in search results. Most importantly, it is not known to be used as a ranking factor by Google.
Still thinking about spending some of your advertising budget on a couple thousand citations? Watch this YouTube clip from the highly respected Darren Shaw, founder of Whitespark:
To save you a click, he purchased some of these citations and found no impact at all on local rankings over a three-month period. It's been tested by an SEO industry leader, so save the $50!
3. Multiple Google My Business Listings
As we've said, Google Maps is an important tool in your digital marketing repertoire. While Google My Maps citations aren't going to help your online presence, a Google My Business listing definitely will.
The next "scam" isn't so much a scam as it is a practice to be avoided. Some unscrupulous marketing companies will create multiple Google My Business listings for their clients, whether the client is aware of it or not. The idea is that by having multiple listings in different cities, you can potentially appear in more areas that you'd like to serve. And it's not just marketers who are doing this, as sometimes business owners will take it upon themselves to create multiple listings, but here's the rub…
Google is very clear in their "Guidelines for representing your business on Google" help page where the eligibility of your business on their platform is concerned. Under the Address heading they state:
"Use a precise, accurate address and/or service area to describe your business location. P.O. boxes or mailboxes located at remote locations are not acceptable.
If your business rents a physical mailing address but doesn't operate out of that location, also known as a virtual office, that location is not eligible for a Business Profile on Google.
Businesses can't list an office at a co-working space unless that office maintains clear signage, receives customers at the location during business hours, and is staffed during business hours by your business staff.
Don't create more than one page for each location of your business, either in a single account or multiple accounts."
So, the idea of setting up mailboxes in locations across your service area or borrowing a friend's or relative's address and using those to set up multiple Google My Business listings is in direct violation of these guidelines. If your business primarily serves customers at their location, Google considers you to be a "service-area business" and they are explicit about how to set up a listing:
"Service-area businesses, or businesses that serve customers at their locations, should have one profile for the central office or location with a designated service area. Service-area businesses can't list a 'virtual' office unless that office is staffed during business hours.
If you have different locations for your service business, with separate service areas and separate staff at each location, you're allowed one profile for each location. The boundaries of your profile's overall service area shouldn't extend farther than about 2 hours of driving time from where your business is based."
There's some accommodation, but in the majority of cases, a single listing will be appropriate. It's worth mentioning that if you have physical locations, it's appropriate to get Google My Business listings for each. But it's easy to see the appeal of trying to game the system, since it can get results, though it can also backfire.
One reason is due to a scam that might not be obvious at first glance.
A few years ago, Google cracked down on locksmith listings because there was a serious issue with fake listings getting created across the country. A searcher would look up what appeared to be a local business, but the fake listing was routing the call elsewhere to dispatch a locksmith for service.
Consumers were getting hit with larger than expected bills and not dealing with the company they thought they were. The knock-on effect was that legitimate locksmiths were being penalized and finding their listings suspended. A suspended Google My Business listing will no longer show up in search results, so this would be detrimental. Now, those in this industry have to complete "Advanced Verification" to get their listing. This is better for searchers, but extra work for legitimate businesses.
Legit SEO Marketers Follow Google Guidelines
Google wants to accurately represent the offline world in the online space, and their guidelines help do this. There are absolutely strategies for service-area businesses to appear throughout their service area, but a Google My Business listing is just one piece of that strategy.
Upstanding digital marketing companies will comply with Google's guidelines while working to win visibility for clients, so be wary of companies advocating for methods that run afoul of these best practices. Don't risk long-term penalties for short-term gains. As another old adage goes: You can do it right, or you can do it again.
Want to learn more about how good SEO practices can help your business move to page one of Google organically? Fill out the form below, and we'll be in touch!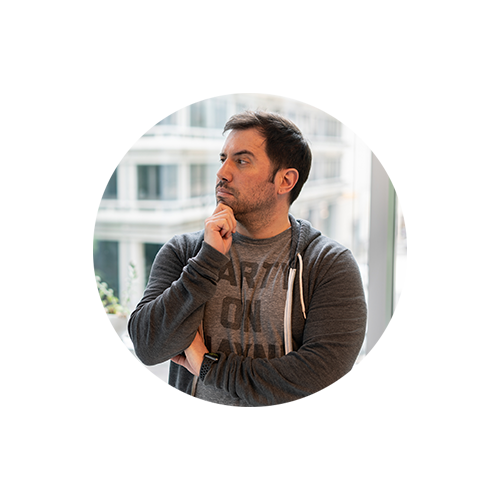 About the Author | Stephen Douvros
Inquisitive. Tenacious. Husky. These are a few words that accurately describe Stephen Douvros, a Senior Analyst & SEO Team Lead at Townsquare Interactive. He attended the illustrious Winthrop University in Rock Hill, SC, earning a degree in political science. He has over eight years of experience in the digital marketing field, and, one time, he ate an entire Pizza Hut Stuffed Crust Gold pizza by himself.