Customer service (noun)- the assistance and advice provided by a company to those people who buy or use its products or services.
As you're reading this, think of the best customer service experience you've ever had. Was it great because the customer service representative was informative, quick to respond, and extremely friendly? Now think of your worst customer service experience – what happened that made it terrible?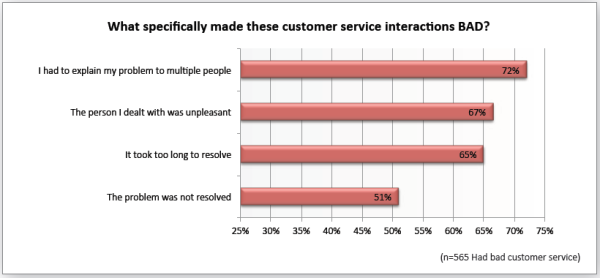 When Dimensional Research asked a group of participants "what makes a customer service interaction bad", 72 percent of the respondents blamed having to explain a problem to multiple people, while only 51 percent blamed a bad customer service interaction on the problem not being resolved.
This speaks volumes– think about it, it's not the fact that issues aren't being resolved- it's just having to repeat yourself that causes the most frustration. May I add, this is why we designate one marketing specialist per client- it truly makes a substantial difference.

And with the saturation of social networking and mobile phones, it's no surprise that 58 percent said they were more likely to share customer service experiences today, than they were five years ago.
Check out: What to Do When You Get A Bad Review
So here are some tips to take your client relationship to the next level by providing amazing customer service:
Smile!
One way to positively affect the inflection in your voice is to smile, especially when you first answer the telephone. The reason is not psychological, but rather physiological. When you smile, the soft palate at the back of your mouth raises and makes the sound waves more fluid. For those of you who sing in a choir (or in the shower), you know that the wider you open your mouth and the more teeth you show, the better tone you get. The same applies on the telephone. Smiling helps your voice to sound friendly, warm, and receptive.
Be Available
Incredible customer service is fast. Issues need to be resolved quickly and efficiently. If a client is seeking help- they want the issue to be resolved so they can move on with their busy lives. If a client writes an email regarding an issue- try to respond within 24 hours! If they call- same day response is (pretty much) necessary.
But as your business grows, you'll need more phone numbers. If you want to ensure you keep the same high level of customer service, buy multiple virtual telephone numbers that connect to one VoIP system. A VoIP system makes it much easier for you to manage all of your numbers.
Be Customer Focused
We all have our days, when picking up the phone and talking to clients seems like a dreadful task. However, you have to be careful- clients can sense this! We need to train ourselves to leave our frustrations at the door. If they sense your fowl mood, it can go several ways- they can stick with you- but have frustrations towards the company and leave a bad review, or they may just decide to take their business and money elsewhere.
Focusing on helping your client can be much easier said than done, especially if you're having a case of the Mondays.  Everyone working in customer service should work on this skill, though, and let's face it – everyone is providing customer service to someone, nowadays.
Be The Expert
When clients are calling in- they're looking for help. Chances are they already looked online for help and instructions. They are turning to you, because you're knowledgeable in your services and your industry as a whole. Take note of the common questions you're receiving and make sure you're equipped to answer them.
For questions that are too detailed or technical, know where to get help. Don't be afraid to say "I don't know" either- clients appreciate the honesty- just make sure to find the right answer and follow up in a timely fashion!
Website Tip: Take those Frequently Asked Questions and provide those answers on your website!
Admit When You've Made a Mistake
We all make mistakes- we're human! It's best to admit them, rather than get defensive. Admitting you made a mistake builds trust and reinstates confidence. Control the issue, remember to smile, refocus the client's attention, and resolve the issue!
Providing good customer service is imperative to a company's success. It not only affects revenue, but has a long lasting impact. Customer service ranks as the No. 1 factor influencing how much a consumer trusts a company.
More Traffic. More Leads. More Customers.
We help you find your ideal customers, drive traffic to your website and keep business running smoothly. Fill out the form below to start a conversation with one of our digital marketing pros.