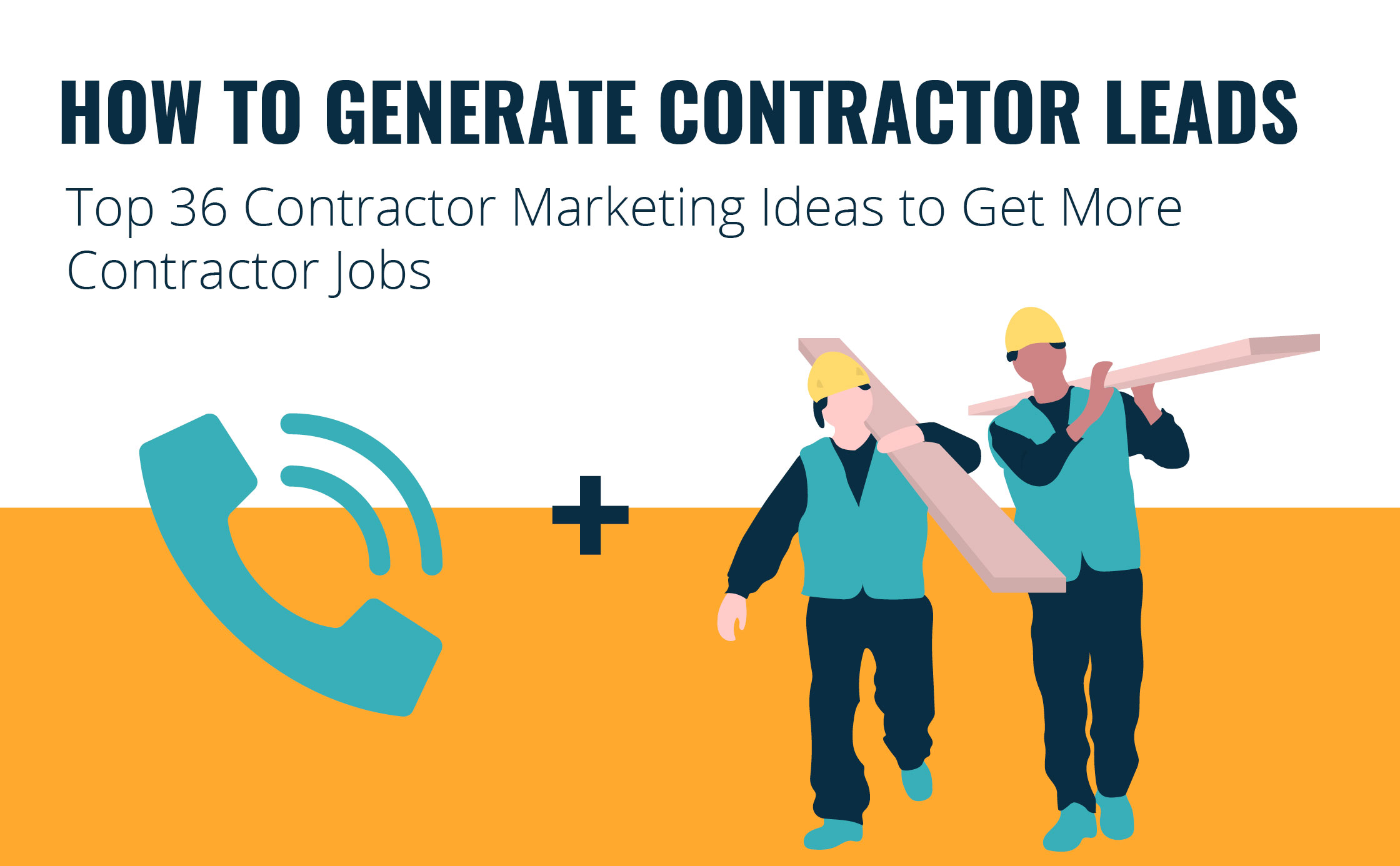 Leads can make or break any contractor business, no matter where you're located or how long your business has been serving your community. Without a reliable flow of exclusive contractor leads, sustaining your business long-term is impossible. But when you create a contractor marketing campaign that attracts new customers and brings in exclusive contractor leads to your business, that's a recipe for:
More high-paying construction jobs
Consistent construction and contractor work
Increased construction revenue
Expansion of your contractor business
So, we know why generating exclusive contractor leads is important for your contractor business's long-term growth, but what's the simplest way to do it? The answer is a good contractor marketing campaign. If you've ever wondered how to get more contractor business, how to get contractor customers or how to get contractor jobs in general, try a few (or all!) of the contractor marketing and contractor advertising ideas below.
1. Get more contractor jobs with a professionally designed website.
One of the most important things you can do for your contractor business is to build a website. It's the key to contractor lead generation. That website will act as your contractor business's online storefront and be a home base for all of your contractor marketing and advertising efforts. Add the URL to your business cards, your work trucks—anywhere you'd usually put a phone number. The URL will be easier for people to remember, which means they'll have an easier time getting in touch with you.
Your website can also help potential customers:
Learn more about your contractor business
Read about the construction services you provide
See your service area
Get in touch with you
Without a website, how are those potential customers going to find your business on Google? How will they know where to contact you for construction services? They won't.
Without a website, your contractor business might as well not exist at all.
Fill out the form below to get a free quote on professional contractor website design.
2. Request 5-star Google reviews from happy customers.
Use your email list to follow up with past customers and see how satisfied they were with your contractor services. If they were happy with their service, request that they leave a review or testimonial for your business. This will help to ensure you're only soliciting reviews from customers who are likely to leave a positive one. Once they've left a review, you can use it on your website to incentivize potential customers to contact you.
3. Train your construction workers to get more 5-star Google reviews.
Good and bad reviews directly impact your contractor company's bottom line—including your workers' paychecks—so get them in on the action of earning 5-star reviews. A great way to motivate them is to offer bonus checks or prizes to the tech who earns the most 5-star reviews.
Your construction workers should focus on providing 5-star-review-worthy service. Try following these guidelines to achieve just that:
Make a good first impression, then follow up after the job is complete.
Offer online scheduling to simplify the process for your customers.
Check in to make sure customers are happy before leaving the job site.
Invite the customer to leave a review of their experience.
4. Use Nextdoor to find customers in neighborhoods with older homes.
Nextdoor is used in more than 90% of American neighborhoods to find local service providers, such as contractors, and can be a gold mine for contractor lead generation. Use it to scope out neighborhoods with older homes that are likely to need remodeling or renovating, new construction that needs contractor installations and neighborhoods that have a history of large contractor jobs.
To get started, sign up on the platform and get verified. Then, watch out for posts where people are asking about contractor service providers. 24% of all posts are homeowners asking for provider recommendations, so your job opportunities should be plentiful.
5. Join local trade associations and contractor groups.
Do a quick Google search and see how many local contractor or construction trade associations you can join in your area. These groups are fantastic for networking with other businesses—especially during the slower months when building connections can help you stay busier in spring and summer.
6. Start advertising for spring and summer contractor services now.
The cold winter months cause all kinds of problems for homeowners, and spring and summer are when homeowners tend to address those problems. Start advertising your repair services now for:
Cracked or broken pipes due to freezing temperatures.
Outdoor areas showing seasonal wear and tear.
Roofs that need replacing.
Remodels and renovations.
An advantage of advertising early means more potential customers are likely to remember your contractor business when they need services fast.
7. Reach out to other local businesses.
Plenty of local businesses require contractor services year-round, so see if you can set up contracts with some that are close to you. It's a great way to network with other businesses in your area, and it can often result in free advertising if you leave your business cards behind or place a yard sign outside.
8. Ads in local newspapers are great for contractor lead generation.
Newspapers might be in their sunset years, but they're still a great medium to advertise your contractor business to your local community and generate exclusive contractor leads.
Choose a newspaper with a wide readership that falls primarily within your service area, then take out an ad that's short, sweet and to the point. It should be eye-catching and should prominently feature your website URL and phone number to make it simple for people to learn more about your business and contact you.
9. Try using door hangers to market your contractor services.
First, make sure your door hanger design is eye-catching and easy to read. Then, the next time you perform a contractor service in a neighborhood where construction projects are in the homeowners' budgets, leave door hangers at the houses around the one you've just serviced. They'll be able to check with their neighbors about the quality of your work in person—and they just might have some incentive to "keep up with the Joneses" and invest in contractor work, too!
10. Wrap your contractor trucks to make a lasting impression.
Which seems more professional to you?
A dirty, beat-up truck with tools in the bed and no signage to speak of?
Or a clean, well-maintained truck with a sleek logo on its side?
The one with the logo, right? Adding a wrap or a magnet to your work vehicles is a great way to make them look more professional, while also taking advantage of free advertising space. Your work trucks are basically billboards on wheels, so why not?
11. Advertise your contractor business on local radio stations.
Radio reaches thousands of people every day, and people who listen on their commutes often think of the radio personalities on their local stations as friends. So, when one of those personalities mentions they just had their house remodeled by a local contractor and that they're impressed with the quality of the company's work, listeners will take note.
Endorsements and radio ads are often overlooked but, with their brand power, they shouldn't be. Consider reaching out to some of your local radio stations to ask about putting your contractor business on the air—it's a great source of exclusive contractor leads and a good solution if you're wondering how to get contractor work or how to grow a contractor business.
12. Create a customer referral program with incentives.
Did you know that 92% of consumers trust referrals from people they know? That's a pretty big reason to ask your current customers to refer their friends, families, and neighbors to your contractor business. Especially if you offer an incentive like:
A discount on their next contractor service
A free consultation or maintenance appointment
An entry into a raffle with a great prize
Starting the incentive program is simple, and it can turn out to be a consistent source of exclusive contractor leads.
13. Generate contractor leads by canvassing the area.
Canvassing an area to get more contractor leads for free might seem like an old-school advertising tactic, but your ideal contractor customers are more likely to work with you and remember you when they connect a face to your business. If you want to give canvassing a shot, try doing it after you've completed a nearby job. You'll be able to name-drop your customer and provide an example of your work.
For the best results, remember to:
Always be polite and courteous, even if you don't get the reaction you want.
Set a goal for each interaction: get their contact information, leave a business card.
Have a script ready so you're better prepared.
Follow up with potential customers after getting their info—you could add them to your mailing list.
14. Try pay-per-click (PPC) and search engine marketing (SEM).
A good PPC and SEM campaign is one contractor marketing and advertising strategy that's been proven time and again to generate contractor leads and construction jobs, no matter where you're located.
While Google is the most popular search engine for PPC and SEM campaigns thanks to its widespread popularity, don't count out Bing. It's not as popular as Google, but it still has a wide user base—many of which are searching for contractors in your area.
Still on the fence about using PPC and SEM for exclusive contractor leads? Check out these stats:
For every $1 spent in Google Ads, businesses make an average of $2.
About 41% of clicks on a search results page go to one of the top 3 paid ads.
More than 85% of people use the internet to find local contractors.
Visitors who come to your website via PPC or SEM are 50% more likely to make a purchase.
This extremely effective contractor marketing strategy could be perfect for your business. If you want to generate more exclusive contractor leads, give it a shot!
15. Send direct mailers to get more exclusive contractor leads.
Here's another contractor marketing idea that will stand the test of time: direct mailers. Compared to the chaos that is most email inboxes today, old-school mailboxes are seeing a lot less action and junk mail, which means your letter or postcard advertising your contractor business is much more likely to be read.
According to the Direct Marketing Association, the average cost per lead for direct mail is $51.40 for a general mailing list and $54.10 for postcards. Not bad! Give it a shot if you keep asking yourself how to get more contractor business or how to get contractor leads.
16. Get more exclusive contractor leads instead of sharing leads.
Shared leads are the ones you get from lead generation services like HomeAdvisor and Angi. You pay for them, and then you go head-to-head with your competitors to see who can contact and convert the lead first. It isn't very cost effective, and it's stressful to boot. The solution? Get more exclusive contractor leads. But how?
The simplest answer is this: a website and good SEO. A website gives you potential contractor customers a place to land, and good SEO is what will get you found on search engines like Google. When homeowners who need contractor services go straight to your website and contact you directly, you're basically getting those contractor leads for free.
17. Facebook + Instagram advertising can get you more exclusive contractor leads.
Advertising your contractor business on Facebook and Instagram can be a cost-effective method of bringing in more contractor leads, provided you have the right strategy in place and know how to navigate the ad builders on these platforms. If you don't, consider working with a pro who can get your ads set up correctly.
You can target your ideal contractor customers by their location and other pages they've liked—such as your competitors' pages.
Displaying ads to this audience has the added benefit of creating and boosting awareness of your contractor business and the contractor services you provide. If people see your logo and your ads all over the place, they're more likely to remember your business name when their pipes and fixtures need servicing.
18. Generate contractor leads for free with local SEO.
Search engine optimization, usually referred to as SEO, is still the king of digital marketing. It's what will move your contractor business to the first page of Google and keep it there, on top of your competitors. If your SEO campaign is strong enough, SEO alone can generate the majority of your exclusive contractor leads (but we still recommend reading the rest of these contractor marketing and contractor advertising ideas)!
A good first step to your SEO campaign is setting up and filling out a Google My Business account. From there, you can advance to backlinking (linking out to other contractor sites with high authority) and content marketing (sharing contractor-focused content with your potential customers).
It's always a good idea to let an SEO expert get your campaign up and running. They'll also be able to make recommendations for your SEO campaign that will improve its effectiveness over time.
Fill out the form below to get a free quote on a local SEO campaign for your contractor business!
19. How to get exclusive contractor leads through strategic alliances.
Another great way to get more contractor leads for free is to partner up with other businesses in your area. That could be Lowe's, Home Depot and others. Creating a partnership means they'll recommend you to their customers, display your business cards or other marketing materials, and provide a steady stream of exclusive contractor leads. So, get to networking!
20. Email Marketing = Contractor Marketing
Email marketing is one of the oldest forms of digital marketing, and it's stuck around for a good reason: it works. For every dollar you spend on email marketing, you'll make (on average) a $40 return on your investment.
Because most contractors overlook the benefits of email marketing, it's a great contractor lead generation option for your business. For instance, businesses that stay in touch with their ideal customers via email will generate 50% more sales-ready contractor leads and spend 33% less money on making sales.
21. Content Marketing = Contractor Marketing, Too!
Creating contractor-related content for your ideal customers is a great way to get more contractor leads. Consider writing contractor-themed blog posts and articles that you can post on your website, and make sure to make it easy for your audience to share that content on social media.
Here are some topic ideas:
Construction Jobs That Will Improve Your Home's Curb Appeal
This Year's Most Popular Construction Trends
Why Hiring a Licensed Contractor Is a Must
22. How to get contractor customers at trade shows.
Attending industry tradeshows should be high on your list of contractor marketing and contractor advertising ideas. They not only provide plenty of solutions for how to get contractor jobs and how to expand a contractor business, but also let you observe your competitors, create new business partnerships and boost brand awareness.
To make the most of your trade show experience, your booth should provide something valuable to visitors, such as a freebie or another incentive, like coupons, giveaways, contests and more.
Finally, make sure you're collecting contact information from interested visitors and following up with them to sell your contractor and construction services.
23. Get contractor advertising ideas from your chamber of commerce.
If you haven't already joined your local chamber of commerce, attend their next meeting and start networking with other local business owners. In particular, try to connect with property managers, developers, and owners of businesses—they're likely to need your services and might be willing to send more contractor leads your way if they're impressed! This is a particularly good solution if you've been wondering how to get commercial contractor jobs.
24. Network locally with businesses who need your services.
If you're still wondering how to get contractor customers, consider reaching out to other small businesses in your area. Most will be more than happy to use you or to team up and refer their customers who need contractor services to you—as long you're willing to return the favor. Here are a few businesses you could contact:
Pest control
Home inspection companies
Contractors
Electricians
Pool companies
Garden shops
HVAC professionals
Hardware stores
Real estate investors
Real estate agents
Architects
City officials
Urban planners
Community organizers
25. Give telemarketing a chance.
Though telemarketing was once a choice channel for contractor lead generation, many people now block unwanted calls on their smartphones. However, there are still companies out there that will telemarket for you and set up appointments with potential customers in your service area.
26. Ad retargeting is a fresh contractor marketing idea.
Have you ever searched for a specific product or service online then noticed ads for it following you around the internet for days after? That's retargeting in action, and you can do it for your contractor business.
Whether you want more residential contractor leads or you're wondering how to get commercial contractor jobs—or both!—retargeting is a great way to keep your business and services in front of potential customers who have already shown interest by visiting your website.
27. Manage your contractor business's reputation online and offline.
Remember when we said 85% of people search online to find local contractors when they need them fast? Those same people are also researching your reputation to find out what your past customers are saying about the quality of your work and the fairness of your prices. Did you show up on time and do what you said you were going to do? If so, you've probably got nothing to worry about.
Offline, you can use word-of-mouth to your advantage. Ask your satisfied customers if they can think of any neighbors, friends, family, or acquaintances who might be interested in your contractor services. Give them plenty of business cards to pass around, and ask if you can put a temporary sign in their yard with your business name and phone number after you complete a service for them.
Online, list your contractor business on review websites and ask your satisfied customers to leave a review on Google. Doing so makes it more likely that you'll bring in more contractor leads.
28. A unique selling proposition will make your contractor business stand out.
If you want to stand out from your local competitors, your contractor business needs a unique selling proposition, usually shortened to USP. That USP could be your level of service, your experience in the industry, your competitive prices, your reputation, your employees, your guarantees—anything that sets you apart from your competitors. Once you've figured out your USP, use that selling point in your contractor marketing and contractor advertising materials!
If you're not sure where to start, take a look at how your competitors are generating contractor leads. What's their USP, and how can you beat it? What would matter more to your customers and the community you serve? Here are some USP ideas to get you started:
Eco-friendliness
Specialized services
Specialized commercial equipment
Workmanship guarantees
Level of service and friendliness
Professionalism of crews
Availability and affordability
29. Co-market with a relevant business.
Co-marketing means you're partnering up with another like-minded business to share lead generation opportunities. For example, you might want to team up with an HVAC company and offer a discount to customers who use both of your services. In the end, this kind of combined marketing can lead to many more exclusive contractor lead generation opportunities.
30. Use Google's Local Service ads to get more contractor business.
Google's Local Services ads are a type of pay-per-lead ad, and they appear at the top of the search results page where they're most likely to be seen. Those contractor ads get about 13.8% of clicks—that means if 50 people in your area search for contractor services on a given day, at least 7 of them will click one of those contractor ads and turn into a contractor lead.
How much more money would you make per month with 7 more contractor jobs per day?
31. Increase referrals to get more contractor leads.
Referrals are a great way to capitalize on word-of-mouth marketing. Offer your existing and past contractor customers an incentive to refer their friends, families and neighbors to your business, and give them a discount on future services in return. Since people are far more likely to use a business that a friend recommends to them, this is one contractor marketing idea you shouldn't pass up.
32. Create a contractor-focused Facebook group.
Having a dedicated Facebook business page for your contractor business is a must, but creating a group page for your business is a good idea, too. Post helpful content (maybe something you wrote for your content marketing efforts!) and interact with group members to start building trust and brand awareness in your audience.
33. Create helpful YouTube videos about construction.
YouTube is a hugely popular platform with a wide swath of demographics, so why not use it to your advantage? Make an account (it's free!) and start posting videos about contractor. The videos can document your day-to-day activities, follow a job from start to finish, or illustrate the different warning signs that pipes or fixtures need to be repaired. These videos will build your credibility as a contractor business and make it easier to build trust with your viewers.
In the video description, include your contact information and a link to your website so they can learn more.
34. Send out press releases about your contractor business.
Press releases are a great way to share new and exciting developments about your contractor business. Are you offering a new contractor service? Expanding your service area? How about a discount for repeat customers or those who refer their friends? Write a press release that outlines these new items and send it off to your mailing list to start generating contractor leads.
35. Use LinkedIn to attract commercial contractor leads.
LinkedIn is more than a great place to establish yourself as a contractor expert and reputable contractor business—it's a great place to generate contractor leads and contractor contracts. How? Do a search for local businesses and property managers you can connect with to discuss your contractor services.
36. Sign up with Townsquare Interactive.
The team at Townsquare Interactive specializes in creating contractor marketing campaigns that generate exclusive contractor leads for businesses across the country. All of our dedicated marketing specialists and teams of subject matter experts can provide personalized suggestions for how to take your contractor marketing campaign to the next level.
Fill out the form below to learn more about our contractor marketing packages and jumpstart your contractor lead generation.