by Scott Johnson

As a small business owner, you understand how important your web presence is for your business.
But what about those other things? Facebook, Twitter, Instagram, Google +, Pinterest, etc.?
When most of us think about a web presence, we think of having a website that represents our business. However, this is hardly half of it. Google is, and has been, providing the majority of search results to the world for years. It's turned into our go-to learning source – replacing books, encyclopedias, dictionaries, you name it. Here are a few ways your business's social media presence can help grow your SEO and vice versa.
The Real Deal: Be Authentic With Your Social Media Posts
Be authentic with everything you do for your online presence! Google can tell if you grow your social media followers naturally or if you buy them with the snap of a finger. Google rewards businesses that do things 'the right way'. That goes for your social media presence as well.
Here's how to grow your social media followers organically:
Invite your friends and family. Start with who you know and ask them to pass the message along. This will extend  your reach to your friends, friends and so on.
Include your Facebook page link on your marketing/branding materials. ie: business cards, email signature, website, flyers, etc. This will help you grow locally.
Create special discounts for your social media followers. Offering special offers only for your social media followers will raise engagement on your page.
Growing your social media following may take more time than you'd like, but keep in mind- you're building invaluable brand awareness. It's also a place where you can show (a little) of your personality and talk about what's going on in society.
How Social Media Helps with SEO: External Linking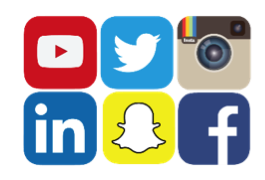 First off, what is external linking? In a nutshell, these are links (different websites) that go to or from your website. For example, I know we've all seen these logos (shown to the right) towards the bottom or top of websites before.
I'm a huge fan of ESPN so let's use them as an example. If you're on ESPN's website and you see these icons, chances are when you hover over one with your mouse, you are able to click on it. By clicking on the icon, it will send you to the respective social media site for ESPN. And on the other side of the coin, you will most certainly find ESPN's website on each of those social media sites.
Takeaway: Google likes these quality links to and from your site. If you don't have social media platforms, you're likely to be behind the eight ball.
Social Profiles Rank in The Search Engines
While writing this article, I Googled some top companies around the world (ESPN, American Airlines, CNN, and a few more). After a company's website, their social media profiles follow (as shown to the right). This is because these profiles contain high-quality content that Google wants to display to its users.
If you want to be found, build and manage quality social media profiles.
Social Media Builds Brand Awareness
Unless you're a multi-million dollar corporation, and even then, you won't see a ton of direct sales coming through your social media platforms. This can be frustrating because you're thinking, "what in the world am I spending my time on if there's no ROI?"
Social media is better than other platforms at creating brand awareness. Your business's logo will be on every profile and attached to every post, tweet, etc. that you make.
So let's say you have 100 followers on your Twitter account and you create a post. You have the potential to create your logo, business name and other info in front of 100 people's eyes with a press of a button. Now let's say what you post was humorous in the minds of many of those people and they retweeted your tweet. Now you've been able to reach your friends, and then hundreds, maybe thousands, of other followers with the help of a few retweets. And it's FREE! This is why large corporations pay individuals many dollars to create engaging posts for their business.
Create a Strong Social Media Presence
The stronger your business's social media campaign, the stronger your overall web presence will become. And if you don't think your competitors are posting on Facebook or Tweeting, just try a simple Google search for their business and I'll bet you will find their social profiles.
Being authentic, increasing your following, having quality external linking, and including key phrases in your posts are all ways that social media and SEO work hand-in-hand and can give you a step up on your competition. Don't forget, your social media pages rank within Google, too!
Need help managing your social media and SEO strategy? Our digital marketing experts can help you assess your business's unique needs and come up with a plan to maximize your exposure. Click the button below to get started.