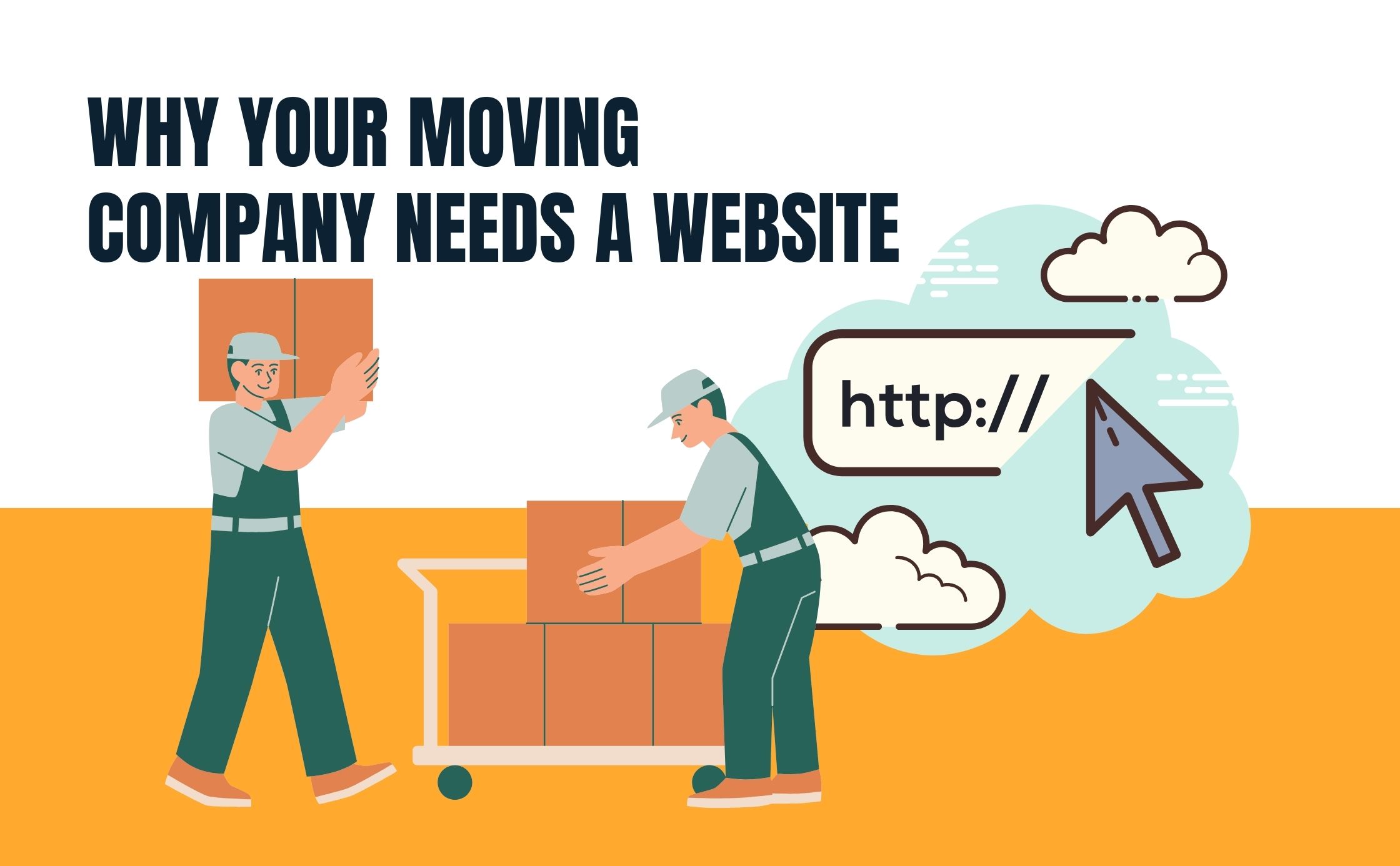 Think your business can get by without an online presence? Think again. It's the twenty-first century, which means that everyone and their mom's cousin's cat has a platform on the World Wide Web. In fact, it's estimated that there are 5.19 billion internet users globally.
The sheer number of potential customers you could reach by having an online presence should be enough to make anyone pause and think about the benefits they could gain by having one. Local companies in particular stand to reap great benefits by making themselves more discoverable within growing fields of competition across the country.
In a bid to get you up to square, we've compiled this article explaining everything there is to know about building a moving company website – from the technical setup to tips and tricks on creating a great online presence.
Let's dive right in!
Why Movers Need a Website
First things first – why does a moving company need a website? Well, there are many great reasons why having an online presence is important for your business.
For starters, a website allows customers to view the services you offer and contact you with ease. Having an up-to-date website not only builds trust, but it also helps to boost your ranking in search engine results.
A website is often the first point of contact customers have when they're looking for a reputable moving company. So, having an eye-catching and informative website that accurately reflects your business's unique values can make a huge difference.
How to Setup Your Moving Company Website
Now, let's get into the nitty-gritty of setting up and designing your website. What does it involve? Do you need to know how to write code? Does it take a long time? Is it expensive? The answers are multifaceted. The wealth of design tools out there today makes website building much easier than it was a decade ago. Yet there, are still challenges to be encountered throughout the process. We've created a breakdown of what it might look like for you below.
1. Select a Hosting Service, Domain, and Builder
The first step is choosing a domain name and web hosting service for your site. This will be the foundation of your online presence, so be sure to choose wisely! We recommend opting for short, easy-to-remember domains that accurately reflect what you do. Popular website-building services include Wix, Squarespace, and WordPress. Whichever you select should provide good customer support so that if something goes wrong with your website or an issue arises during setup, you have a team of experts to turn to for help.
2. Design
Next, you'll want to choose a website design (or hire someone to help create one for you). The first option will be a lot cheaper, while the latter will likely save you some time and frustration. Be honest about your web design skills to decide whether outside help is worth the investment. Sometimes it is, and sometimes it's not. But in all cases, having a professional in your corner guarantees that the final product turns out as envisioned.
Major website platforms come with premade templates and design features to make things easier. For example, WordPress provides users access to a variety of themes and plug-ins.
3. Plan Content
You will also need to create a content plan for your website. Content includes everything from text and images to videos, audio files, downloadable documents, and more. Crafting the perfect content strategy can help you attract readers or customers and build trust in your brand since it's an integral part of any successful website's design.
A great way to start planning out the content on your site is by creating a sitemap that outlines each page of the website and the content that should be included on each. Once you've mapped out a plan, you can start creating compelling copy and visuals to attract readers or customers.
What to Include In Moving Website Pages
When creating the content for each page of your site, you should consider the type of information that visitors are expecting to find.
Here's a list of what to include when moving website pages:
Title and headline – This should be descriptive and attention-grabbing.
Subheadings – Use to break up the text and help visitors scan quickly for relevant information.
Images/videos – Highlight important points in the text or give readers a visual representation of what you're discussing.
Introductory text – Give readers an overview of the page and what they can expect to find on it.
Body copy – Provide meaningful information that is relevant to the topic at hand and engages readers.
Call to Action – Guide visitors on what action they should take after reading the page content (e.g., contact us, subscribe to our newsletter, get a free quote).
Legal Disclaimers/Terms and Conditions – Disclose any legal information that is necessary.
FAQs – Include commonly asked questions and answers to reduce the need for customer service inquiries.
4. Invest Time Into Local SEO
Search Engine Optimization, or SEO for short, is an essential practice for business website owners of every industry to partake in. Local SEO plays an even bigger role for businesses that rely on in-person transactions or local customers. The goal of Local SEO is to increase the visibility of your business website in search engine results when a user enters a location-based query.
Content optimization is a major factor in achieving success through local SEO. You want to ensure that the content on your website is optimized for local search engine results, matching keywords that reflect your local presence.
Creating a Google My Business (GMB) page for your business can help with displaying accurate information about store hours, addresses and contact information. GMB also makes it easier for users to leave reviews, which can help you build trust with potential customers.
5. Integrate With Social Media
You have a website, but what about a social media page? Whether you've been solely represented by a Facebook page up until now or AWOL from the internet altogether, websites always do better when they're connected to peripheral components such as social media. It adds reputability to the equation while providing visitors with yet another way to request moving services.
Sign Up For a Professional Moving Website with Townsquare Interactive
At the end of the day, all of the best moving company websites share one key trait in common: uniqueness. There's no shortage of pages to compete with out there, so it's essential that you make sure yours stands out from the crowd.
Townsquare Interactive specializes in website design and other digital marketing for moving companies – helping them create a custom web presence that accurately reflects their brand values. Inquire to learn more about what our services can do for you today.