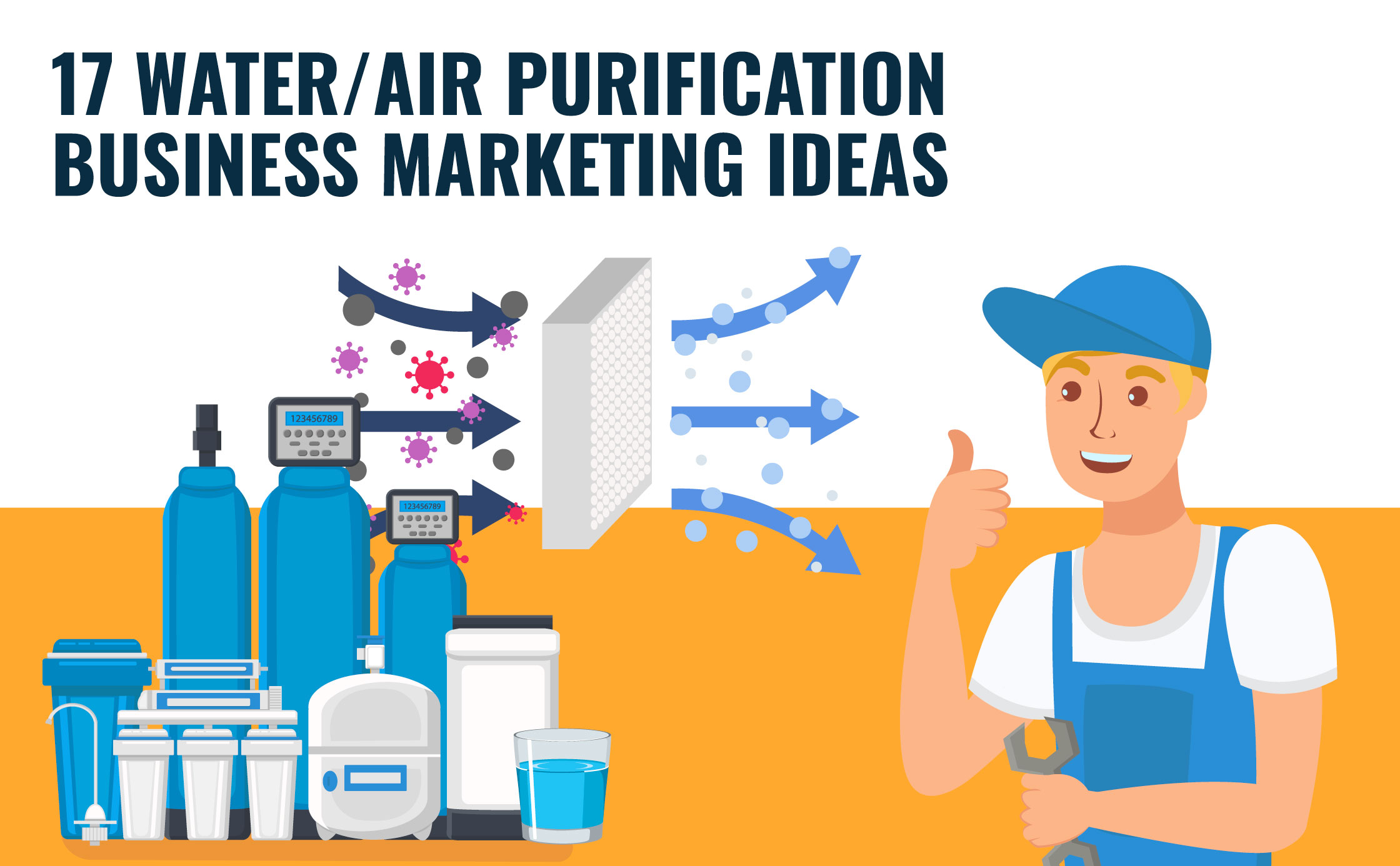 Water and air purification is a growing industry that has a ton of potential for new entrepreneurs and innovators. However, without a solid water purification advertising plan, water and air purification businesses may struggle to keep up with competitors.
Do you need help landing more water purification leads? If so, this guide features 18 effective air purification business marketing strategies you can start implementing today.
1. Get to Know Your Audience
To generate more leads, you first need to know whom you're trying to reach with your water purification business marketing methods.
Who is your target audience?
Don't say everyone!
You need to be more specific than that. If you try to appeal to everyone with your water purification business marketing materials, they'll be so generic that they don't appeal to anyone.
Here are some tips to help you identify and get to know your target audience better:
Look at your current water purification website design and social media data to learn the average age, gender, location, etc. of your audience members
Consider your existing client base and the specific demographics they fall under (what kind of business do they run, how large is their business, etc.?)
Distribute surveys to your current audience (use your email list, social media audience, etc.) to learn more about their pain points, goals, and the types of water purification company marketing materials that resonate best with them
Use this information to create detailed buyer personas representing key members of your target audience.
2. Upgrade Your Water Purification Website Design
If you don't already have a website, it's time to change that.
These days, when most people are looking for a business — including water purification businesses — they start with an online search.
If someone can't find your water purification company's website, it doesn't matter how excellent your services are. You'll likely lose business to another company with a more substantial online presence.
If you already have a website, there's a good chance you can still benefit from quality water purification website design.
Working with an air purification website design team will help you upgrade your air purification website's design and layout, making it easier for people to find information about your services and contact you for a quote.
3. Start a Blog
The next step to updating your business's water purification website design is to add a blog. Blogging is an effective way to share value with your target audience, get them interested in your company's services, and encourage them to reach out for a quote or sign up for your email list.
Not sure what to blog about? Draft a list of frequently asked questions, then use those questions as jumping-off points for a series of blog posts. You can also write posts about your company's history or share customer success stories.
4. Emphasize Water/Air Purification SEO
Whether you're writing a blog post or an About Us page for your air purification website design, you need to consider search engine optimization or water/air purification SEO for your water purification business.
Search engine optimization is a series of practices designed to boost your business's ranking and help you get closer to the coveted first page of search engine results. Some examples of essential water/air purification SEO practices include:
Incorporating keywords and phrases that your audience is already searching for online (such as "top water purification products" or "water purification near me")
Using headings, bullet points, and short paragraphs/sentences to make your content easier to read
Improving technical aspects of your air purification website design like its load time to keep people interested and ensure they stick around for a while
When you prioritize water/air purification SEO in your water purification digital marketing, you increase the likelihood that people will find your business when searching for water purification services. The easier it is to find your business, the more likely people are to click on your website and reach out to get a quote, schedule a call, etc.
5. Invest in Air Purification Business Marketing Videos
Another way to improve SEO for a water purification business is investing in water purification business marketing videos. Research shows that businesses are more than 50 times more likely to end up on the first page of Google search results if they have videos on their websites.
If creating videos daunts you, take inspiration from your blog posts. Repurpose them as scripts for water purification company marketing videos to answer common questions or address common problems people face regarding water purification.
6. Highlight Reviews and Testimonials
Reviews and testimonials are powerful air purification business marketing tools. Nearly 75% of consumers say they won't take action (i.e., contact a business, ask for a quote, or make a purchase) until they've read a positive company review.
Highlighting positive reviews and testimonials is an excellent way to add credibility to your business and show people it's the real deal. When people feel they can trust you, they'll be more inclined to invest in your services themselves (or at least reach out to learn more about what you have to offer).
7. Clearly Display Contact Information
How are people supposed to contact your business if they don't know where to find your contact information?
Ensure your business phone number, email address, and operating hours are prominently displayed on your website and social media profiles.
Double-check that this information is the same across all platforms, too. If people get conflicting information, they might question your water purification company's legitimacy and second-guess their decision to reach out to you.
8. Utilize Google's Local Services Ads
Google's local services ads are designed with businesses like yours in mind. If you've created these kinds of ads, they'll appear at the top of the page whenever people search for terms like "water purification near me."
Not only will this information show up front and center, but it'll also feature a "Google Guaranteed Badge" and a direct link to your business's phone number.
These ads add credibility to your business, make it easier for people to contact you, and increase your chances of closing more deals.
Google's local services ads are cost-effective, too. You only pay when someone clicks on the ad (and if someone has gone to the trouble to click on it, they're likely interested in investing in services like yours).
9. Expand Your Social Media Presence
Professional water purification website design is vital to a solid lead generation and water purification business marketing strategy. However, you shouldn't stop there. You also need to post regularly on social media as part of your air purification digital marketing strategy.
Use sites like Facebook, Instagram, Twitter, and LinkedIn to advertise your water purification services and connect with your target audience.
Don't know what to post on social media?
You can use social media for your water purification digital marketing when you have a new blog post on your website. You can also shout out customers who have left positive reviews or share behind-the-scenes photos of your teams.
10. Create Targeted Social Media Ads
In addition to posting photos and videos on your social media feeds, take advantage of the air purification advertising features sites like Facebook, Instagram, and LinkedIn offer as part of water purification digital marketing.
These sites allow you to create highly targeted social media ads designed to reach your ideal customers. With the help of these ads, you'll have a much easier time generating leads and converting them to paying customers.
Like Google's local services ads, paid social media ads are cost-effective options for air purification digital marketing. You only pay when someone clicks on them, so you don't have to worry about overspending on ads that won't yield results.
11. Collaborate with Other Businesses
Collaborating with another business that offers similar services but isn't a direct competitor allows you to connect with members of their audience and generate more water purification leads. Because the audience already trusts the business with which you're collaborating, it's easier to convince them to reach out and invest in your services.
Brainstorm a list of businesses with services that complement yours, then get in touch to see if they'd be willing to promote your services on social media or their blog (and you'll promote their services on your platforms in exchange).
12. Stay in Touch with Past Customers
Your past customers can be some of your most powerful water purification lead generation tools. If you maintain a strong relationship with them, they'll be more inclined to reach out to you in the future the next time they need your products or services.
Don't cut off all contact once you've completed a job or made a sale. Check-in regularly (a couple of times a year, for example) to see how they're doing, promote new products or announce seasonal discounts and other promotions.
13. Ask for Referrals
You can also leverage your existing customers by asking them for referrals. Encourage them to send friends or family members to you for their water purification needs.
You might even want to create a referral program that gives customers some kind of reward when they refer someone to your business.
14. Create an Effective Lead Magnet
A lead magnet is a free offering that you use to attract water purification leads and get them interested in investing in your services. For example, you might offer an eBook teaching people the basics of water purification or access to a webinar answering frequently asked questions about the importance of water purification for both commercial and residential purposes.
Whatever you decide to create, people need to give you their email addresses to access this resource. Once you have their email address, you'll send them the lead magnet, opening up a more direct avenue to connect with them and further promote your services.
15. Start an Email List
An email list helps you to stay in touch with your customers and get (or keep) them interested in your water purification services.
Email lists provide a direct channel to your audience and ensure you stay at the forefront of their minds.
What should you include in your emails?
You can use an email list as an extension of your other water purification marketing services. For example, you can share links to your latest blog posts, advertise upcoming sales or promotions, and spotlight clients who recently left positive reviews.
16. Implement an Email Sequence
An email sequence is a series of automated emails your audience receives after giving you their email address.
This sequence might include a welcome email with your lead magnet, a message that details your services, a message that features some of your most recent reviews and testimonials, etc.
No matter what kinds of emails you decide to send, make sure you aren't overwhelming your audience with too many messages. If you overdo it, they might get frustrated and unsubscribe from your email list, which prevents you from continuing to advertise your services.
17. Utilize Referral Websites
Don't underestimate the power of referral websites like Yelp, Nextdoor, etc.
These sites feature ads for all kinds of businesses, including water purification businesses like yours. You can advertise your company for a low fee, enjoy the added legitimacy and built-in audience referral sites, and experience better outcomes.
To increase your legitimacy on sites like Nextdoor and Yelp, ask your customers to leave positive reviews. The more reviews you have, the more likely people are to reach out and learn more about your business.
Implement These Water Purification Business Marketing Strategies Today
If you want to take advantage of the opportunities in this industry and set your business up for long-term success, start by following the steps discussed above.
Do you need more help with air purification advertising and generating quality water purification leads? If so, the team at Townsquare Interactive is here to help!
Contact us today to learn more about our water purification business marketing services. From customer targeting to air purification digital marketing, we can perfectly tailor your water purification business marketing services every step of the way.