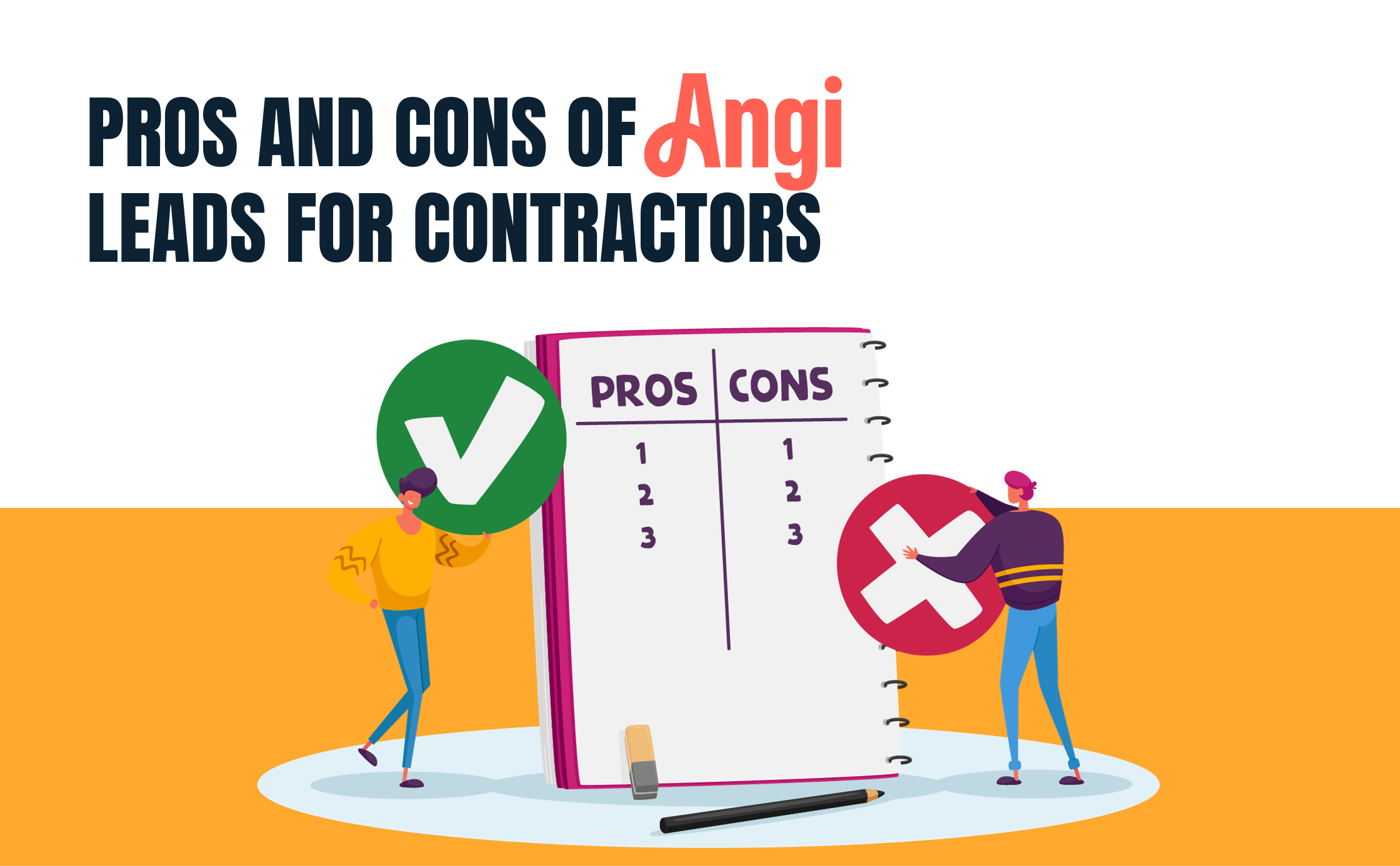 Angi, formerly Angie's List, is a popular platform connecting homeowners with trusted service providers. For contractors, Angi can be a powerful tool for gaining online visibility and generating leads. However, like any lead generation service, using Angi has pros and cons. This article will explore the benefits and drawbacks of Angi leads for contractors.
Pros of Using Angi Leads
Reputation & Trust
Angi's reputation as a trusted platform for connecting homeowners with reliable service providers enhances the credibility of contractors listed on the platform. This established trust is a powerful asset, instilling confidence in potential customers actively seeking reputable professionals for their projects.
Targeted Leads
Angie's List distinguishes itself by producing exceptionally targeted leads, a marked deviation from more generalized advertising methods. Users on the platform actively search for specific services, guaranteeing contractors receive leads precisely tailored to their expertise. This focused approach enhances the efficiency of advertising with Angies list. It elevates the likelihood of these leads transforming into tangible projects, creating a more streamlined and effective avenue for sustained business growth.
Reviews & Feedback
The review system on Angi provides valuable feedback for contractors. Positive reviews can significantly boost a business's online reputation, making it easier to attract new clients. Additionally, it provides an avenue for addressing and resolving negative feedback, showcasing a commitment to customer satisfaction.
Increased Visibility
This increased exposure opens doors to a broader audience, resulting in heightened inquiries and potential projects. The platform's wide-ranging presence becomes a pivotal factor in a contractor's ability to connect with a diverse clientele, ultimately fostering business expansion and growth opportunities.
Flexible Advertising Options
Angi stands out by offering contractors diverse advertising options, encompassing pay-per-lead and pay-per-click models. This flexibility empowers contractors to align their advertising strategy with their unique business model and budgetary considerations. The array of possibilities advertising with Angi provides ensures contractors can tailor their advertising approach to suit their specific needs, contributing to a more customizable and effective marketing strategy.
Lead Management Tools
The platform equips contractors with lead management tools, facilitating efficient tracking and organization of leads. This can contribute to quicker response times, improving the chances of converting leads into actual customers.
No Long-Term Contracts
Unlike some marketing platforms, Angi does not require contractors to commit to long-term contracts. This flexibility enables businesses to test the platform without making a significant long-term investment.
Increased Revenue
Contractors leveraging Angi's lead generation capabilities unlock the potential for substantial revenue growth. The increased influx of leads directly translates into expanded opportunities for securing projects, fostering business growth, and enhancing overall sustainability. Angi's role as a facilitator for generating leads becomes a pivotal factor in empowering contractors to elevate their revenue streams, ultimately contributing to their businesses' long-term success and financial health.
Access to a Large Network
Angi's extensive network of service providers allows contractors to connect with other businesses. This networking potential can lead to partnerships that benefit their business, opening up new opportunities for collaboration.
Customer Support
Angi provides customer support to contractors, offering assistance in resolving issues or answering questions. This support system can be invaluable in ensuring a smooth experience on the platform.
Cons of Using Angi Leads
Cost
Acquiring leads from Angi comes with a potential cost, especially in competitive markets. A prudent approach is crucial for contractors, requiring a careful assessment of the lead expense against the anticipated project revenue. This financial scrutiny is essential for making informed decisions about the viability of the investment and ensuring a balanced and sustainable return on the resources allocated to Angi's lead acquisition.
Competition
The widespread popularity of the Angi platform intensifies competition among contractors, all vying for the same leads. Despite the financial investment in acquiring leads, there is no assurance that a potential client will select one service over another. This heightened competition underscores contractors' challenge in distinguishing themselves within the platform, necessitating strategic efforts to stand out amidst a crowded field of service providers.
Limited Audience
Angi functions as a subscription-based service for both contractors and homeowners. The subscription model implies that homeowners will only encounter a contractor's listing or ads if they hold a paid membership, restricting audience reach compared to organic online searches. This limitation emphasizes the importance of contractors considering the platform's subscription nature when evaluating its potential for reaching and engaging with a broader audience.
Limited Control
Contractors utilizing Angi encounter a constraint in lead management, as they possess limited control over the leads they receive. While preferences for specific lead types can be established, control over the leads' quality and the extent of competition for the same opportunities remains beyond the contractors' influence. This lack of comprehensive control underscores the challenges of optimizing lead acquisition strategies on the Angi platform.
Inconsistent Lead Quality
Some contractors have reported experiencing inconsistency in the quality of leads from Angi. While some may result in new business, others may prove to be low-quality and not worth the investment.
Negative Reviews
Negative reviews on Angi can significantly impact a contractor's online reputation. While businesses have the opportunity to address negative feedback, it can still be damaging to their overall image.
Limited Customization
Contractors face limitations in customizing their Angi profile, making it challenging to stand out from competitors and showcase their unique brand identity.
Limited Analytics
Angi provides limited analytics to contractors, making it difficult for them to track the success of their advertising campaigns on the platform comprehensively.
Limited Support
While Angi offers customer support, some contractors have reported that the support can be limited and not always sufficiently helpful in addressing their concerns.
Limited ROI
While Angi holds the potential to generate leads and increase revenue, some contractors have expressed concerns that the return on investment (ROI) may not always justify the associated costs.
How Townsquare Interactive Works with Contractors
Townsquare Interactive stands out as a digital marketing company committed to supporting the growth of small businesses by enhancing their online presence and attracting customers.
Specifically catering to contractors, we specialize in web design and SEO services, offering a pathway to generate leads organically without needing pay-per-lead models. Townsquare Interactive is here to assist if you're a contractor seeking to navigate the digital realm more effectively.
Get in touch with us today to discover how our digital marketing services can contribute to the growth and success of your business.