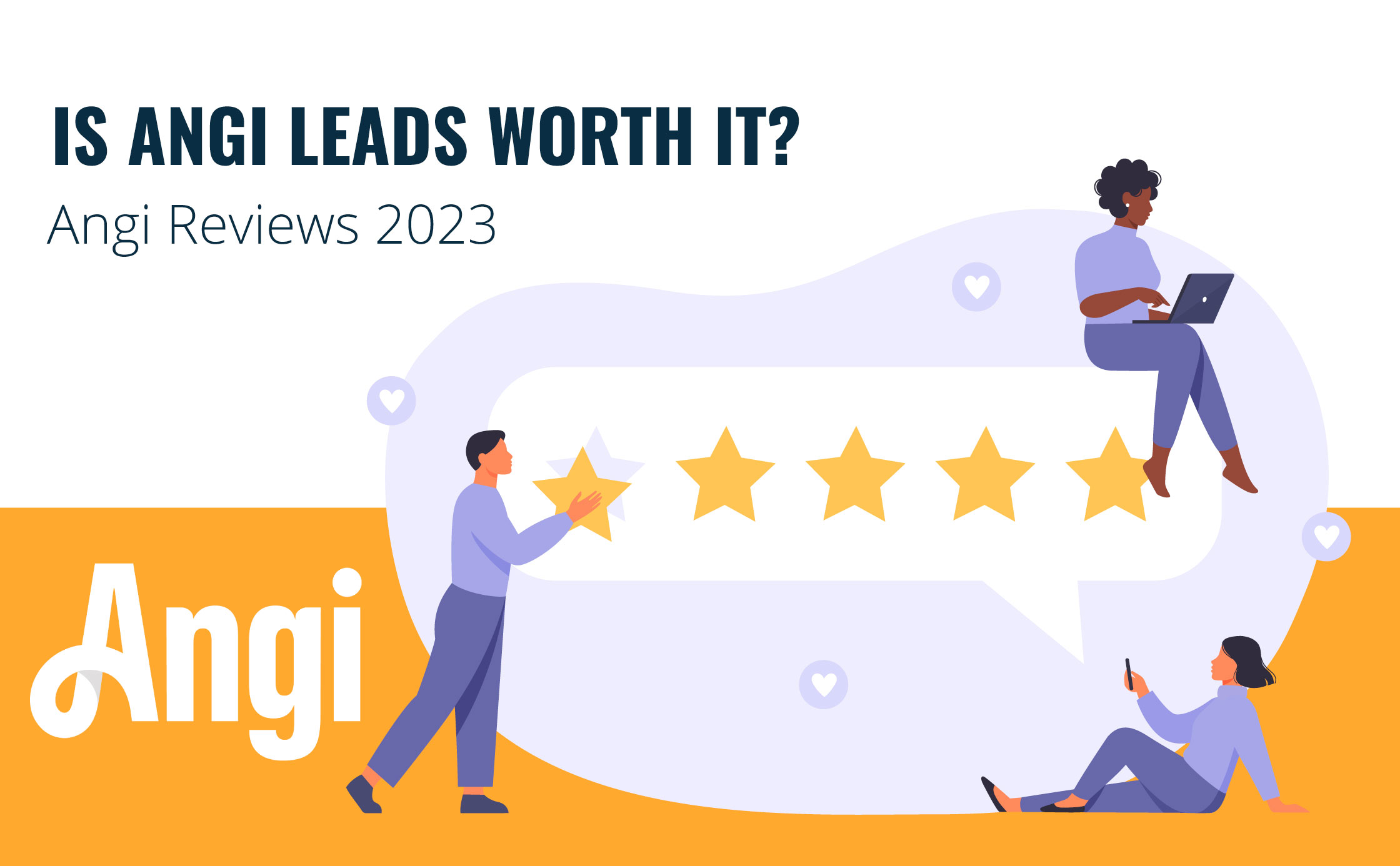 Updated on September 1, 2023
Lead generation is perceived as the end-all, be-all for small businesses, from contractors and construction companies to boutiques and specialty shops. We've already discussed the pros and cons of working with lead gen services, and specifically for companies like Porch Pro and Houzz Pro, but, for this article, we're narrowing our focus down to just Angi leads in 2023.
Angi, formerly known as Angie's List, has established itself as a major platform where contractors and home services companies can obtain leads. You might already be asking yourself, "Is Angi legit?" or "Is Angi leads worth it?" The answer isn't a simple yes or no. To help you make an informed decision about whether Angi is worth it for your business, we'll take a look at some pros and cons of Angi.
Angi Home Services Pros & Cons
Check out our list of pros and cons of generating leads via Angi:
Pros of using Angi:
Reputation & Trust: Angi is a reputable platform known for connecting homeowners with trusted service providers. Being listed on Angi can give contractors an added layer of credibility in the eyes of potential customers.
Targeted Leads: The leads generated from Angi are typically more targeted than those from broader advertising methods. Customers on the platform are actively searching for specific services, meaning contractors get leads that are more likely to convert.
Reviews & Feedback: The review system on Angi provides contractors with valuable feedback. Positive reviews can significantly enhance a business's online reputation, making it easier to gain new clients. It also gives businesses a chance to address and resolve negative feedback, showcasing their commitment to customer satisfaction.
Cons of using Angi:
Cost: Acquiring leads from Angi can be expensive, especially in competitive markets. Contractors must weigh the cost of the lead against the potential revenue from a job to determine if it's a profitable avenue for their business.
Competition: Due to the platform's popularity, many contractors vie for the same leads. Even if you're paying for leads, there's no guarantee that a potential client will choose your service over competitors.
Dependence: Over-reliance on one lead source can be risky. If there are any changes to Angi's business model, pricing structure, or algorithms, it can affect the flow and quality of leads. Diversifying lead sources can provide a more stable influx of potential clients.
Get Found By Your Ideal Customers
So, is Angi worth it for reaching local home service customers and growing your business? The choice is up to you.
Signing up with Angi home services may or may not be a great business decision for you, but the good news is that you don't need lead generation companies to help your business reach its full potential! We've already created huge lists of lead generation ideas for contractors, roofers, towing companies, landscapers, plumbers and HVAC specialists, but these are the basics you need to remember:
Start with a professionally designed website.
Invest in an SEO (search engine optimization) strategy to get your business on the first page of Google search results.
Ensure all of your directory listings have the most up-to-date info on your business so customers can contact your directly.
Respond to your online reviews promptly and professionally, especially on Google.
Choose a marketing partner who always has your back.
Townsquare Interactive is a local digital marketing agency committed to helping small business owners get found online, attract customers and grow their businesses. You'll work with a team of digital marketing specialists who build your marketing strategy and coordinate with our content writers, web designers, SEO specialists and other subject-matter experts.
Want to learn more about how we can help you grow your business without relying on Angi leads? Fill out the form below and we'll contact you soon!