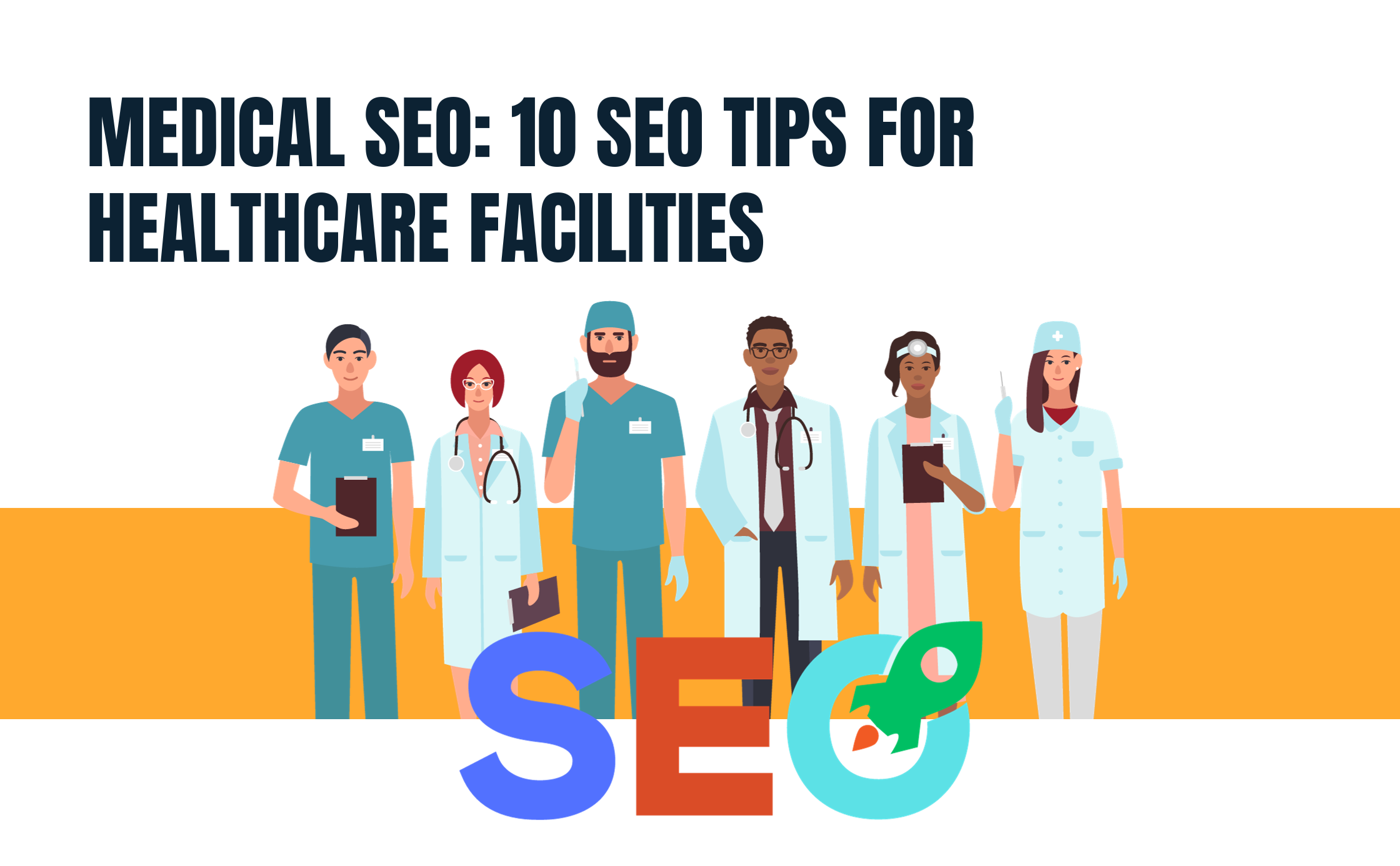 A fine-tuned medical SEO strategy is vital to maintaining a healthy pipeline of leads and growing your online presence. If your medical practice isn't setting time aside to optimize landing pages, use the right keywords, or prioritize the best on-site SEO initiatives, you'll risk losing patients to competitors.
In this article, we'll look at 10 SEO tips for medical practices who want to improve their ranks and reach potential patients.
Focus on Local SEO
Local SEO for doctors helps your medical practice get noticed by potential patients in your area. With the right location-based keywords and on-page SEO tactics, you can get your medical practice to rank higher for local search results. This is a great way to ensure you receive high-quality leads that are more likely to be potential patients.
Here are some tips to help you improve your local SEO for doctors:
Use local-specific keywords
Optimize your Google Business Profile
Create location-specific blogs and content
Make Sure Your Website Is Mobile Friendly
We live in a time where over 32.32% of website traffic comes from a mobile device. If your website doesn't have a responsive design, it will interfere with over 30% of your potential patients.
Google also prioritizes websites that are mobile-friendly and considers them to be necessary for the user experience. To ensure your website is mobile-friendly, you'll want mobile-friendly navigation, fonts, images, and a responsive design that can adapt to mobile devices.
Focus on the Right Healthcare SEO Keywords
Keywords are signals that Google and other search engines use to rank your content on the search engine results page. With the right healthcare SEO keywords, you can increase organic traffic and ensure your content is aligned with user intent. There are free online resources like SEMrush and Moz that can help you with keyword reach. Working with a marketing agency that has hands-on experience with healthcare SEO can also help you with keyword research.
Improve Site Speed
Site speed is a key ranking factor that Google uses to know where to rank your website in the SERPs. With fast site speed, you can provide potential patients with a high-quality user experience whenever they land on your website. You can also keep them on your website for longer, improving your bounce rate while potentially improving your conversion rates over time.
Optimize Your Google Business Profile
An optimized Google Business Profile will help you improve your local SEO for doctors' strategy and help you grow your online presence in your community. When a patient is looking for specific services and treatments in their area, the Google Business Profile is likely the first impression they will get of your office. Here are some tips for leaving an impression and getting them to click on your website:
Upload high-quality images and videos
Respond to questions and customer reviews
Ask past patients to leave reviews
Fill out all the necessary information (office hours, services, website, phone)
Follow E-E-A-T Standards
The content you create should aim to educate, inform, and add value to your patient's day. Google uses E-E-A-T to evaluate the quality of your content and decide where it should rank in the SERPS. E-E-A-T stands for experience, expertise, authoritativeness, and trustworthiness.
If your website follows the E-E-A-T guidelines, you can rank higher in the SERPs and ensure you establish yourself as an industry expert. Here's how to develop content to align with E-E-A-T:
Give credit to the creator with an author byline
Make sure your content is original and aims to help others
Gain backlinks from other trusted websites
Use user-generated content when you can
Don't Forget About Bing
Bing is another popular search engine commonly used by an older audience. It's expected that over 70% of all Bing users are over 35. While Google and Bing share many of the same ranking principles, there are some key differences you'll want to keep top of mind to ensure you can improve your online presence on both search engines. Here are some key differences:
Bing uses social signals as a ranking factor
Bing cares more about exact keyword usage
Bing judges the quality of backlinks differently from Google and cares more about the relevancy of the anchor text
Prioritize On-Site SEO
On-site SEO refers to the tools and tactics you use to optimize your existing content and improve your site's performance. To ensure you can get your site to rank higher in the SERPs, you'll want to use the right meta tags, meta descriptions, and title tags. Site speed, internal linking, and site architecture can also impact the user experience.
Use the Right Medical SEO Off-Site Tactics
Off-site SEO helps your medical practice show authority and credibility. When you have high-quality and relevant backlinks on established websites, you can improve your website's domain authority and help your content rank higher in the SERPs. There are many content types you can use to improve your off-site SEO strategy.
Write press releases
develop sharable blogs others can reference
Get added to a local online medical directory
Consider creating social media accounts on Facebook, Instagram, and LinkedIn
Build Out The Meet the Team Page
Having a team page is a great way to establish authority and credibility. When potential patients are looking at your website to learn more about your services, they'll feel more confident in your work if they can get to know the doctors and their experience.
Explore Healthcare SEO Services from Townsquare Interactive
A healthcare SEO strategy can help your medical office establish a presence in your community. With the right keywords, tools, and optimization, you can improve your organic performance and outrank your competitors in the SERPs. All you need is a strategy.
At Townsquare Interactive, our team has hands-on experience helping medical professionals fine-tune their approach to SEO. We're here to help you identify challenges and opportunities and provide the resources you need to develop a data-driven strategy that delivers results.
To learn more about our healthcare SEO Services, contact us today.